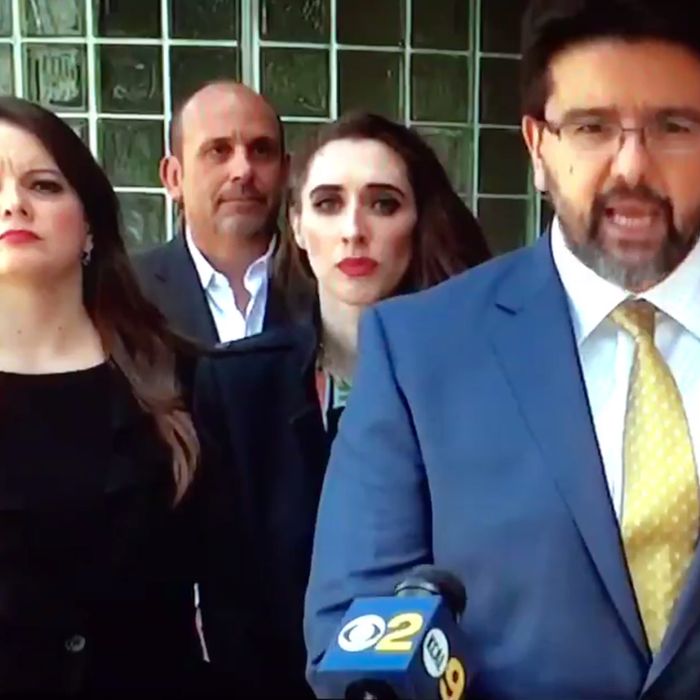 Attorney Michael Bressler with Kittles and others.
Photo: CBS LA
Musician Yasmine Kittles has filed "criminal charges" against music publicist Heathcliff Berru, whom many women — including Dirty Projectors guitarist Amber Coffman — have accused of sexually assaulting them.
For years, Berru's alleged misconduct was an unkept secret in the industry, but it was "explained away as a personality quirk or the cost of doing business." A former member of Life or Death — one of Berru's "crews" — claims that Berru roofied at least two women. When Coffman spoke out in January, many others quickly followed.
In a CBS News report that Kittles uploaded to her Facebook page, her lawyer, Michael Bressler, says that while Berru did issue a public apology, he did not address the illegality of his actions. He also pointed out that even though Berru publicly came forward about his substance-abuse issues, "it is never, and I quote never, an excuse for sexually abusing women."
Kittles claims, "In 2009 [Berru] grabbed my ass and then held me down onto my couch as he unzipped his pants &forced my hand on his dick."
Berru's attorney, Brian Klein, told "Page Six," "Heathcliff denies any criminal conduct. We are confident that when the LAPD investigation of her allegations is completed, no charges will be filed."