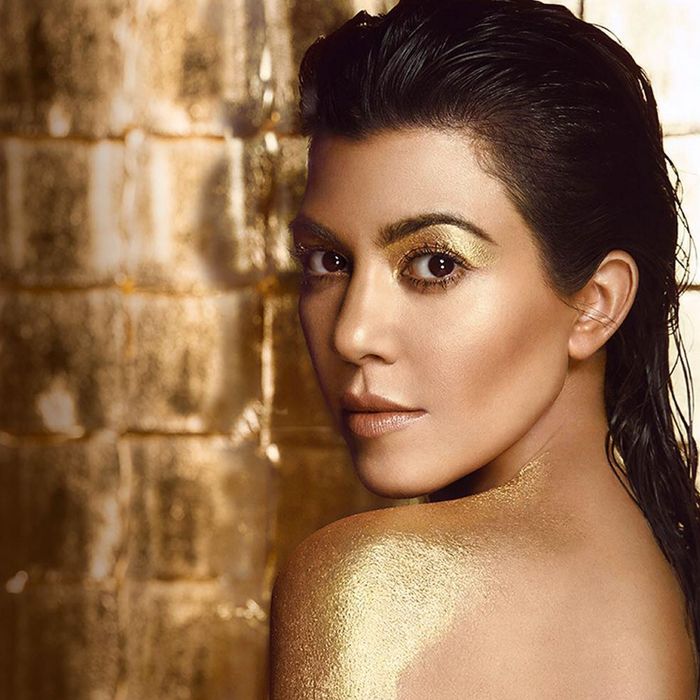 Kourtney Kardashian.
Photo: kourtneykardashian/Instagram
Manuka Doctor products, now available at your local CVS, harness "the power of the highest performing ingredients from the hive," offering "naturally inspired, scientifically enhanced skin care formulations that are refined, concentrated and 100% bee friendly." And a Kardashian is selling them.
At a press event to celebrate Manuka's new partnership with brand ambassador Kourtney Kardashian at the Baccarat Hotel in New York City this week, the moderately priced products, with names like "Drops of Crystal Cashmere Touch Serum" and "ApiRefine Gold Dust Firming Serum," were artfully arranged next to vases of yellow roses on coffee tables in the high-ceilinged, white-and-gold sitting room at the hotel. They remained undisturbed, I think, because everyone was afraid to wreck the set by messing with the props.
Kourtney was at the Baccarat to promote Manuka products, and also to perform promoting Manuka products for television. A cadre of producers and cameramen were filming the party for Keeping Up With the Kardashians, the family's long-running documentary project. Before Kourtney entered the room, a producer passed out appearance waivers to the three dozen or so female editors, reporters, and high-heel-wearing YouTube beauty gurus in attendance, and also to a token man who could be heard loudly telling other guests, "I do hosting." Meanwhile, a cameraman, boom-mic operator, and lighting professional got into position. We all sat on plush white couches, clutching signature honey cocktails foisted upon us by PR people, waiting for Manuka's brand ambassador to arrive.
Several one-Mississippis later, Kourtney burst into the party to a combination of professional and amateur camera flashes and the piercing light from the film crew. After being introduced by someone from the PR company, she declared, in the unfazed vocal fry we've come to expect from the Kardashians, "We can just, uh, have some drinks, and this will be, like, a chill night."
Dressed in a tailored black mini-dress and thigh-high boots, she pattered over — so tiny! — to the bar, along with three of her almost-famous friends (KUWTK vet Malika Haqq among them). The rest of us sat, quietly transfixed, as she carried on a casual conversation for the cameras; no one knew what to do. That is, until one lob-wearing editor rose from her seat and lined up at the signature Kardashian photo booth (a MirMir) in the corner. Seconds later, we were all in line to get pre-filtered, black-and-white photos with Kourtney, having forgotten that we were there for any other reason.
This is the genius of the Kardashians: Even when they're selling something else, they're mostly just selling themselves. Kourtney's own friends weren't even sure why she was there, except to be filmed and photographed. I overheard one of them asking an attendee later in the night, "Did Kourtney design this stuff or … ?"
She didn't. But back in December she posted about Manuka honey on her app, and the brand partnership was born. After I posed for a photo with the woman herself — I was told by one of the publicists that this was the only way I'd get to speak with her — she explained, "It really was a perfect match. I love that they're all-natural. I love to use as much all-natural stuff as possible, so yeah."
Would you ever take the bee thing a step further? I asked. I told her that Gwyneth Paltrow recently revealed she literally gets stung by bees, as a beauty treatment.
"No way!" Kourtney yelped, suddenly animated. "I've never heard of that. I don't think [I'd do that]. Wait, a lot of bees, or what?"
I wasn't sure.
"Ow!" she said, eyes widening. "I don't think that's for me."
I thanked her, turned off my recorder, and texted the picture of us to six of my friends.