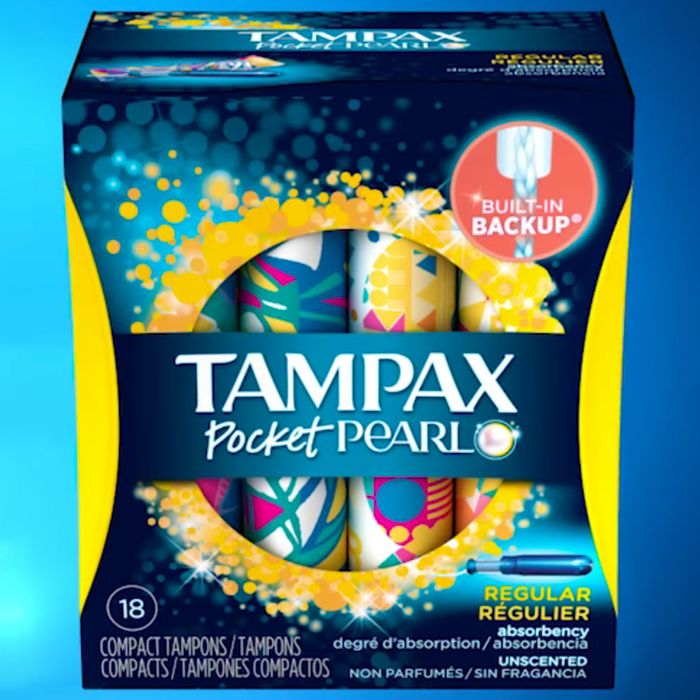 These things are the worst.
Tampax redesigned its popular, tiny Compak tampon last year, but, as Cosmo recently pointed out, a lot of women really hate the new Pocket Pearl tampon. In fact, Tampax is hearing from an unprecedented number of angry customers. Why? The tampon's new applicator sucks.
After the Pocket Pearl's release last year, women started to realize that the new applicator (which clicks into place) ruined everything. According to online customer reviews, the Pocket Pearl leaks more, is significantly less comfortable, and often breaks while women are inserting the tampon — meaning women have to insert it manually, or throw it away and try again with a new tampon.
A sampling of hatred for the Pocket Pearl, by the numbers: 73 percent of Amazon customers have given the Pocket Pearl one star out of five. Walmart shoppers give it 1.3 stars. Even on the Tampax website, it has three stars (while all other Tampax products have four or more stars) along with numerous one-star reviews. Here's what people are saying:
"Who knew I could feel this much rage over a tampon?" (Tampax)

"I'm appalled Tampax would let women use such a horrible product, must have been designed by a man." (Tampax)

"You're better off just flushing money away. Literally." (Amazon)

"I have to change at least every hour, whereas before, one SuperPlus tampon would last me all day, even on my heaviest day. Now, Im using at least 5 or 6 and my periods have not changed." (Walmart)

"After going through almost my entire box of 36, over HALF of them have failed. … Did I follow directions? YES! Did I make sure to have the tampon 'click' into place before insertion? YES! Am I a competent woman? Absolutely!" (Walmart)

"I would use a 50-cent vending machine cardboard applicator over these." (Amazon)
Speaking with Cosmo, a company spokesperson estimated one percent of users are having problems. Right. She also shared what seems to be the first-ever tampon hotline (try it: 1-800-398-3766).
In January, Tampax released its only product-specific YouTube tutorial. Because, you know, most women who have used tampons for years and years and years might need a refresher.