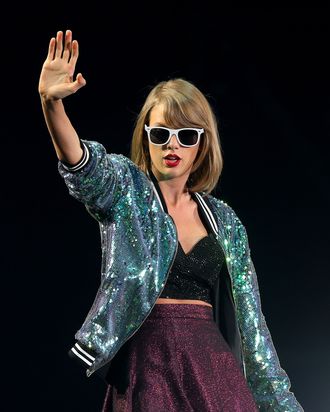 Taylor Swift is totally ready for festival fun.
Photo: Graham Denholm/Getty Images
Yesterday, Taylor Swift announced her attendance at the first music festival of the summer with her bleached-blonde bob. This is Taylor's first time in Indio, but given the perfectionist she is, surely she's been prepping to perfectly execute her first Coachella (can't you just imagine her up late, intently googling "music festival dos and don'ts" and "inoffensive yet whimsical outfits"?) Judging by her Instagram, she's mastered step one of Celebrity Coachella: Hanging out artfully by the pool with your other famous friends, NBD, just a bunch of like-minded music lovers who happened to meet up and post a photo on social media.
Taylor's also established her festival accessory of choice, captioning one photo with "I feel like maybe chokers are the new flower crowns?"
There's also the key enormous group shot of be-sunglassed buddies.
Next on the checklist: Going to a show so Twitter and Instagram can be flooded with videos of her awkwardly but charmingly dancing along to some chill tunes, probably played by boyfriend Calvin Harris.