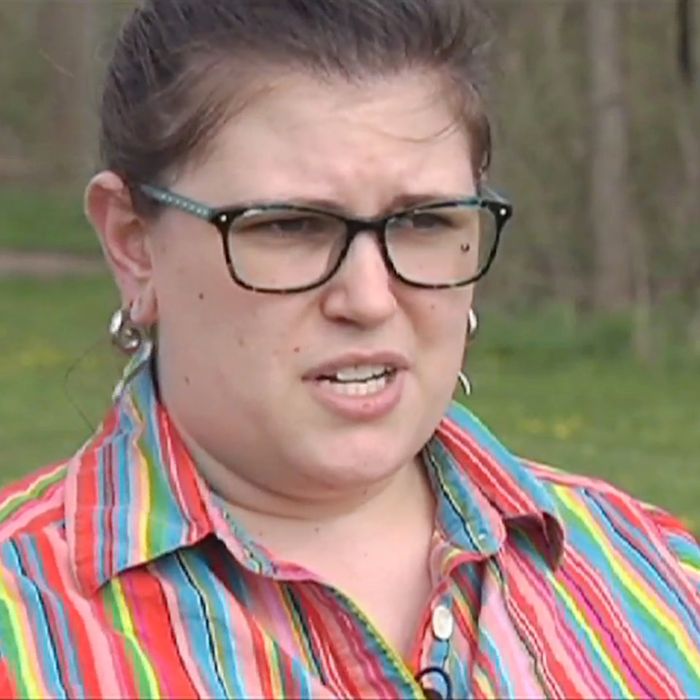 Allison Wint
Photo: Courtesy of WWMT
Allison Wint, a substitute art teacher at Harper Creek Middle School in Battlecreek, Michigan, was recently fired from the position she'd occupied since January. The cause of her termination? Wint alleges it's because she used the word vagina — the anatomically correct term for genitals possessed by 50 percent of the population — in the classroom.
In an interview with local station WWMT, Wint explained she was "saying [vagina] in the context of art history." More specifically, it was during a lesson about Georgia O'Keeffe. (Spoiler alert: Her paintings look like vaginas!)
Harper Creek Community Schools has a policy that requires previous approval be granted if a teacher wants to discuss reproductive health. "If I had known about the policy, I would've never done it without approval," Wint told WWMT.
"I thought if I used a euphemism, that would make it into a joke," Wint said to Detroit Free Press. "And I don't think that's a word you should be afraid of." Wint is not fighting her termination and is currently looking for a new job. 
Meanwhile, this was all too familiar for Democratic state representative Lisa Brown, who was banned by House Republicans from speaking on the floor in 2012 because she used the word vagina during an abortion debate. She tweeted out the story on Tuesday.
In a statement to the Cut, a representative for Harper Creek Community Schools wrote, "We are aware of the allegations that controversial subject matter resulted in a substitute teacher, employed through a third party agency, not being invited back for further service. This is not the case. We do not shy away from controversial issues. The District did have concerns that the substitute teacher did not follow district art curriculum. These concerns, in addition to other failures, were the basis for the determination."
They declined to elaborate when asked about specifics regarding their concerns and Wint's alleged other failures.