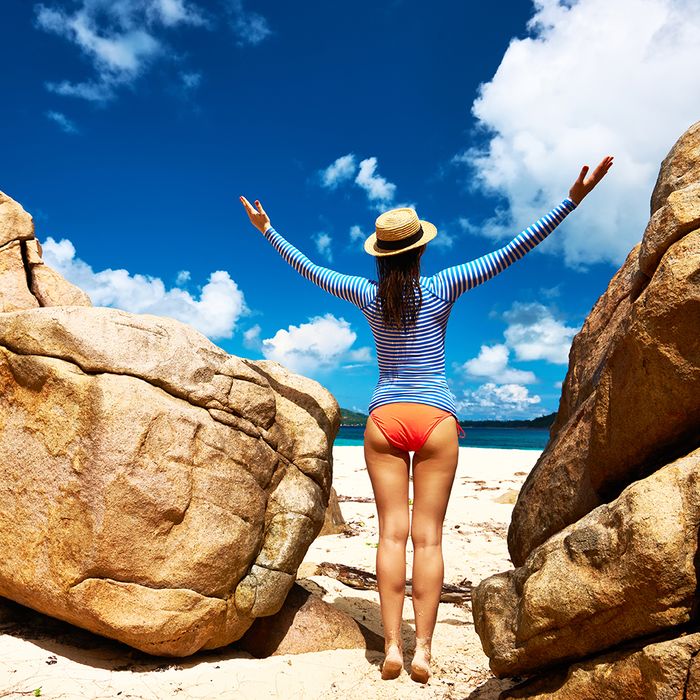 Growing up as a chubby teen in Florida, I always thought of bathing suits as a punishment for having a body, especially an unruly one. You can try to hide the rest of the year, but come spring break, the truth will out. It was this thinking that dictated my beach uniform: baseball cap, Speedo one-piece stolen from my mom, and orange Billabong board shorts that were never, under any circumstances, to be taken off.
At that particular moment in the vicissitudes of swimwear, wearing a one-piece felt like an admission of failure. It was a cop-out. Better, I figured, to embrace my role as a sexless third wheel, rubbing tanning oil on the backs of my beautiful, bikini-clad Evangelical Christian friends, than to let anyone see the place where my thighs met my butt.
If only my sunburnt virgin self whose ass was way better than she knew could see the state of swimwear now! If only she could sit next to me on the beach, having long forgotten my goal to "lose a bunch of weight by summer and wear a BIKINI," and see what women are wearing these days. If only I could show her a photo of a woman of socially affirmed beauty and thinness posing for a photo on her lifestyle blog, wearing a literal long-sleeved shirt to swim in the ocean. And not even (only?) because she's Mormon!
I've spent a lot of time at the beach lately and can confirm the shift has trickled right on down from the bloggers to cruise-ship passengers. "Should I take my shirt off to go snorkeling?" I heard a kid ask him mom recently. "I should think not!" she said. I looked and the entire family was wearing mall-brand fashion rash guards.
I think it all started with the resurgence of the one-piece. They are cool now, alluring even. Bathing suits in general bear no resemblance to the ones I stole from my mother or bought at Old Navy as a tween. They are better designed, sexier, more supportive. Cut-outs and strappy bits seem placed to highlight and flatter secondary sex characteristics, which I do appreciate.
I remember the first time I put on the now-omnipresent Modcloth "vintage-inspired" one-piece. My email archives tell me that the year was 2011, and the price was $89.99. I'd never spent so much money on swimwear before, but when I put it on I knew I would have paid twice that given how unexpectedly hot it made me feel. I had literally never felt attractive in a bathing suit before. I'd also never experienced a swimsuit that actually worked with your body, actually met you where you were and sucked you in and lifted you up and hid your belly-button cavern with mercifully placed ruching.
And now, five years later, here we are in the age of Mara Hoffman fashion rash guards, coming in at just under $300 and resembling — to a pleasing effect — the abstract design of an adult coloring book. Fashion rash guards are similar in appearance to those that surfers and deep-sea divers have traditionally worn, but of course, way cuter.
The rash guard is sexy because it's unexpected. It has a sensible air — pat yourself on the back every time you see "certified UVB protection!" on the tag — but still, your boobs look great. I ordered one from J.Crew, full of hope and feeling like the zipper over my cleavage would make me feel powerful and busty, like a Baywatch Babe with a thyroid disorder. In reality I put it on and was jarred to find out there was no lining at all. But it's sleeveless and hot pink and I wear it when I go to the beach alone, over a sports bra, when no one is there to put sunscreen on my back.
The first one I saw out in the wild, which is to say in a sponsored post on a lifestyle blog, was a matching mother-daughter duo. Maybe it started with the children. Did you know that children don't really wear bathing suits anymore? It's amazing. They all wear gigantic floppy hats that cast a shadow on the entirety of their person, and they go swimming in baggy zip-up uni-suits. It isn't cute per se, but it is a relief. Letting your small child get a sunburn in the age of knowing better seems particularly cringeworthy. We've all Googled too many different types of skin cancer to let our children's bare skin see the light of day.
And then after awhile you say, Why not me? Adults get skin cancer, too. More so!
In my fashion rash guard, I feel protected from the sun but also sleek and vaguely athletic, like a seal who plays beach volleyball. Like, sure there is no way in hell I'm going to go parasailing today, but I could, you know? And I'd be utterly guarded from rashes if I did. It's a very powerful feeling. Almost as good as accepting your body for what it is and what it does and that it carries you through life.
Of course the problem with new trends in swimwear is, as overweight kids wearing T-shirts in the swimming pool and attractive bloggers alike can attest — you can still see a body when it's covered in fabric. It's not that any of my one-piece bathing suits ever really hid anything, but at least these days swimwear design feels more built to flatter, to coddle, to forgive our future corpses their shortcomings in a way that lets us celebrate what we're working with.
When I think back to the years I spent hiding my beautiful teenaged ass in board shorts, I get a little sad. My ass is so much worse now! These days I trudge around the beach with a half-wedgie and my tits flopping around in a hot-pink rash guard with a defiant sort of pride. I'm wearing what the cool girls wear now. I let fashion come to me.