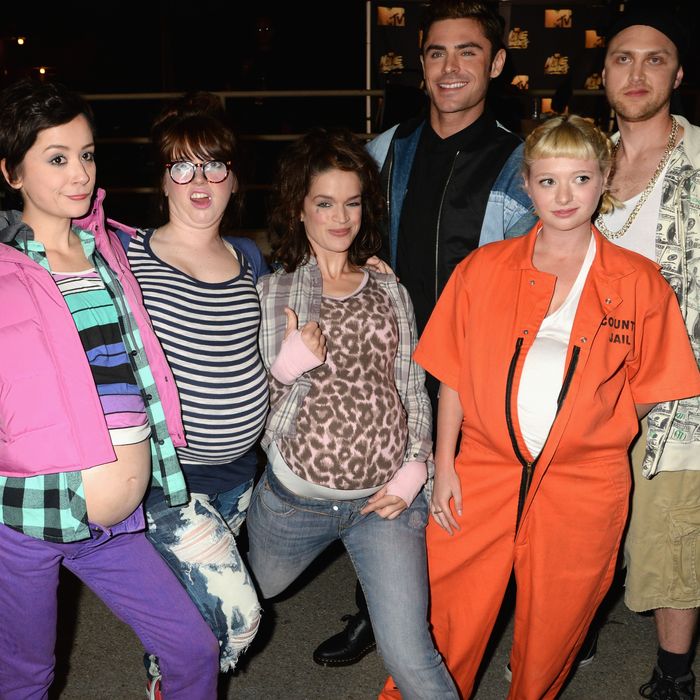 Not really laughing. Photo by Jeff Kravitz/FilmMagic for MTV
Well, that wasn't good. MTV made a not-so-chill joke featuring teen pregnancy at the MTV Movie Awards Sunday. Anna Kendrick, who will appear in Mike and Dave Need Wedding Dates with Zac Efron and Adam DeVine this summer, played up a little comedy sketch for the awards.
"I scoured every dating site available — Tinder, Bumble, Hinge, JDate, Craigslist, Angie's List — to find Adam and Zac a couple of dates for tonight's show," she said. Okay, that's fine so far, but here comes the twist. "Let's bring out our lucky girls!" she announced.
Next emerged four actresses dressed as pregnant teens, one wearing a prison jumpsuits and handcuffs. "We're here to audition for 16 and Pregnant," they announced as soon as Anna realized these were not the women she'd selected.
I try not to overuse the word problematic, mostly because I think I met my quota long ago in Women and Gender Studies term papers. But this is 100 percent problematic — this is not a funny joke. Awards shows are for making light of some of the most serious topics, but there really isn't much of a laugh to be had here.