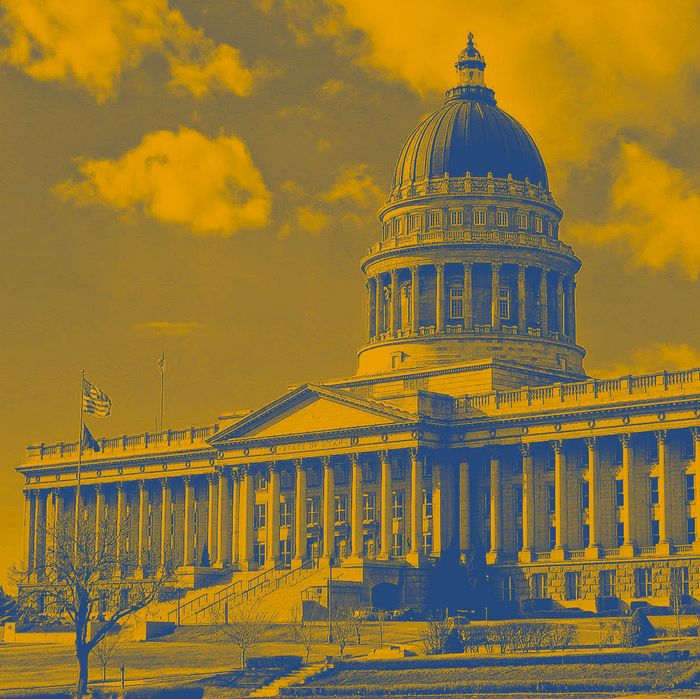 Photo: George Frey/AFP/Getty Images
Last month, the state of Utah passed a bill declaring pornography to be a "public health crisis." The bill doesn't do much — it mostly just lists a litany of familiar concerns about pornography before declaring that "the Legislature and the Governor recognize the need for education, prevention, research, and policy change at the community and societal level in order to address the pornography epidemic that is harming the people of our state and nation." It reads like a proclamation from another time.
In The Atlantic, James Hamblin offers an interesting explanation of how this bill — and the others advocates are hoping to introduce in other state legislatures — came to be. He traces it back to Gail Dines, a radical feminist and anti-porn activist who just last weekend wrote a much-talked-about column in the Washington Post headlined "Is porn immoral? That doesn't matter: It's a public health crisis."
Dines is on a mission to stamp out what she sees as a dire threat to the social fabric, and she has linked up with social conservatives in many places to do so. Her primary tactic is — as the headline of her Post article suggests — "framing pornography not as a subject of moral decree but as an urgent issue of tangible detriment to human bodies and minds," in Hamblin's words. In Utah, she found a strong ally in state senator Todd Weiler, who spearheaded the effort to pass the bill.
In pursuing their strategy, Dines, Weiler, and their allies in the anti-porn movement often play up talk of addiction and neuroscience, referencing the idea of people becoming completely dependent upon porn for arousal. But Hamblin points out that "researcher Nicole Prause and colleagues found that electrical patterns in the brains of people who reported 'major problems' with 'excessive' porn use were markedly different from the patterns of substance addicts … the leap from pornography to cocaine here appears to be (as in most cases) appropriation of oversimplified neurochemistry."
Over and over, according to Hamblin, Dines's dire claims are based on shaky evidence. "While Dines and others cite many correlations between pornography consumption and negative health outcomes, the causal relationship is rarely explicit," he writes. "Making that leap is especially tenuous when studies rely on subjects recalling and reporting information about taboo behaviors and thoughts, a notoriously unreliable approach." And even setting aside individual study results, it's an uphill battle to claim, in 2016, that porn constitutes a public-health crisis: rape and violent crime have been in decline for years, during the exact same period the availability of porn exploded.
But that doesn't matter, because Dines figured out how to play the politics. Weiler, for his part, is hoping to get 15 other states to pass laws about this "public-health crisis."