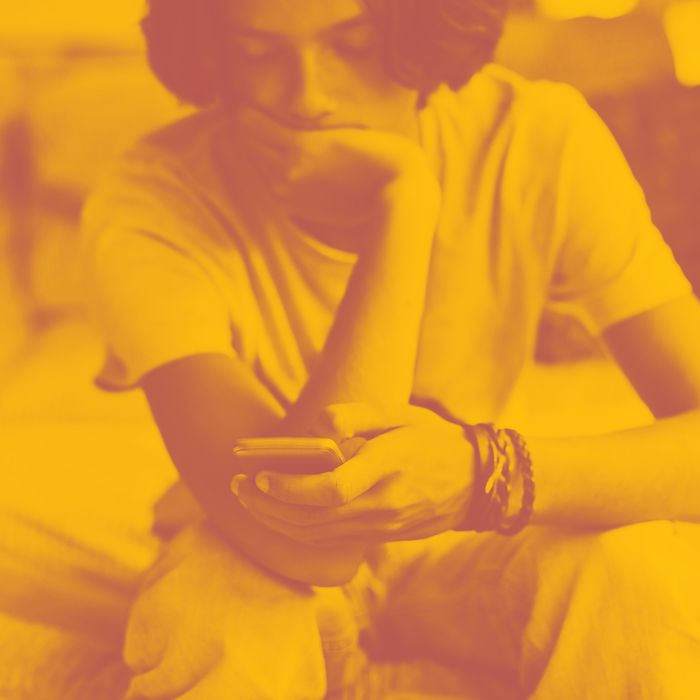 Photo: Cindy Prins/Getty Images
In conversations with her young patients at the Seattle Children's Research Institute, Dr. Megan A. Moreno began to notice a pattern. So many of the teenagers being treated for self-harm had similar stories, about their intense connection to certain communities on Instagram. "You hear something once, and you pay attention — but you also move along," she said. "When you see something over and over, you think, 'Is there any evidence out there that would help this patient?' And if there isn't — could we create that evidence?" Now, she and some of her colleagues are investigating exactly that: the teenagers and young adults who use Instagram to process their emotions when in the throes of a mental health crisis.
In 2014, Moreno and three other researchers began the work of sifting through hundreds of posts on Instagram and identifying ten hashtags that are associated with non-suicidal self-injury, including #blithe, #selfinjury and #MySecretFamily. They published their findings recently in the Journal of Adolescent Health. As Fusion writer Taryn Hillin notes, it's not so simple to call this behavior entirely dangerous. While it's true that some patients of Moreno's discovered a sort of how-to manual for self-harm through Instagram, some also found communities that could provide a sort of on-demand support network. Hillin writes:
One Instagram user I contacted, Lily (not her real name per her request), said she is 15 years old and told me over email that she has struggled with depression for three years, but couldn't ask her parents for help. Instagram, she wrote, gave her the positive, supportive community she needed. "I have found my best friend through Instagram who has helped me through a lot," she said. "I possibly wouldn't be alive without

 

him."
Moreno has seen this in her patients, too. "Many experience this feeling when they start to self-harm that they're alone. There's a lot of shame, a lot of stigma," Moreno said. "And so I think that discovering these online communities can be a huge lightening of your load. You think, 'I'm not the first person to experience this.'"
Since publication, many of the hashtags now come with a content advisory warning, alerting users that the posts "may contain graphic content," and giving them the option of exiting the app and toward suicide prevention sites. That's a great start — but it's not exactly right, Moreno said. "I think, to me, one of the findings from the study was how nonspecific the content advisory was, and how seemingly unhelpful some of those links were," she said. "It felt almost careless." A better resource for those struggling specifically with self-harm, she said, is the Cornell Research Program on Self-Injury and Recovery.

In a way, this behavior is nothing new. Young people have lingered over websites and blogs dedicated to the experience of mental health issues for as long as the internet has been around. It's just that the platform has changed, and researchers and clinicians like Moreno are trying to keep up in order to provide the most help to their young patients.