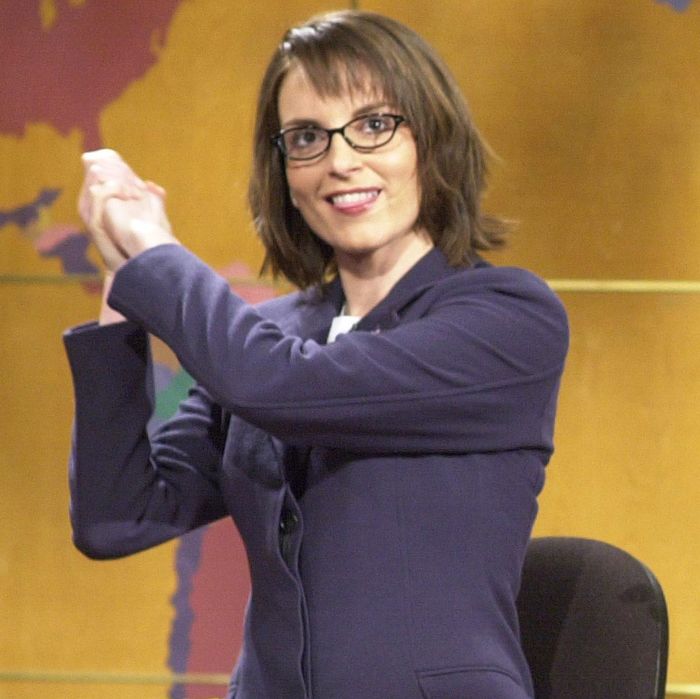 Tina Fey with Jimmy Fallon on "Weekend Update" in 2002.
Photo: Dana Edelson/NBCU Photo Bank/Getty Images
Tina Fey has always been forthcoming with hilarious jokes about her regrettable fashion and beauty choices, from lines in Bossypants to any flashback on 30 Rock. At her Tribeca Film Festival talk on Tuesday night, she addressed the questionable haircuts she received throughout her early years on Saturday Night Live.
When she was promoted from writer to on-camera regular as the "Weekend Update" anchor in 2000, the folks at SNL tried to "fix" her appearance. On the day she was supposed to do an Entertainment Weekly cover shoot with co-anchor Jimmy Fallon at 5 p.m., she got three haircuts in her SNL dressing room. Why three, you ask? Because each cut was an attempt to fix the catastrophe of the previous one. Yeah. As Liz Lemon would say, it was a lizaster.
The first hairdresser gave her a "triangular" haircut. Next, she said, "a very fancy person was brought in from a salon and this woman gave me a shag haircut. Like, Joan Jett shag. But you know what you need for that haircut? Jane Fonda's face. So then Marci Klein, one of the producers, came to check on me, and she just looked in the mirror at me and said, 'Okay, stay right here.'" By now it was about 4 p.m., and one last hairdresser came in and chopped all the shag off, leaving her with a drastically shorter haircut. "Then it was like, 'Let's take your first picture ever to be on TV.' And I think if I had been younger or smarter, I would have just cried, but I was just too dumb."
Fey says she remembers asking for "late-'90s short bangs" at some point. She added: "You can't have short bangs and Greek eyebrows. [It looks like] you shrunk your wig in the dryer."
Next time you get a regrettable haircut, put on that one hat you own and be comforted by the fact that you don't have to be at a photo shoot in an hour.