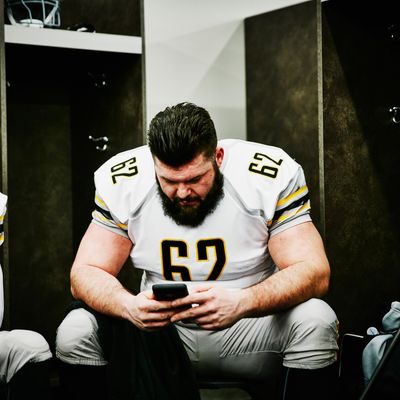 Swipe, swipe, swipe.
Photo: Thomas M. Barwick/Getty Images
It should come as no surprise to anyone that professional athletes are horny, just like you and me. But maybe the more surprising thing is that these athletes — both male and female — populate dating apps, like Tinder, and non-dating apps, like Instagram and Twitter, in search of scratching the sex itch while on the road. (Though, of course, the experience for men is much, much different than it is for women.)
A new story on ESPN, which I can't stop reading for the life of me, takes us into the lives of 80 different athletes "of all sports and stripes," and how they meet sex partners on the road. Hockey journeyman Paul "Biznasty" Bissonnette told ESPN, "Twitter and Instagram are basically dating apps now. Every athlete uses them to hook up, and if they say they haven't, they're lying." DeSean Jackson backed up Biznasty's claim: "It's not like we need help, but social media makes women so accessible. I'll send a comment, and if they reply, you ask for a date. It's easy." Damn, so sliding into the DMs is real.
No surprise that for female athletes the attempt to get laid or find someone more long-term on dating apps triggers a little more hesitancy. That is, if they don't shun the practice entirely:
Before Ronda Rousey met her main squeeze, fellow MMAer Travis Browne, the fighter dipped her toe in Tinder's water for a nanosecond — and even used an alter ego, Brynn Campbell — only to flee with a case of cold feet. Rousey aimed to avoid the inevitable backlash that comes with being a known woman on the dating app that snowboarder Jamie Anderson calls scandalous. The Olympian installed the app in Sochi in 2014 "just to crush on guys" but couldn't uninstall it fast enough after watching what happened to her friend Rebecca Torr, a snowboarder for New Zealand who dished on Sochi's Tinder scene in an interview. "She got a lot of heat," Anderson says. It's one of the reasons female iPlayers prefer to stay mum about their efforts, or away from them entirely. "No Tinder, no Match, nothing," says Christen Press of the U.S. women's soccer team. "I don't mind going up to people when I'm out. I have a better chance of getting a read on them that way."
But at least the men are having fun, right? As Lakers rookie D'Angelo Russell put it, "I can't put a number on it, but there's plenty of times that you come across something that catches your attention. If she looks good, looks the part, you send a DM and go from there."