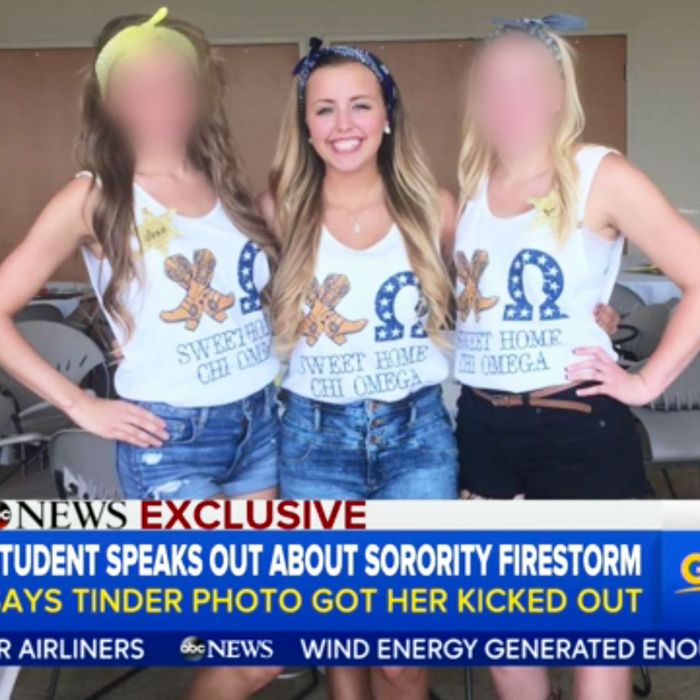 Tinder is widely popular (as of 2014, it boasted around 50 million active users, which is a lot of horny people) — yet despite its ubiquity and the fact that it's the source of many long-term relationships, it's still viewed primarily as a hookup app. Which is fine — until that perception adversely impacts its users.
Take Shannon Workman, a junior at the University of Nebraska Omaha and a former member of the Chi Omega sorority. Workman posted a photo of herself wearing a shirt with Chi Omega lettering on her Tinder profile. When administrators accused her of violating a "human dignity" rule, she took the picture down, but the sorority began to move forward with membership revocation, so she decided to just resign instead.
Tinder CEO and co-founder Sean Rad offered Workman a full year's scholarship and a paid internship at Tinder's offices in California upon learning the news.
Rad told BuzzFeed News, "It's easy to give in and give up. We think what Shannon did sends a very empowering message to young women and college students, which is actually one of Tinder's largest audiences. Don't conform, don't let people tell you your beliefs are wrong just because it's not the same as their beliefs."
As for the paid-internship offer, Rad said, "It's the first time we reached out to someone whose story inspired us and asked them to be part of the team. Her actions showed a depth of leadership and courage that is admirable and something we value as part of our company culture."
Rad is, of course, the same person who was sued by his Tinder co-founder Wendy Wolfe for having allegedly "subjected [her] to a barrage of horrendously sexist, racist, and otherwise inappropriate comments, emails and text messages."*
Congrats on your scholarship, Shannon. And congrats on buying yourself some good publicity, Tinder.
* An earlier version of this post stated that Rad was also accused of calling Wolfe a "whore" and saying that a female co-founder made Tinder "seem like a joke." That was his Tinder co-founder Justin Mateen. This post has been corrected.