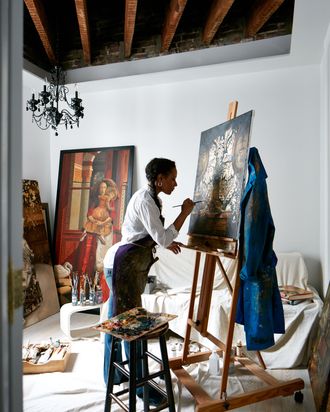 Columba at work in her partially-renovated studio.
Photo: Stephen Kent Johnson
"The first thing I wanted was more light," says painter Elizabeth Colomba. She's discussing the renovation (that's still under way) of her 600-square-foot West Harlem apartment's second bedroom into an art studio. Paris born and raised and of Martinican descent, Colomba found the fifth-floor prewar apartment in 2013 after living in Los Angeles for eight years as a storyboard artist. She recalls the day she bought it: "This place was atrocious. My parents came here to see it, and my father was concerned, saying I don't think you should buy this apartment." She went through with it, and with the help of her trusted interior designer Juan Luna, she pried up layers of plywood, linoleum, and dried paint to uncover the now pristine wood flooring.
As for the studio's ceiling, Colomba discovered the beams through an accidental hole made while tearing down the corner closet for the room to take cleaner shape. This decision also unblocked the sunlight streaming through her studio's only window. Colomba's design choices restage, in life size, the compressed pictorial spaces of her oil portraiture — mostly of solitary women (real and fictive) in domestic interiors loaded with Afrocentric references and mythology. With a traditional easel at her studio's center, Colomba cites the Old Masters as inspiration: "My favorite museum is the Louvre — all those classical paintings and the mastery of it brought me to painting." And of her decision to move to New York: "It's a return home, really. New York — it's more like Paris."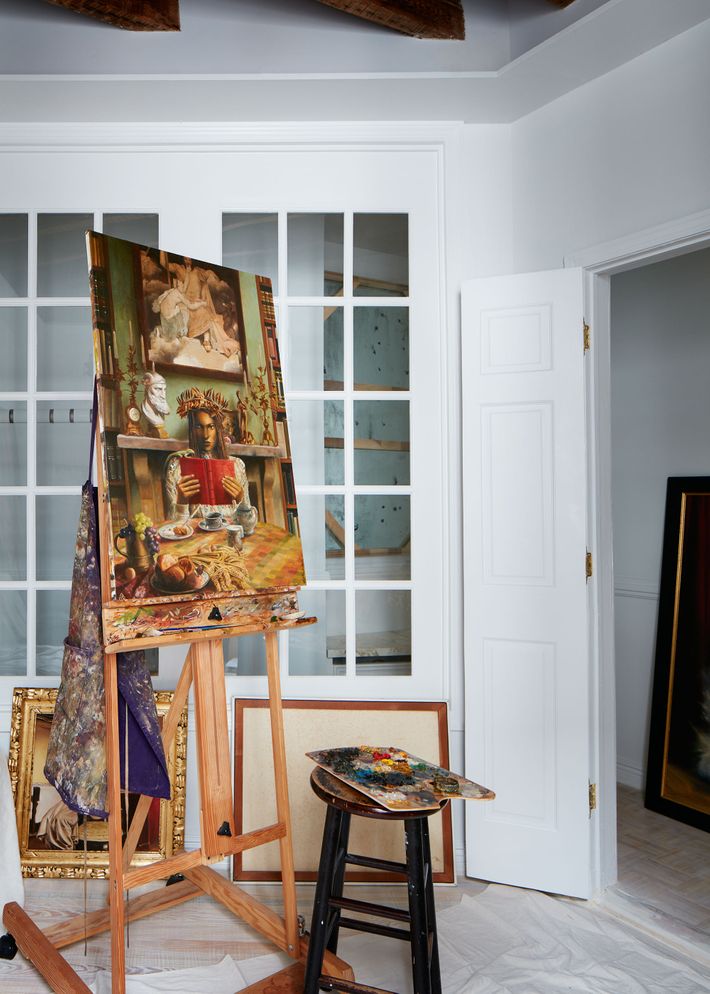 The Studio
Colomba replaced her studio wall with interior windows, similar to those in her paintings, allowing sunlight to diffuse into the entrance hallway that runs along the studio's perimeter. Colomba currently has a solo exhibition at Long Gallery in Harlem.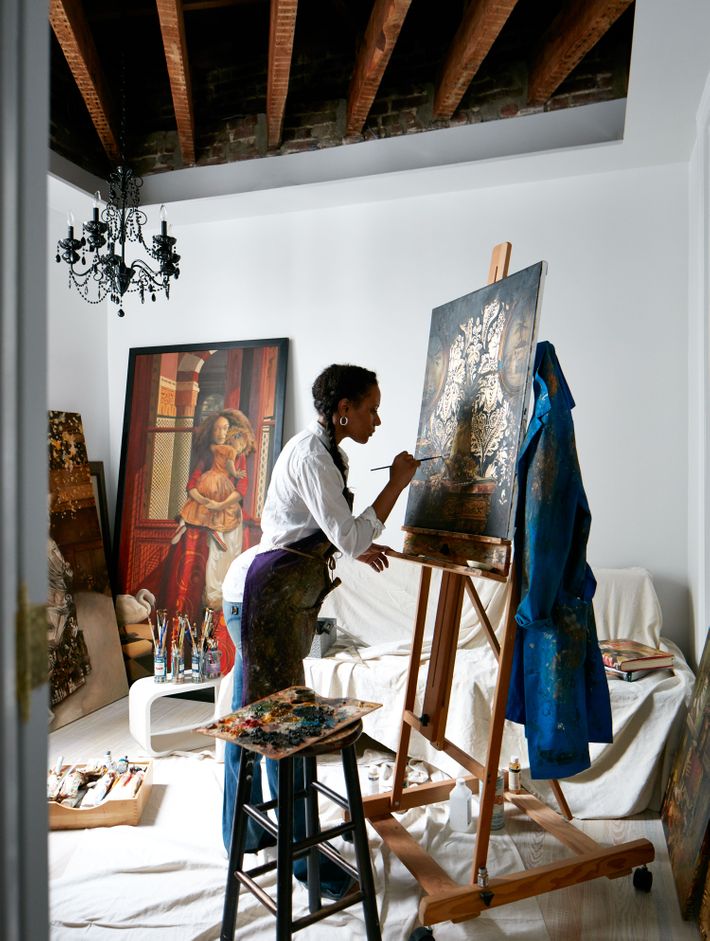 The Ceiling
In the evening, hidden lights illuminate the exposed beams overhead. Installed just below the ceiling to allow for more floor space, a shelf circles the room awaiting Colomba's art-book library — accessible by a ladder that she's in the process of customizing with metal hooks.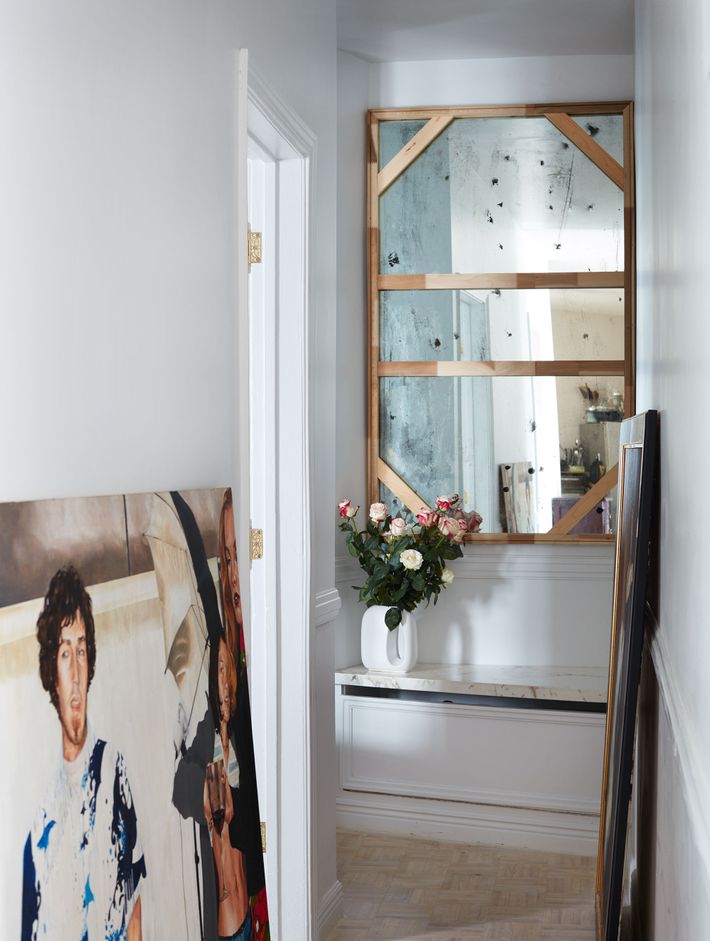 The Mirror
Near the studio's entrance a mirror brightens the corner with reflected light — doubling as a second window. "I did the aging effect, but then instead of putting a regular frame on it, my designer wanted to use the back of my canvas," says Colomba of the wood stretcher bars.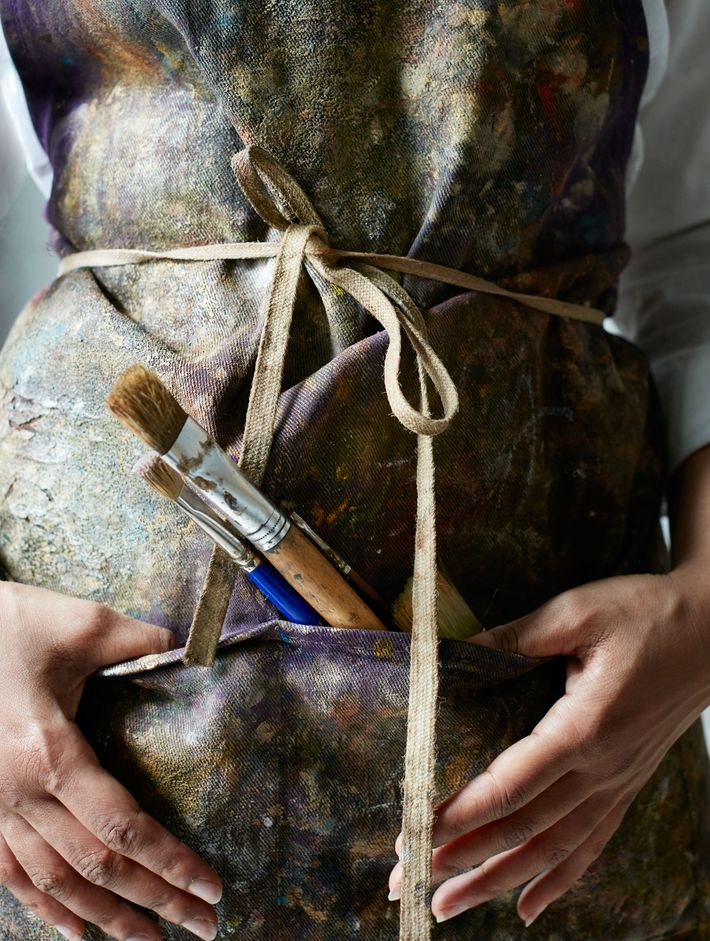 Her Painting Apron
Colomba's painting apron dappled with her richly-hued palette.