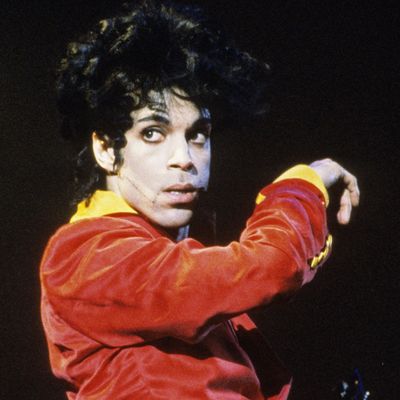 Photo: L. Busacca/Getty Images
Prince was a cosmically talented musician, sartorial icon, and undeniable sex symbol.
He also knew how to throw shade magnificently and sometimes acted in a way that some people might call … unreasonable. And of course he did! He was fucking Prince.
In honor of Prince's passing, we're looking back at the best of those moments. Let's all try to be a little bit more like Prince in this regard.
The Time He Put Alicia Keys on Hold … Ten  Times
Keys once called Prince to ask to cover "How Come You Don't Call Me?" and was put on hold a whopping ten times before she managed to get him on the phone. The singer said it "wrecked her confidence."
A very pregnant Keys climbed atop a piano during a 2010 BET Awards tribute to Prince. This is how Prince felt about that.
The Time He Made This Face When Trey Songz Tried to Sing "Purple Rain"
The Time He Kicked Kim Kardashian Off the Stage
Prince brought Kim Kardashian onstage at a 2011 concert at Madison Square Garden, but as soon as it became evident that she was going to stand there awkwardly, he dismissed her quickly with "Get off the stage! I need a dancer."
The Time He Declined to Participate in a "We Are the World" Sing-along
Quincy Jones handed Prince the mic during a 1995 powerhouse sing-along of "We Are the World," and Prince declined to sing, choosing instead to offer Jones his lollipop and then yank it away. This moment in particular really speaks to me, because I love candy and hate participating.
The Time He Made Kevin Smith Answer Riddles, Among Other Things
Smith tried to collaborate with Prince on a documentary, and this half-hour clip of him retelling his bizarre interactions with the artist is incredible.
The Time He Fired a Guy Just for Looking at Him
A staffer told Notorious that he once fired a guy by saying, "Why is that guy looking at me? Tell him to leave." Harsh, but fair.
All the Times He Made Reporters' Jobs Harder
Prince didn't allow reporters to record their interviews with him, nor did he want them taking notes, which he said is "just like texting." A true nightmare situation (besides the whole hanging-out with Prince part).
The Time He Insulted the Entire Internet
In 2010, he said, "The internet's completely over." Was he wrong?
No.