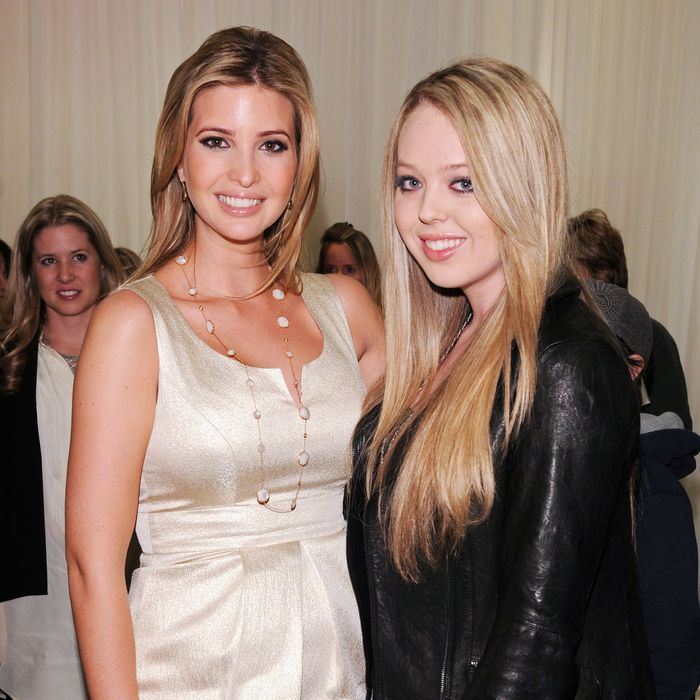 Ivanka and Tiffany Trump.
Photo: Jean Baptiste Lacroix
Good news, America. Despite everything he's said about women, turns out Donald Trump is totally not a misogynist. Ivanka "If Ivanka weren't my daughter, perhaps I'd be dating her" Trump elucidated her father's love of women at a recent town hall:
"The way he raised me and the way he raised Tiffany is a testament to the fact that he believes in inspiring women and empowering women. He always taught me that there wasn't anything that I couldn't do if I set my mind to it, if I had deep passion and worked very hard to achieve it. I don't think that's a message that a father would relay to a daughter that he didn't believe had potential to accomplish exactly what her brothers could."
Trump's other ray of sunshine, Tiffany (of Snap Pack fame), added: "He has the utmost faith that we can accomplish whatever we put our minds to just as well as men if not better."
Even though Trump is almost universally despised by these "bimbos," "fat pigs," and "piece[s] of ass," he's really all about equality. Ivanka explained, "Other politicians talk about gender equality but it's not evidenced in their daily employment practices."
Well, that settles it!