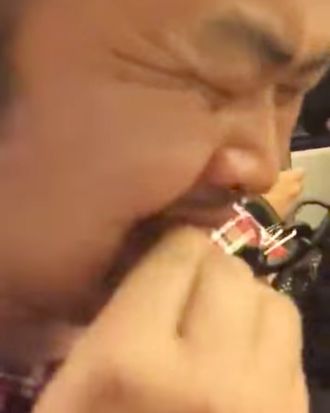 Photo: Courtesy YouTube/People's Daily
Up-skirt photos are a form of sexual harassment plaguing subway cars, bars, and basically anywhere a woman is standing. It's especially concerning because most of the perpetrators are never caught. Except for when they are.
People's Daily recently posted a video that's going viral in China, in which a woman in Nanjing confronts a man she realizes is taking up-skirt photos on the subway via a hidden camera in his garment bag. In under a minute, she exposes him to all their fellow commuters, dressing him down to the point where he takes his SD card out of his camera and chews on it to destroy the photos.
Her confrontation worked — according to People's Daily, the police eventually stopped him. 
Can we get her to do a world tour?