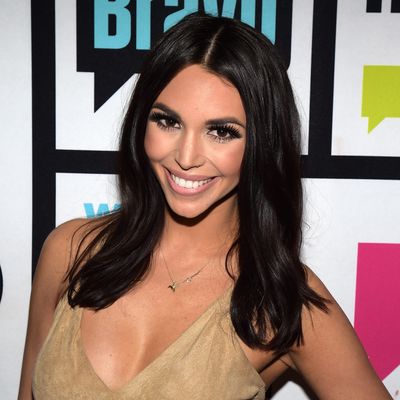 Photo: Bravo/2016 Bravo Media LLC
Because Vanderpump Rules' Scheana Shay cannot technically be sued for forcing everyone to watch her perform her auto-tuned songs at every birthday party, engagement, wedding, baptism, and Arbor Day celebration featured on the show, she's facing legal action for something else entirely.
She smokes too much weed and is sloppy with her cat food.
In a civil complaint, Scheana and husband Michael Shay's L.A. neighbor Andrew Kim alleges that he and "his family have awoken on many morning with the sensation of nausea for having inhaled marijuana smoke during the night."
He also claims that she left a bowl of cat food outside for days, thereby attracting ants to his apartment.
Scheana's rep told "Page Six" that "the Shays have never received a complaint from a fellow neighbor or building management relating to marijuana smoke stemming from their residence." Additionally, "the cat in question belongs to another resident in the building." The Shays' cat is an indoor black cat.
If we're lucky, we'll get to see this all go down in season six. In the meantime, has anyone checked on Shay?
Shay, blink twice if you need help.