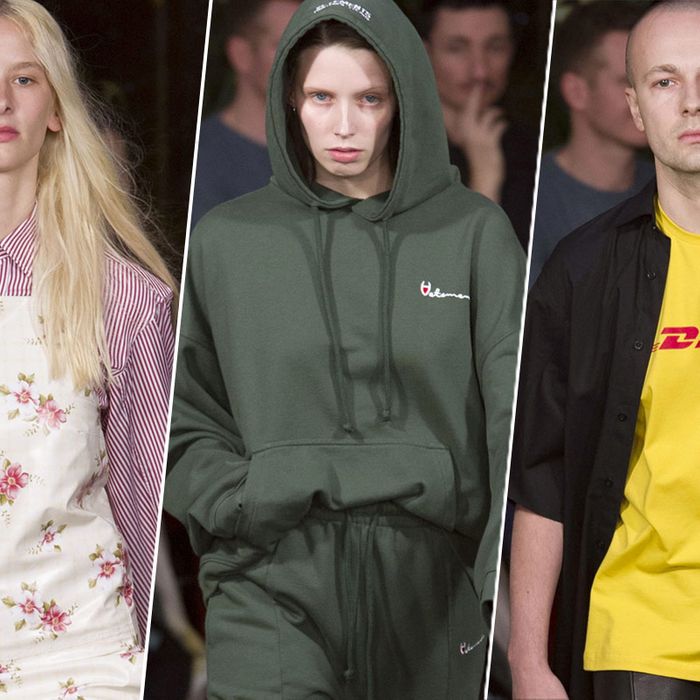 What happens when you combine a streetwear aesthetic, cult-core proportions, and a sprinkle of rodeo-cowboy inspiration? You end up creating the most-talked-about fashion brand of 2016, of course. Vetements has had quite a run so far: Its success has resulted in the appointment of its creative director to helm Balenciaga, it's sold out just about everywhere, and it's even managed to make a fan out of Yeezy.
It's not easy turning $700 sweatshirts and $300 logo tees into a fashion phenomenon, but that's exactly what Vetements has done. More than just clothing, the pieces have developed a kind of cultural capital, prompting legions of Instagram snaps and parody brands. Fortunately, in the spirit of Zéline and Zucci, there are still ways to attain the core look even if you don't have the budget. Scroll below for pieces to help you master the "Zetements" look.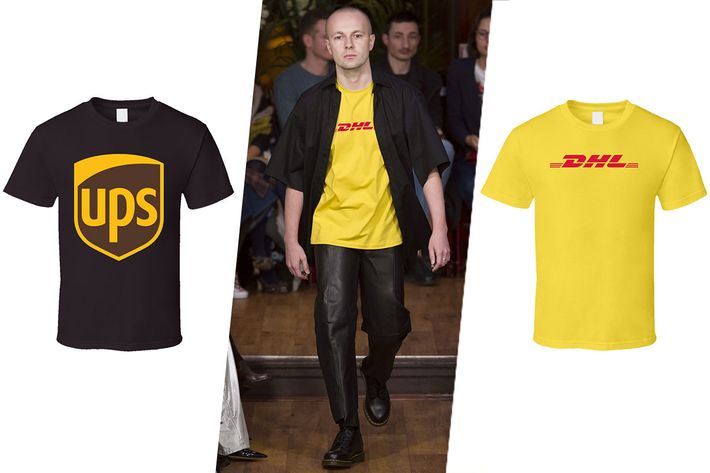 Arguably the easiest way to capture the essence of Vetements is to look like you work in a shipment facility (no, really). Before you contemplate clicking "add to cart" for a glorified $300 DHL uniform, pause, consider those student loans, and buy these tees from Cocoa Tee instead. If you're feeling extra generous, you can buy directly from DHL and purchase T-shirts for you and 99 of your friends for the low price of $6.50 each, or take your pick of shipping companies and buy one just for yourself. Have fun with it and rep UPS or FedEx if you'd like; we think they have better shipping anyway.
DHL T-Shirt, $20 at Cocoa Tee; UPS T-Shirt, $20 at Cocoa Tee, FedEx Jersey Crew T-Shirt, $10 at FedEx
The Feminine Dress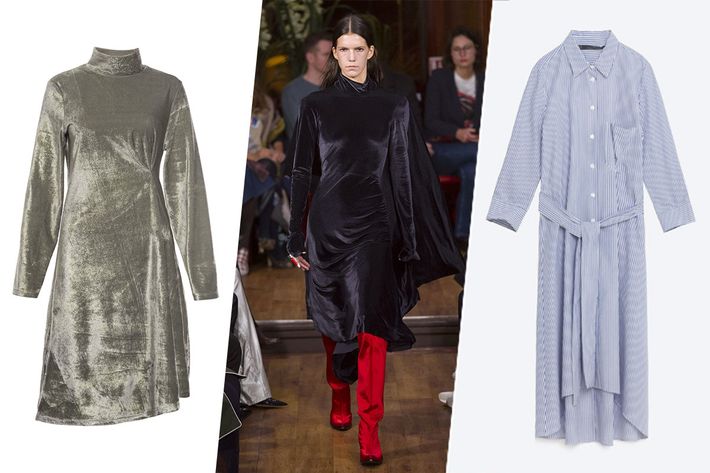 One of the biggest appeals of Vetements is its chic fusion of the unexpected: For spring '16, rugged cowboy boots were contrasted alongside flowing midi dresses with ultra-feminine silhouettes. Front Row Shop's version references the velvety texture and high-cut neck of the original. Should you prefer a lighter fabric for spring, opt for a blue-and-white-striped T-shirt dress, which also made an appearance on the runway.
FRS Grey Metal and Velvet Dress, $58 at Front Row Shop; Zara Studio Shirt Dress, $100 at Zara
The Apron Dress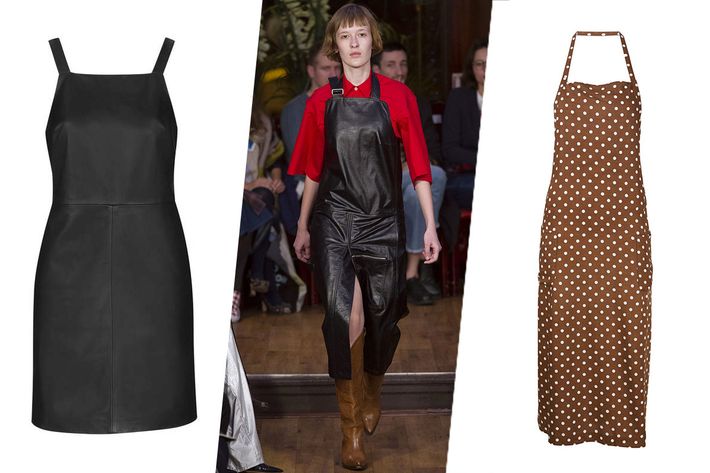 The next time you catch yourself wearing an apron while playing chef in the kitchen, you can take pride in looking like a Vetements model. As basic as the concept of a shipping T-shirt is, it really doesn't get any simpler than an apron. For a more wearable take on the look, try a loose-fitting pinafore dress, or this apron-style dress from Comme des Garçons. Throw it over an oversized button-down for a true runway interpretation.
Topshop Leather Pinafore Dress, $330 at Nordstrom; Comme des Garçons Polka-Dot Apron Dress, $342 at Farfetch
Sweat Suits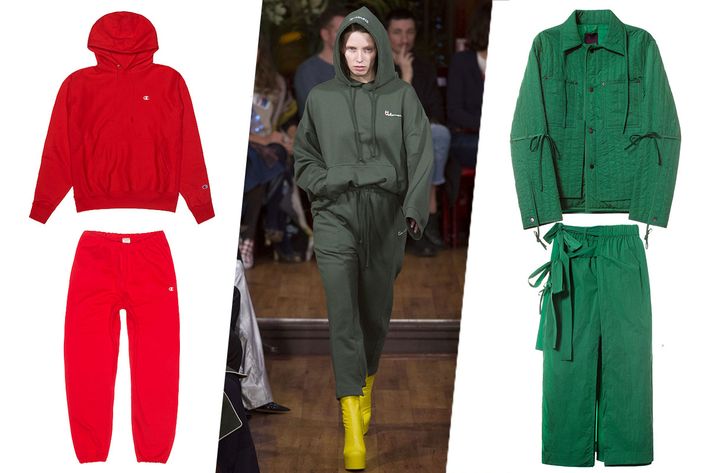 Usually when a high-street brand reimagines a designer original, it's a watered-down version of the real thing. In this case, the famed Vetements sweatsuit — which has found fans in Rihanna and Selena Gomez — is essentially an elevated version of a classic Champion sweat suit, right down to the logo. If you want the same laid-back feel, only more polished, Craig Green's jacket-and-pants set captures the cool of the Vetements sweat suit in a similar shade of green.
Champion Reverse Weave Pullover, $27 at Jimmy Jazz; Champion Life Reverse Weave Pants, $40 at Champion; Craig Green Quilted Workwear Jacket, $535 at VFiles; Craig Green Layered Track Pant, $467 at VFiles
A Western-Inspired Belt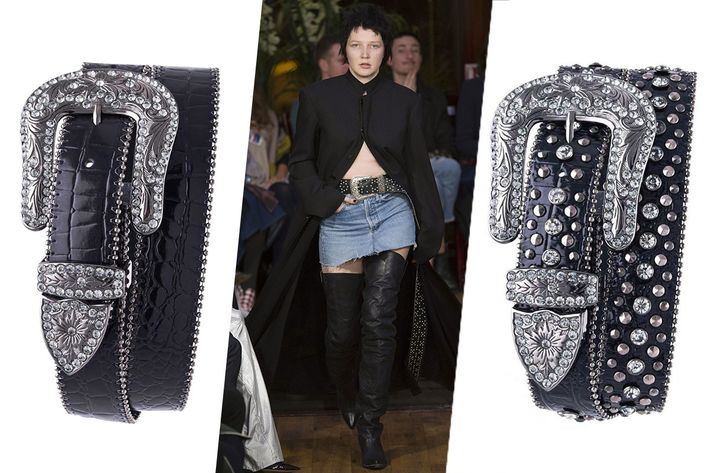 For Western-inspired belts, look no further than the online mecca of cowboy attire, Country Outfitters. These belts from the site are just as flashy and in-your-face with rhinestones as Vetements' own, but since they're slightly thinner, they won't look as overwhelming when looped around high-waisted jeans.
Kamberley Belts Women's Western Pattern Belt, $28 at Country Outfitter; Kamberley Belts Women's Western Rhinestone Belt, $40 at Country Outfitter
Statement Boots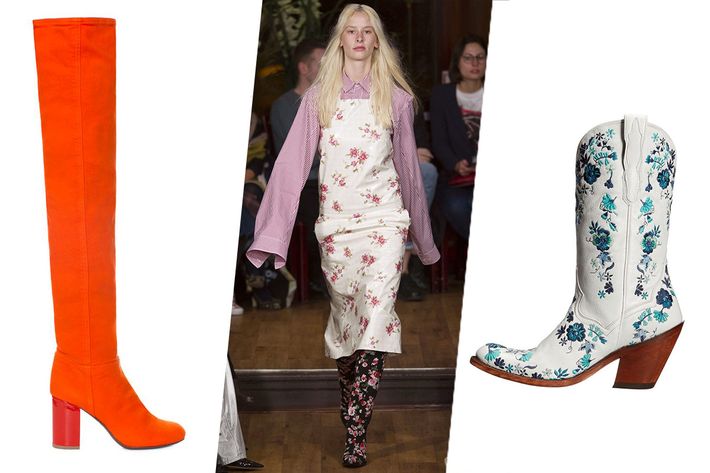 Vetements' footwear is one of the most recognizable aspects of the Parisian label. The brand's Bic-lighter-inspired sock boots may be a difficult item to replicate, but these over-the-knee boots from Marios get the feel down with dramatic red and neon-orange color-blocking. Want to take it all the way? Go for floral cowboy boots with a billowy midi dress.
Marios Denim Knee-High Boot, $550 at VFiles; Dan Post Happily Ever After Boots, $240 at Zappos
Relaxed Pants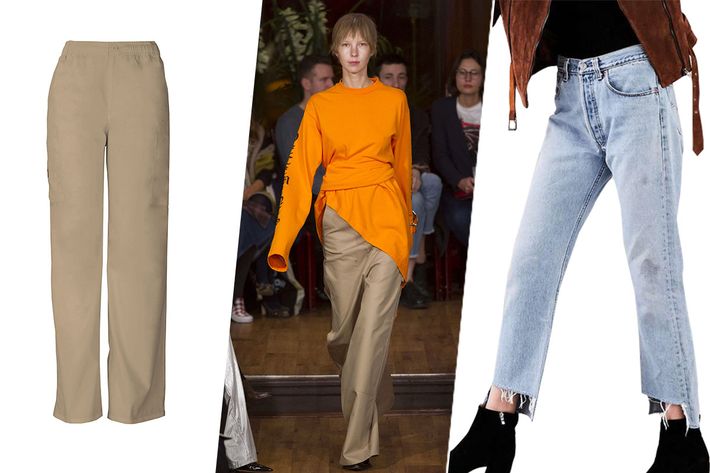 When it comes to pants, fit and hems matter. Should you not have the time to DIY the uneven hems on your jeans, Urban Outfitters has a similar pair for under $80. In the vein of "industrial-worker chic" you can't go wrong with a loose-fitting pair of cargo pants from Dickies.
Dickie's EDS Elastic Waist Cargo Pant, $32 at Dickies; Urban Renewal Remade Uneven Hem Jean, $79 at Spring
Oversized Outerwear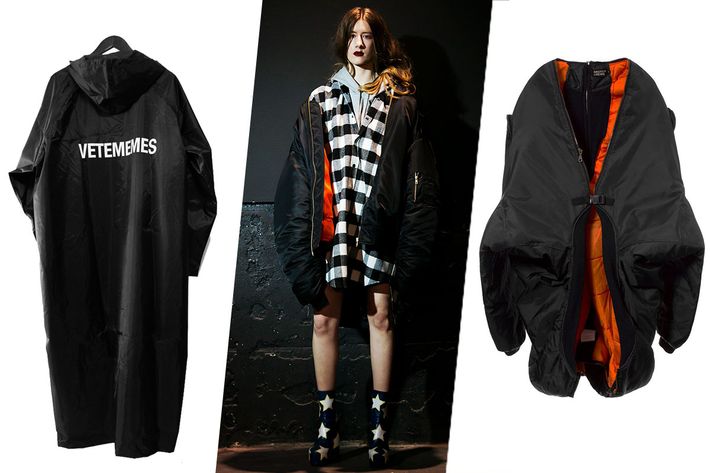 If you haven't noticed the theme of "the more baggy, the better," you won't be able to miss it here. The final step in realizing your Zetements dreams is a piece of outerwear that could hold virtually every possession you've ever owned; think two to three sizes too big. Parody brand Vetememes has a raincoat that is basically the real thing, and Andrea Crews's roomy bomber sports cardigan has an unusual shape that feels unique.
Vetememes Raincoat, $59 at Vetememes; Andrea Crews Black Bomber Cardigan, $332 at VFiles