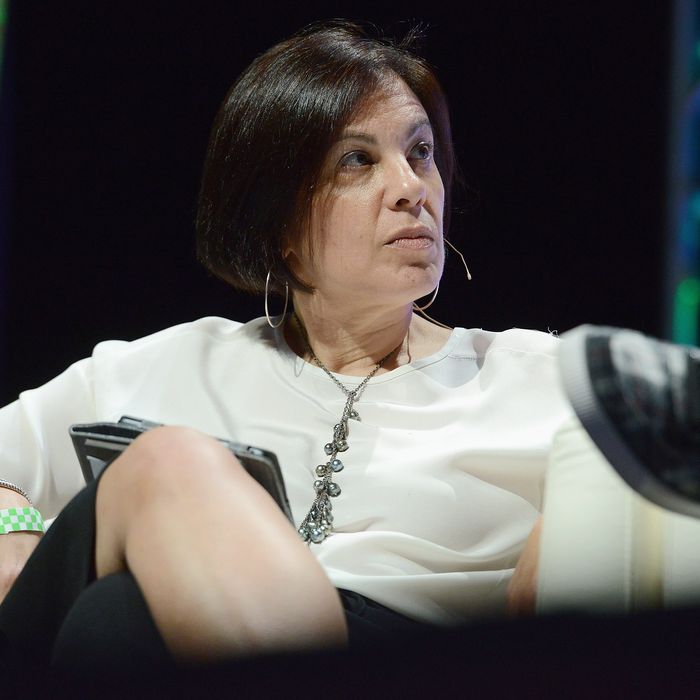 Joanne Wilson, co-founder of WeFestival.
Photo: Noam Galai/Getty Images
The WeFestival is a six-year-old conference for female entrepreneurs — no men allowed. Approximately 400 women are scheduled to attend this year's event, which features panels, workshops, lectures, and a keynote from Sheila Marcelo, founder and CEO of care.com. The Cut spoke with festival co-founder Joanne Wilson, an angel investor and voice behind GothamGal, about why it's more important than ever for women to get together to talk business.
On how the idea for WeFestival came about:
"WeFestival came about because Nancy Hechinger, who is a professor in NYU's ITP program, told me at breakfast that she was really bummed because ITP has always had a 50-50 balance of men and women. That particular year she was teaching two classes that were 60-40 men-to-women, and she was really frustrated by it because it really changed the dynamic in the classroom. She was saying to me that there needs to be more women in tech. There are. You just don't see the women in technology because women network differently.
I left the breakfast, and she called me ten minutes later and said, 'I wanna do something. I want to do something at NYU around this. Would you be interested in doing it with me?'
We got together, we started thinking about what we could do. We liked the idea of calling it a festival because, like a music festival, you can come in and out of different bands, you don't just sit there for one thing. We launched the first one at ITP six years ago. I would say, by one hour in the first morning, we both looked at each other and were like, 'Oh my god, we really stumbled into something here.' Fast-forward five years, and here we are. It's been phenomenal. We're booked in L.A., New York, and Berlin now. We've created this incredible Slack channel. I love it. WeFestival is a place where women can connect and be heard. It also gives women the opportunity to meet other women who are in the trenches, building businesses. Being founders and co-founders are really, really difficult jobs."
On how women network differently:
"Here's a perfect example: I'm in Los Angeles right now. I get invited to different events of investors in L.A. Other women were invited, too. I'm in a different part of my life, my kids are grown-up, I don't need to be home to put food on the table. Unfortunately, though, when you're in your 30s and 40s, you have to try to do it all. I go to the event, and I'm the only woman of 50 men. Where are the other women? Family things, friends things, work was really hard that day. When there's a cocktail party for the tech industry, women [so often] are like, 'Ugh, I'm not going to do that,' whereas men are like, 'I'll totally stop by' without even thinking."
On why she continues to run the festival:
"At the end of the day, the reason I do this is because I want to see more women run better and bigger businesses. I want these women to stay in the public eye. So that the 12- and 13- and 8-year-olds who are out there can say, 'I want to be that when I grow up.' If we don't create that and enable that, then we're going to have another generation who doesn't have any role models out there."
On the downfalls and rewards of being a woman in business:
"I think when you're in charge of your own business, you're in charge of every part of your life. You're probably working harder than you ever have before, but you're working for yourself and not for everyone else. Can we have it all? Not at the same time. I think it's important for young women and men coming up the pike to see successful women as their counterparts. Having a women-only entrepreneur festival, we realized that when there are no men there, the walls come down. There are conversations about how you get food in the fridge, and where'd you get those shoes, and do you ever take time for yourself on the weekends? These are conversation where it's so nice to have a peer to say to, 'Oh, my god, I'm not crazy either, I cried all last week.'"
On realizing she never had to give anything up:
"I don't think I've given up everything. When I was younger, I thought I was immediately going to start running a multimillion-dollar company by the time I was 26 years old, and you know what? That's fine that I didn't do that. I don't give a shit. Do I feel like I gave up anything? No. It turned out fine in the end. Now I'm going back and I'm building this company. I'm having my new moment."
This interview has been condensed and edited.