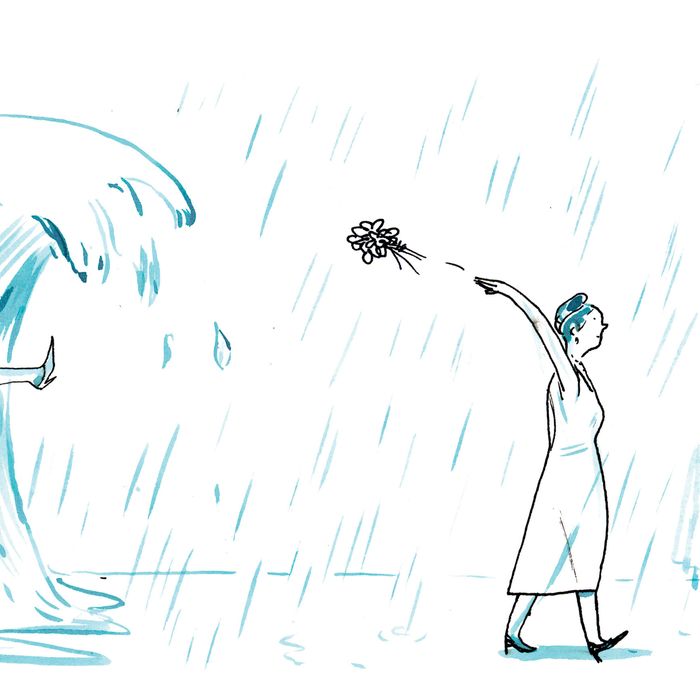 Your wedding doesn't have to play out like that Alanis Morissette song. Here,  expert tips on how to ensure the photos turn out okay, the dress stays dry, and the groom can still ride in on a horse — despite a downpour.
1. You still want to take atmospheric outdoor photos.
"If you're out in the country, find a building with an overhang or a porch area: You can set it up to make it look like you're outside. Avoid pillars, gates, or fencing, and find spots that are completely open. Take the photograph from the waist up and have the photographer use a long lens; it'll give the impression that you're fully outdoors. And remember, it's not all bad: Rain diffuses the light, so there are a lot fewer harsh shadows — which is more flattering. Plus, a rich mix of clouds can be very interesting as a background." —Patricia Kantzos, photographer, Patricia Kantzos Photography
2. You hired a cigar roller.
"Set up the table near an exit door so that guests who don't want to go outside can just watch the process of the cigars getting cut. And for the guests who want to smoke, designate an ambassador to go outside with an umbrella and assist them." —Rachel Lukoff, head of sales, Cigar Guys
3. Your foundation and mascara aren't waterproof.
"One old-fashioned thing you can do at the last minute, if you don't have a setting spray, is to mist hair spray — aerosol, not pump — on your face, and it will set the makeup. Cover your eyes and mouth, and from six inches away have a friend spray your face. Even better, stick to makeup that's cream based: cream blush, cream eye shadow, creamy emollient lipstick. It's mostly the things that are powdery that will move." —Amy Zdunowski-Roeder, celebrity makeup artist
4. Your hair tends to frizz up.
"The best thing to do would be to put your hair up. I love a fishtail-braid bun, because it doesn't look contrived or braided—it just looks like texture — and most important, you won't need to worry about your curls dropping. If you want to keep your hair down, I'd recommend having a stylist on hand all day for touch-ups. If you can't get your stylist to stay, take a boar-bristle brush and spray an anti-frizz product directly onto the brush, and then spread it gently through your hair. That'll gather all the frizzies and flyaways and calm those down." —Vanessa Alcala, hairstylist, Marie Robinson Salon
5. The groom was supposed to ride in on a horse.
"Typically, at an Indian wedding, guests will gather outside as the groom makes his grand entrance atop a horse. The horses that we work with have an umbrella attachment that we can put up. But if there's no umbrella, believe it or not, a lot of the hotels will allow the horse inside. You just have to check with the handler to make sure the horse won't spook." —Sonal J. Shah, event consultant, Sonal J. Shah Event Consultants
6. Your dress has a six-foot train.
"When you're arriving, ask several bridesmaids to lift up your train and carry it while you walk. Or you can just fold it over your shoulders into a cape, and you'll be good to go. If it still gets wet, there's always the blow-dryer." —Paulette Cleghorn and  Liz Sellassie, owners, Designer Loft Bride
7. You're not great in heels, especially when it's slippery out. 
"There are these cheap platforms called Grasswalkers that turn any high heel into a wedge — a plastic piece you can attach to the heel that extends the length of the shoe. I would have a backup shoe, too, such as an espadrille or a high-heel flip-flop. Even though these look awful, they'll be hidden by the dress." —Julie Sabatino, wedding stylist, the Stylish Bride
8. You decided not to splurge on fancy tent flooring.
"Flooring tends to actually be more expensive than the tent itself. It will be cheaper to deal with soggy grass, so invest in a huge stack of $2.50 Old Navy flip-flops in a range of colors and sizes to have on hand for everyone in case it rains. If you tie them with a bow in a coordinated color, that'll dress them up a little bit." —Leslie Price, wedding planner, In Any Event
*This article appears in the Summer 2016 issue of New York Weddings.