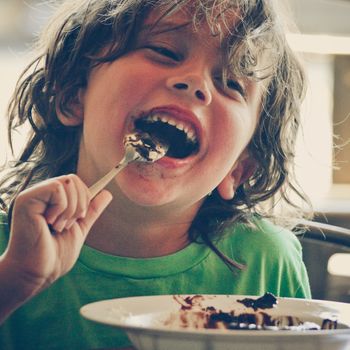 A boy and his cake
Photo: Fran Polito
Roughly one in three American children between the ages of 2 and 19 is overweight or obese. And more than one in three adults in the U.S. is obese, with a BMI over 30.
These numbers have increased sharply from even 25 years ago, and the reasons behind the jump are complex. In kids, a few factors are definitely at work: Children now spend less time being active than ever before (thanks TV, phone, and iPad), and they are relentlessly marketed to by makers of bad food.
A new study published in the journal Appetite has examined how popular children's books depict food. The study points out that TV is the No. 1 media source for kids between the ages of 2 and 4 — on average, they watch over an hour a day. But books are a close second (children read nearly an hour per day, on average). There has been copious research done on the way TV impacts children's ideas about food, but very little work has been done with books up until now.
The study pulled 100 popular fiction and nonfiction children's books from the publisher Scholastic, whose books are in more than 90 percent of American schools. Of the 100, 69 were found to contain images of food, and these were the ones the researchers examined.
What they found was that vegetables and sweets are coded in different ways. Fifty-seven percent of the books depicted fruit, and 35 percent mentioned vegetables, while sweets like cakes and cookies only appeared in 26 percent. But vegetables were infrequently portrayed in a positive manner, unlike, say, ice cream. In fact, "ice cream deserves special mention," the researchers write, because it is often the "culminating" event in the book. "It was offered as a treat to celebrate an occasion, make someone feel better, and/or to indicate a happy ending. No other food enjoyed such a specific status with such a privileged connotation." I scream, you scream, etc.
Another special note in the paper pertains to beverages, which were "more than three times more likely to be sweetened drinks than water."
The researchers don't fully connect the dots for us, but we're all able to do that on our own. Children's lifelong eating habits are formed in the earliest days of eating solid foods. "Kids will basically eat anything unless we allow them to be picky," says Dr. Tricia Gold of Tribeca Pediatrics. "Shortly after introducing solid foods at around six months, children's palates are in the exploration mode and behavior is not generally tied to their food yet." But "when they become toddlers, they start to push foods away, testing the beginnings of independence and choice, and generally parents will unknowingly accommodate these behaviors for most children."
Sweet foods, which are easily palatable, may "naturally" become favorites, but children, she says, don't really arrive with set ideas about food. That part is up to us — and to television, books, and other media, of course.
What's clear from the research is that children are, in these formative years, susceptible to and cognizant of suggestions. As the study concludes, "When nutrient-poor foods are presented not only frequently but positively, they likely contribute to children's view of them as both normative and desirable."
The researchers suggest that, for parents, "simply being aware" of the messaging contained within the pages of their children's books may "aid them to emphasize depictions of healthy foods" as well. So maybe there's hope for spinach after all.