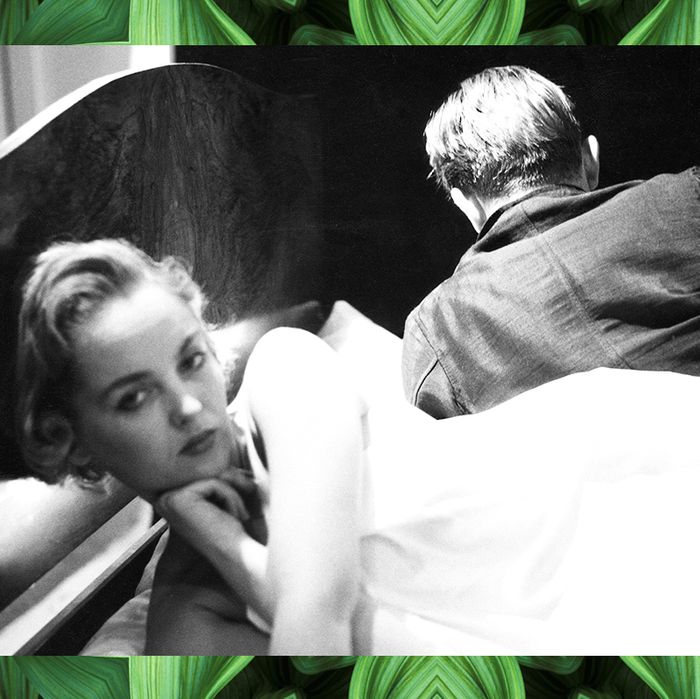 Photo-Illustration: Getty Images
Welcome to It's Complicated, a week of stories on the sometimes frustrating, sometimes confusing, always engrossing subject of modern relationships.


Most people don't know what conscious uncoupling is, so I have to explain that it's what Gwyneth Paltrow and Chris Martin did, and then they get it.
My husband and I met in college when we were 20, and we were together for 20 years — so our entire adult life. A big part of our problem was the fact that we both needed to become independent people. We only knew each other. But given that he's been such a large part of my world for so long, I couldn't imagine not having him in my life. And I don't mean just as my children's father: I wanted to do whatever it took to maintain our friendship. I couldn't fall into that stereotypical "he's the worst and I am perfect" pattern. I really wanted to come out of it in a way that we could still be friends, even though I caught him cheating.
I follow Gwyneth Paltrow's site, so I had heard about "conscious uncoupling." We live in L.A., where there's a real openness to this type of thought process. We knew our relationship was ending but we wanted to be co-parents. So many of our friends are divorced and aren't on good terms. I'm a logical person and this seemed like a very logical solution to a deeply emotional problem.
After we got married, we had two kids in three years. Suddenly I was a wife and mother. I was responsible for taking care of everything in the house and he could focus on work. I was upset he didn't want to spend time with me or make me a priority. I felt like I had turned into a chauffeur, nanny, and cook. I felt like the hired help; I didn't feel like a partner.
My mom is from Mexico and my dad moved here for school from Iran when he was about 19. They have that immigrant mentality, no complaints about working hard or life being difficult because where they were from life was truly difficult. I didn't want to complain, so I kept a lot of it inside. I'd been building resentment toward him for years.
He started seeing someone else and he moved out just after I found out. When he came back, he said we had to figure out what to do with the kids because he missed them. But he was saying it in a really cold, angry way. He didn't know what he wanted, he just knew he wanted to be separated. He didn't come out and tell me about this other woman, I had to shake it out of him. I could have been angry about that and cut him off forever, but why make it about her? To be honest, it was a relief.  I was never going to admit that we had to break up; I know I would never have had the courage.
At first I didn't tell anyone except my parents, and I think they felt an additional pressure to maintain a friendly relationship with him. They feel like he's their son; they have known him for over 20 years. My mom took it personally. She was crushed. She'd ask, why would he do that? How could he leave us? She would ask if she could call him. I had to constantly pull her back. I was really hurt, but at the same time that's why I do love my family, because they are caring. That doesn't take away how painful it was for me. That was a huge part of why I knew I had to stop it from getting ugly. I didn't want to feel responsible for failing him and I didn't want him to resent me.
So we did the process together, with a therapist. He said he wasn't seeing this other woman anymore and I just decided to trust him. We had worked so hard to build this sense of stability for our children and we were determined to maintain that. And I knew that's what he wanted as well.  
The plan was that we would have seven meetings either in person or on Skype. Ideally we would be together, but we could be separated by video phone if we wanted. Then we had five steps of uncoupling to go through. We only saw each other during the sessions — those scheduled face-to-face encounters really helped.
I was skeptical. I was taking a huge chance on trying this new type of therapy with someone who had just broken my heart and I didn't know what to expect. I was afraid he was going to hate it and blame me, I was afraid we were going to spend all this money on something that wasn't going to help us, and I was worried that I was not going to ever heal from this breakup.
Deep down I was thinking, If I change all this, if i improve, if I accept responsibility, he will want to be with me. But there's a specific chapter in the book that warns you about those feelings. They say they are natural feelings but you can't believe them. That was very comforting.
The steps are:
1. Find emotional freedom
In this step, I identified my feelings about my sudden breakup. It was not planned or discussed before so I was very confused about what was happening and why. Step one helped me name the exact feelings I was having so that I could later address them.
2. Reclaim your power and your life
That's when I learned how I was victimizing my breakup. By victimizing my breakup, I was holding myself back from truly healing and growing.
3. Break the pattern, heal your heart
Step three was where I had to identify the patterns I was playing out in my relationship that were coming from my childhood fears and traumas. Then I could recognize when I'm doing it and break the pattern so that I can live in the truth. My life is incredible, I love my life.
4. Become a love alchemist
In this step, I learned to make new agreements for myself: to let go of the marriage vows and promises my husband made to me in our relationship, to set healthy boundaries, to focus on my new healthy life.
5. Create your happy-ever-after
I told my husband that he is released from having to keep his promises to me. I learned to inspire forgiveness by speaking well of him. I wanted my friends and family to mirror my behavior toward him, to accept my part in the breakup, and become a new authentic person. Here the focus was on creating a new future together with my friends and family, not focusing on the breakup or unhappy times of the past.
I've always had a huge wall up guarding my heart because I was so terrified of losing my husband and afraid of being hurt by him. But here I am facing the thing I feared the most: not having him as my partner. He even cheated on me, and I am alive.
I think I have avoided the word divorce because of the negative stigma it has. I don't want our friends or family to choose sides or our children to think he's to blame. I think that is normally what society envisions when we hear someone is getting "divorced," so I like to use the uncoupling phrase "breakup" instead.
I recently started becoming more open, telling others besides my very closest friends and family about our breakup. I say, "my husband and I are separated." I don't use the word "divorce" because it is not where we are at the moment, but once that process starts I will feel more comfortable saying it. When people ask how I'm doing I say I'm doing well and they are usually surprised. I tell them I'm very happy to have found conscious uncoupling. I say that we have gone through the process of conscious uncoupling because we want to remain friends and continue to be great co-parents. I am the sort of person who needed to be told to focus on my feelings and not my husband's.
It's been about six months since he first left, and things aren't as great as I thought they would be. We don't really talk unless it is about the children and even then it is by text. He does see the kids every other day. That part is still in progress. I have the kids all the time, and it is so hard to move on and focus on myself without him feeling like I have the best of everything. I don't have to work yet, and he's resentful. But I have found myself, finally, after 20 years. I have started setting goals that are only for me — like going to Bali — which I would never have done before. The uncoupling process made me focus on the future rather than dwell on the past. I don't feel anger, but I do feel like I am mourning a death. I think that's good, though, because it's final. I am not getting on with my life to prove something to him or make him come running back to me.