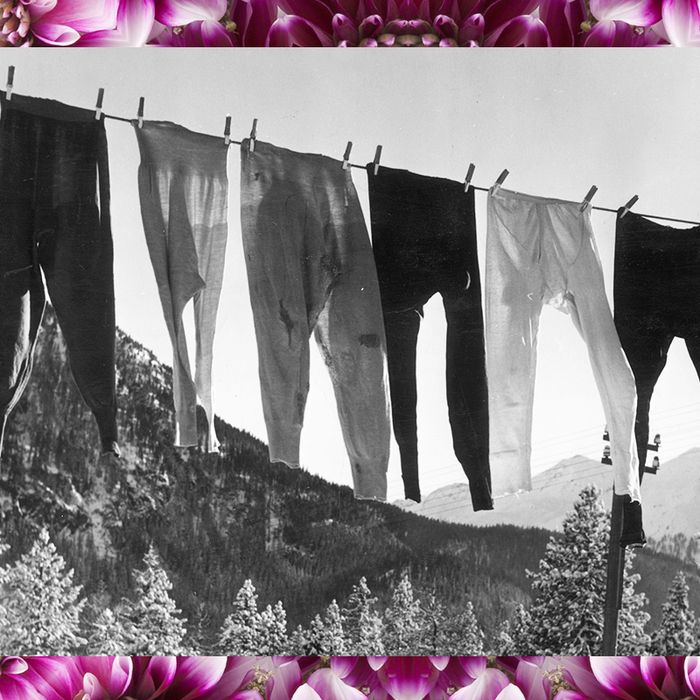 Photo-Illustration: Getty Images
Welcome to "It's Complicated," a week of stories on the sometimes frustrating, sometimes confusing, always engrossing subject of modern relationships.
In the four years I lived in Anchorage, I dated more than I probably will for the rest of my life. I got asked out a lot — at the grocery store, at the library, hiking the Matanuska Glacier, gliding down the bike trail. Some of the guys who approached me were goblins; I regularly turned down the five-fingered grandpa — that's five fingers total — who constantly asked me for a blow job whenever I drank at a particular downtown bar, and I practically ran away from a man who had the stringy baldness of a young Riff Raff from the Rocky Horror Picture Show when he sidled up and asked me if I had any communicable diseases as his opening line. But most of them were just genuine guys trying their luck, which encouraged me to try my luck, too. In short turn, I soon realized that if I wanted to meet guys in Alaska, all I had to do was go outside.
While it's no longer true that there are more men than women in Alaska by a ratio of two-to-one, the skewed gender ratio might have played a small part in the fact that I was able to pull so much. I'm not great with math, but I think that in an area where there are even slightly more men to choose from, your chances of boning a few of them tend to go up exponentially.
I got to Alaska the way most people do: Through personal trauma and a series of questionable decisions. It's where I ran after September 11; I was 24 years old, working for the United Nations, and exhausted by the fact that I had to pass through an endless series of security checkpoints every time I needed to pee. I was completely freaked out — not in the sexy "Winona Ryder in Girl, Interrupted" way, but in the "wow, you're really eating mashed potatoes for every meal, huh?" way. I went to visit a friend in Anchorage in February 2002, and it felt right. I sold all of my furniture, quit my job, bought a car, and spent two months by myself on a cross-country road trip to Alaska.
I assumed my romantic life in Alaska would continue the same way it had everywhere else I lived — sparse and unexciting. I didn't date at all in high school; in my revisionist history I've decided this was by choice, but the reality was that a six-foot-tall black girl in a predominantly white town who shaves her head, wears a skirt made out of ties, and uses black eyeliner as lipstick isn't really racking up the offers. My lack of a high-school love life and the fact that I never saw any hometown dick makes it easy to go back to visit now, but at the time it made me feel ill-prepared for dating in the real world. I quit college after a year and moved to California when I was 19; I met my first boyfriend at work, and we dated for three years. I worked too much to even consider dating when I moved back to New York, aside from a few great make-out sessions in the local Irish pub at closing time. By the time I moved to Alaska, I had been in a relationship without ever having been on a date.
At first, I couldn't process the amount of attention I was getting in Alaska. Like many beautiful, charming, intelligent women, I've been cultured to believe I am a grotesque, overwhelming buffoon, and I have a tendency to act accordingly. I hadn't changed anything about the way I looked or behaved, and I didn't want to. But somehow, in Alaska, I was like one of those plants that only bloom once a century — it took most of my life up to that point to gain the strength and confidence I needed to really shine.
I think I was successful because there was nothing at stake. I had moved to Alaska to try something completely new, and to set my own limits. I was at my most independent while I lived in Alaska. It was isolating at times, and I definitely listened to Grant Lee Buffalo's "Happiness" on repeat in my driveway one night while crying into a large pizza for one, but when everyone you know lives 3,000 miles away, you can really amp up the dormant part of your hedonistic tendencies.
There's a saying about dating in Alaska: The odds are good, but the goods are odd. And I jumped into that oddball dating scene headfirst.
I spent a month or two with Derek (names changed throughout), a legitimate maestro who was mostly a bartender owing to the shortage of symphony orchestras in the state. He had a hot tub and the kind of marijuana addiction that made him tack brightly colored carpet samples to a wall because he wanted something "cool" to look at while he was high. I didn't mind floating around a little stoned, but I'll be damned if I'm going to talk about flooring for more than 60 days.
I went on a hike with Scott, who asked me out because he liked the book I was reading one night while I had dinner alone in a restaurant. I found out he was cheating on me with a woman who did reiki, and I've never felt better about punching a man right in the face.
I had a roommate in AmeriCorps, and enjoyed having sex with one of her co-workers, Paulo. He had thick black hair and tattoos that made it look like robot parts were embedded under his skin instead of a skeleton; he frequently told me that he was used to dating girls who wore a lot of makeup, and it was nice that I looked the same way waking up as I did falling asleep, since I don't wear any.
I worked in a used bookstore, which was a petri dish of makeups, breakups, hookups, and that one customer who looked like Robert Goulet and always hung out near the Left Behind series. I was also the hostess at a pizza place, which was a breeding ground for sexual harassment from inebriated customers trying to cop a feel on their way from the bathroom back to the table where their wife and kids were sitting.
Once, on a fishing trip with some friends, I met one of those firefighters who parachutes into fires from an airplane. I generally prefer slight, nerdy men whom I could easily take in a fight, but I wasn't going to miss what would surely be my only chance to hook up with Captain America en Fuego.
I had my first, real dinner-and-a-movie date in Alaska with a sweet man I met at the bookstore. He picked me up, and dropped me off at my door with a gentle kiss.
Then I went out with a Scottish businessman; he had soft, tiny doll hands and once, during a robust round of fucking, he accidentally but unapologetically jizzed in my eye. It was the next best time I punched a man right in the face, before I ran screaming to Planned Parenthood to get checked for ocular STIs.
Living in a city helped a lot. I once spent the better part of a year working in a fishing village in the Aleutian Islands, and the men of the Alaskan bush country were as surly as werewolves. Not only did I avoid dating there, but I'm sure I would have had my vagina hermetically sealed if I had to live there for a moment longer.
I've been a weaponized feminist since I was a teenager and I've never been afraid of being alone; it didn't feel like I was dating out of desperation or obligation. I'm missing the programming chip that insists I rush out and find my one true love — it's cool if that happens, but it's not the point.
So what is the point of dating, then? I had an epiphany while I lived in Alaska: Dating can be so much fun. It's brutal out there, and I think I need that reminder now — that it's possible to have a full, interesting sex life without committing to the idea that you're going to be with someone forever. Dating doesn't always have to end in sex, a long-term relationship, or an extension of how you value yourself. Sometimes you get to sit on the rooftop of a bookstore, drink wine, and watch the Aurora Borealis. Sometimes you wake up in the arms of a half-man-half-robot who thinks you're beautiful.
I want to stay open to the idea that I can cultivate closeness with people, that dating doesn't have to be formalized for me in order to be fun. I want that Alaska feeling back. I need to believe that one day, hopefully soon, I'll get another chance to punch a man in his big, beautiful face.