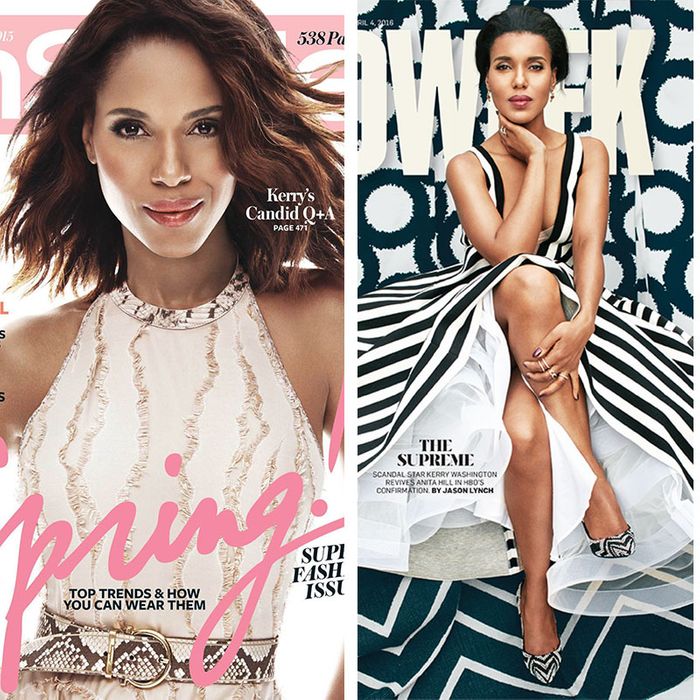 There are many things to admire about Kerry Washington, but what I love most is that sometimes people say I favor her. It's a silly, vain thing, but it's true. Our lips, our eyes, and even our hairline draw comparisons.
Every week on Scandal, I get to see someone who looks like me negotiating deals with heads of state, combating the abuse of power, and, sometimes, saving lives. But even if Kerry and I looked nothing alike, she would still mean something to me, as she does to many black women. As they say in the #BlackGirlMagic corners of the internet, representation matters.
So it hurt, in 2013, when a poorly portrayed Washington landed on the cover of Lucky. She was practically unrecognizable. And then it happened again, in 2015, with Instyle, and most recently, with Adweek. It raises the question: At what step along the way did these magazines fail her?
"For shooting black skin, it's all about tone," photographer Andre Wagner told me. The subjects of Wagner's photography, mostly black people, often make their way onto his Instagram page. "Tone and lighting are the most important parts in not trying to distort black skin. Sometimes photographers overexpose subjects to hide blemishes and skin imperfections, but with black people it's not so successful because you can't just wash out black skin."
But there's more to consider than the photographer, of course. There's the art director, the makeup artists, the editors, the post-production re-touchers – all of whom play a part in the final image. When it comes to Kerry Washington, sometimes this team gets it right. Her 2013 covers of Glamour and Vanity Fair are testaments to that.
But when this team of artists and editors attempt to morph Washington into someone else, the images fall flat. In Washington's case, bad lighting and Photoshop bear the brunt of the blame. Her Lucky cover might have benefited with a softer light source. "With black skin, natural light does wonders," Wagner said. "Andrew Dosunmu and Bradford Young [a director and cinematographer responsible for the films Restless City and Selma, respectively] are known for shooting in natural light, which is opposite the industry standard."
Overzealous Photoshopping also appears to be an issue. On the cover of Self, Washington looks like a wax figure of herself, and on Lucky, a vigorous attempt to smooth over Washington's under-eye circles went horribly awry. Little tweaks are one thing, but when you try to strip away what makes Kerry Washington Kerry Washington, those tweaks become a problem.
So for the next team that photographs the incomparably beautiful actress: Don't erase the tiny shadows that fall under her eyes. Use a softer light that hugs her skin. Ease up on the Photoshop. And above all else, include people who celebrate, instead of muzzle, the beauty that is black skin.