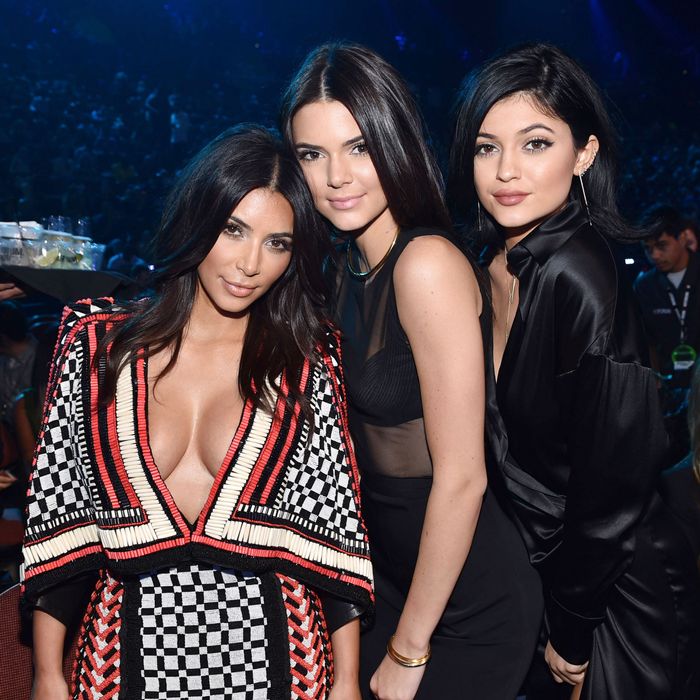 "The new rich is the natural."
Photo: MTV/MTV1415/Getty Images
The world's wealthiest women all have the same hairstyle. I'm observing this while sitting at the Paris Four Seasons Hotel during Fashion Week with Guido Palau, the creative director of Redken and hairstylist responsible for looks seen on the runway at Prada, Marc Jacobs, and Alexander Wang. Pharrell and his wife had just walked by, followed by a TV crew, as everyone pretended not to notice. Miniature dogs nestled in elbow crooks are the accessory of choice for the clientele here, where rooms start at 1,000 euros. And there's one thing all the women in this room have in common: simple, non-showy, natural-looking hair.
"The new rich is the natural," Palau says. "You can get all these different quirky hairstyles out of it, like you see on the runway. But women just want to wear their hair simply nowadays. You see that when you see the women gathered here." It's true. Amid the Birkins, Vetements sweatshirts, and glossy Dior sunglasses in the room, no one's hair appears "done." While it doesn't quite look like they've rolled out of bed — everyone's hair is too polished and frizz-free for that — there's no distinguishable style, no deep-parted ponytails or lobs. Whether it's natural, short, long, straight, or curly hair, the prevailing trend is embracing your natural texture and making it look easy.
You can see it on the runway, in an aesthetic that designers and hairstylists called "individuality" and that we called "no-hairstyle hair." And you can see it on celebrities, specifically a cluster of wealthy women who happen to share one family: the Kardashians. Save your groans and take a look at all the Ks: Kim, Kourtney, Khloe, Kendall, and Kylie. Apart from matriarchal Kris and Kylie, who gets herself in trouble by misappropriating hairstyles, these women — who have daily hair teams — all wear largely the same look: no-hairstyle hair reflecting their natural texture. Occasionally, a ponytail or slight differentiation in the waves will set one apart from her sisters. Jen Atkin, hairstylist-at-large to the entire Kardashian clan, once told us, "We just don't live in a world where we have time to do complicated hairstyles. I do spend most of my time making it look like nothing is done."
From Atkin to Palau, no one is quite sure why this hair trend is suddenly ubiquitous. Palau speculates that it might make for a strong juxtaposition against this season's "quite rich" clothes. Another theory blames Instagram: Bigger, more vivid clothing textures and colors look better in photos, but that drives women to wear their hair more simply in contrast.
"You don't see glamorous models with their hair done," says Palau. "It's just natural, enviable hair. It's not blown, bouncy, and big. Those girls are the glamorous girls. The whole idea of glamour has changed." The caveat is that your natural hair needs to be in good condition if you want it to look luxurious, which requires the aid of lots of fancy hair products and conditioning treatments. So perhaps it's no surprise that this trend seems to apply to mostly young, rich women. As usual, "doing nothing" for the sake of fashion actually requires doing quite a lot.