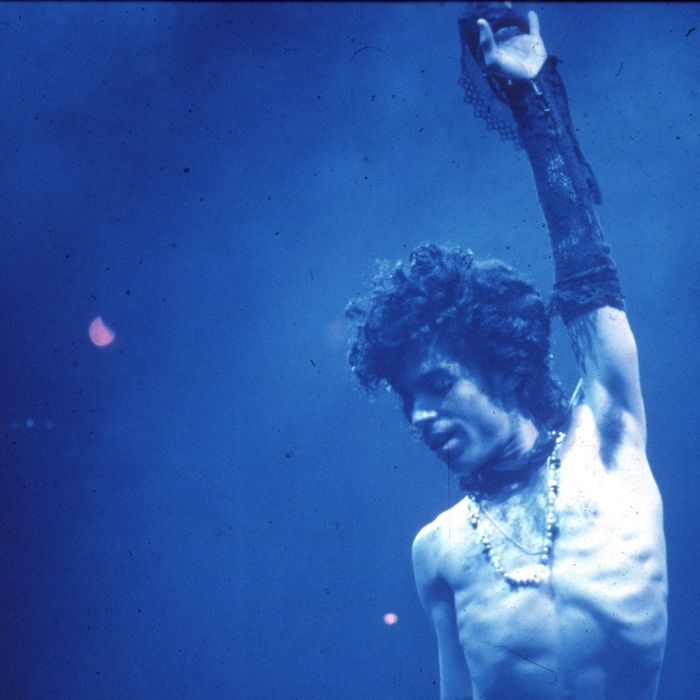 Photo: Michael Ochs Archives/Getty Images
I could tell you about how Prince warped my little adolescent mind when "I Wanna Be Your Lover" came out. (Who was this guy in a trench coat, thigh-highs, and G-string telling me, "I wanna be your mother and your sister, too …"?) Or I could share the story about seeing Prince at a midnight show at Roseland Ballroom where he performed a version of "Purple Rain" so long and hot and psychedelic, the walls seemed to melt. But I'd rather tell you about the time two strippers at San Francisco's grubby Market Street Cinema nearly came to blows over his song "Sexy Motherfucker."
When Prince's Love Symbol album came out, if you were a stripper, you couldn't escape the bomping beat of "Cream" or the vulgar majesty of "Sexy Motherfucker." At Market Street, you'd hear either song about four times a night — and God forbid a dancer tried to use these songs on the same shift as another girl who had proclaimed them "hers." One Irish girl threatened to stub out her cigarette in the face of a dancer after she'd taken the "Sexy MF" CD out of its case to give to the manager. Another dancer was so invested in "Cream" that she'd take to the stage with a can of — you guessed it — whipped cream, and spray it all over herself, only to be sort of stumped as to how to get it off as her next song began.
I don't know what Prince thought of strippers, but I do know that strippers loved Prince. He was strip-club history. And what mattered was the music. His songs, for decades, have been sex-industry staples — whether on a strip-club playlist or in pop-culture iconography. Remember Julia Roberts in "Pretty Woman" singing in the bubble bath in Richard Gere's Beverly Hills hotel room? She's listening to Prince's "Kiss" on her Walkman. Of course she is. (In the original script, she's listening to Elvis Costello.)
I remember when I, a lowly 19-year-old peep-show girl with no dancing experience, visited a Las Vegas strip club. You had to be 21 to dance in Vegas, so the girls seemed impossibly old and experienced. One dancer — a skinny, super-tan girl with a frosted updo and a frilly white minidress — was dancing, slowly and expertly, to "Darling Nikki." At the raunchy guitar grind that punctuates the first verse, she stood stock-still in the middle of the stage, rotated her rib cage just so, and, right along with the guitar note sliding up, her top dropped down. I still can't figure out how she did it, and I still think of her and that bonkers move whenever I hear that song.
The pansexual allure of Prince made a mockery of the Kinsey Scale. Back in the day, when it was still something of a scandal to be an out sex worker in the lesbian scene, even in the progressive Bay Area, the women affiliated with the BayBrick and Amelia's bars, and the lesbian erotica magazine On Our Backs started BurLEZk — the first queer girl strip show. A beautiful Latina named "Pepper," who worked at one of the clubs in the Tenderloin, became a BurLEZk superstar by crushing all eight minutes of "Do Me Baby," offering women the same ecstatic eyeful that men have been enjoying forever. Meanwhile, in a room full of straight boys at the classiest club in town, my stage partner "Phoenix" — who probably hadn't kissed a boy since middle school — would put on a "Gentlemen Prefer Blondes" hot-pink Marilyn Monroe–style gown and elbow-length hot-pink-satin gloves and kill "Scandalous." There was another girl at the same club, identified as hetero, who did impeccable gender-bending "Purple Rain"–era Prince drag — which might have confused some of the customers, but (I can attest) delighted many more. And the boundary-warping magic extended offstage. A dancer could be straight as six o'clock, but the right girl dancing to the right song might inspire her to jump the fence, if only that one time. Chances are the soundtrack to that seduction was by Prince.
On a practical level, Prince was, literally, invaluable. His huge catalogue of danceable songs helped create a lot of stripper wealth — first as a thrilling new thing that got the boys grooving in their seats, then as a feel-good nostalgia trip. He even offered short cuts: If you wanted to get your stage set over with so you could get back into the audience and make money doing table dances, "Got a Broken Heart Again," barely over two minutes long, was an exquisite choice.
Prince was a master of creating sexual dramatis personae — something strippers see as not just necessary for professional survival, but fun, as well. Regarding Prince, and his many permutations, we knew we were all working the same racket, only he with more talent and prestige (and, let's face it, male privilege). He was nasty but reverent, meditative but playful, and profoundly, astonishingly physical but romantic and heartfelt to the very last chord.
When it came to erotic lyricism, he went deeper, came up sweatier, and managed to elevate base sexuality into something ethereal. He knew what we knew: That sex was sacred, and it didn't have to be denatured or defunkified to be pure. Shot through with religiosity, Jesus was never far away in Prince's lyrics. Raw was holy. Listen up, he told us, the dirty is the divine.
Prince always felt like one of us — at first, he was regarded as a talented deviant who was just telling dirty stories, but he turned out to be telling the truth. That's where the sacred bond between nasty girls and Prince came in: In his retelling, we weren't degraded, we were raised up, divine beings, one and all, part of God's great family. We didn't have to cover up to be seen as we really were. Eternal siblings in spirit, we belong to Prince, and Prince belongs to us. Forever and ever, amen.