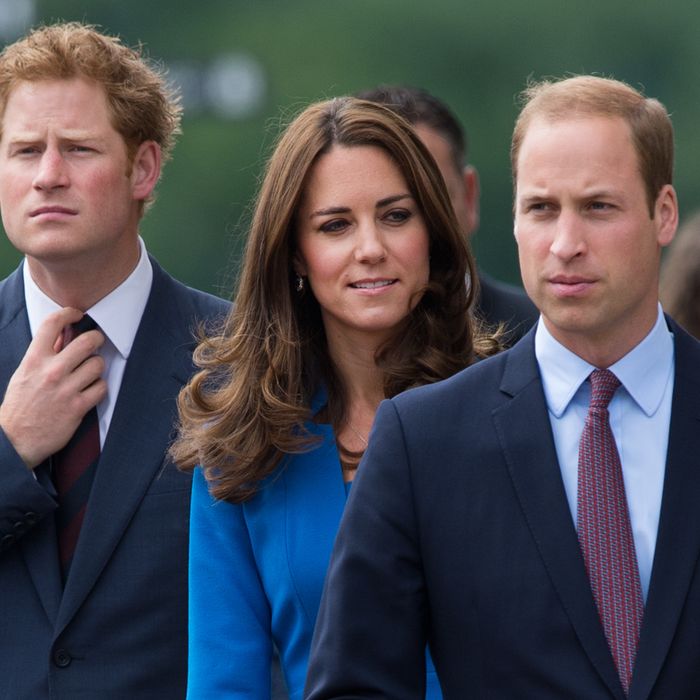 Prince Harry, Princess Kate, and Prince William. Photo: Samir Hussein/WireImage
Prince William, Princess Kate, and Prince Harry released a mental-health initiative, via video, tied in with the 2016 Virgin Money London Marathon Sunday. And the three filmed the video on what looks like a perfect spring day at Kensington Palace, or that could just be Kate's ethereal glow lighting up a dreary London afternoon. Hmmm.
In the video, the three promoted their mental-health campaign, "Heads Together," and announced that a team of mental-health charities have been knighted by the Royal Foundation to run the London marathon next year. The video, below, plays the upbeat "Turn Up" by the Heavy.
Will, Kate, and Harry were serious in tone as they discussed an issue they've long championed: "Mental health is just as important as physical health," Kate says. Hurrah! Please, someone give that woman a megaphone.
But even when delivering a somber message and you're a royal, it's okay to burst out into a laughing fit. "Let's do a serious one, guys, serious one," William says. Cue the giggling — even a prince should know "serious one" is basically an invitation to a laughfest.