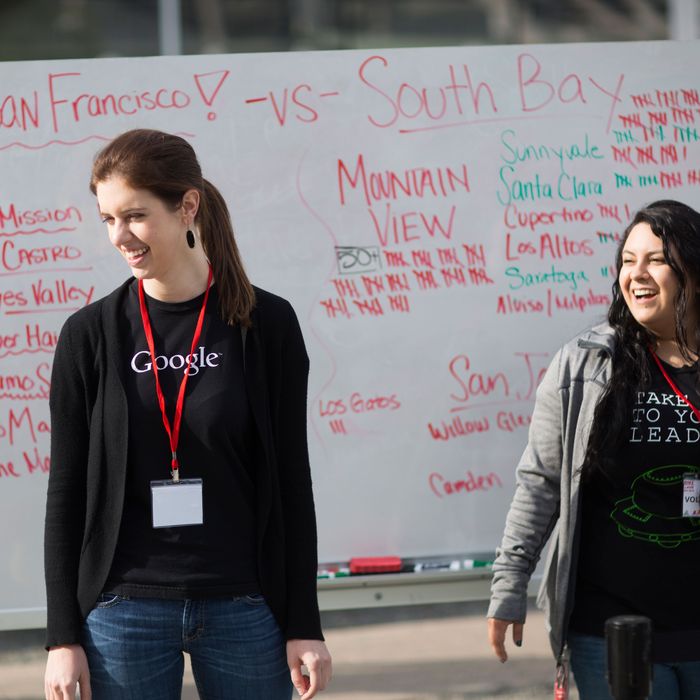 Photo: Brooks Kraft/Corbis
A new study performed by job marketplace Hired found that when going into offer meetings at tech companies, women frequently ask for less money than men do. Huh: Another terrible side effect of working in a male-dominated industry.
Hired analyzed over 100,000 interview requests and job offers and found that, on average, tech companies offer women 3 percent lower salaries than they offer men for the same role, while some companies offer as much as 30 percent less. The study also found that men received higher salaries than women 69 percent of the time — for the exact same jobs at the exact same companies. The study accounts for this by saying, "It's difficult to determine whether this is a symptom of unconscious gender bias in the hiring process or results from an ongoing cycle of women being underpaid, setting their salary expectations too low, and ultimately receiving less in subsequent role."
But what Hired calls "the expectation gap" could be contributing to what is setting women back in their initial salaries in the tech industry. "Overall, Hired's data shows that the average woman on our platform sets her expected salary at $14k less per year than the average man on our platform. When we break the expectation gap down by role — comparing women and men in the same job category — we found as the ratio of men to women in the role increases, so does the gap."
Have you thought about how you pay your female employees today?