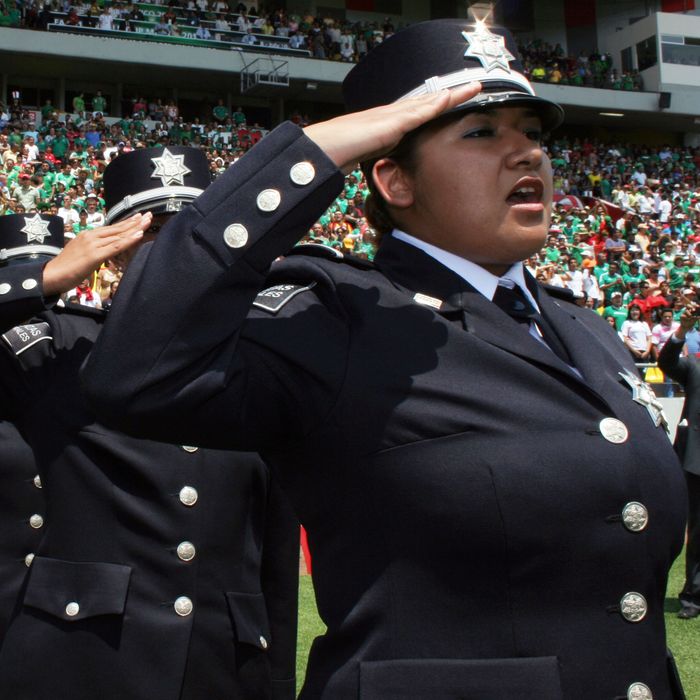 Mexican federal police women during the FIFA under 17 World Cup in 2011.
Photo: Adid Jimenez / Demotix/Corbis
Mexican police in Querétaro City went on strike this week and called for the resignation of chief Rolando Eugenio Hidalgo Eddy. One of their grievances: that male commanders subjected women officers to attractiveness tests as part of their application to be part of a new women-only unit.
Two women have filed a complaint with the state's human-rights commission alleging that during the selection process to join the female unit that would patrol the center of the tourist town, senior male officers commented on their looks and weight. One woman, who had been pregnant but miscarried, was called "paunchy." Maricruz Ocampo of the NGO Coincidir Mujeres told The Guardian: "The women said, 'I trained to be a police officer, not a showgirl.'"
The police chief and former army general they want to resign has a controversial past:
Hidalgo Eddy had previously held a similar job in the state of Aguascalientes, where he formed a unit of attractive female officers, who went about their duties wearing high-heeled boots, tight clothes and lots of lipstick.

The scheme won national attention in 2013 when the women appeared in a photo with President Enrique Peña Nieto. Analysts say it made no impact on security and the state abandoned the project last month.
But not before other cities copied the move: Acapulco has its own "tourist force" of young female officers.
The Querétaro police deny that there is a women-only unit in the works and wouldn't comment on the allegations of sexual harassment, citing the ongoing investigation by the human-rights commission.