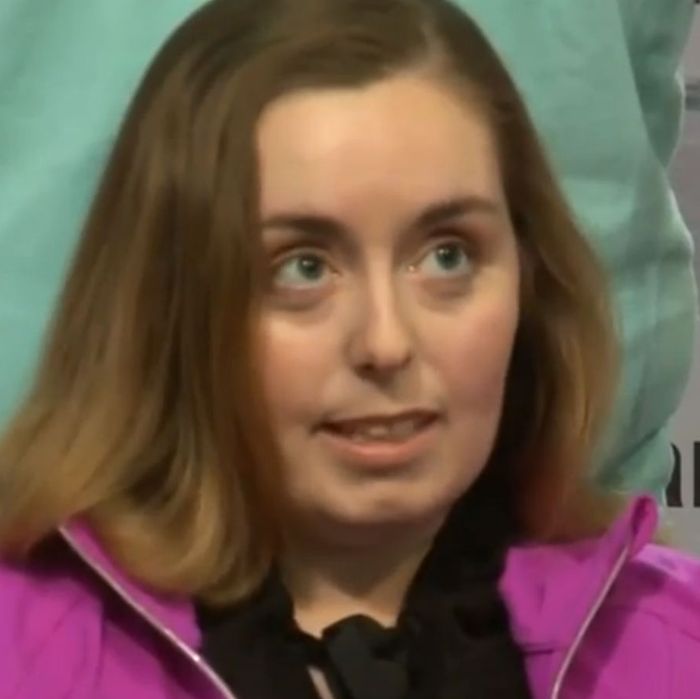 Lindsey McFarland.
Photo: NBC News
On Friday, doctors at the Cleveland Clinic announced that a yeast infection was the reason that the country's first uterus transplant failed and the organ had to be removed.
Actually, they didn't come out and say that. The statement from the medical center read:
Preliminary results suggest that the complication was due to an infection caused by an organism that is commonly found in a woman's reproductive system. The infection appears to have compromised the blood supply to the uterus, causing the need for its removal. There is an ongoing review of all the data and the team is modifying the protocol to reduce the chances of this complication occurring again in the future. The health of our patient is and has always been our primary concern.
The New York Times reported that the organism in question was Candida albicans, a strain of yeast that can cause yeast infections when too much of it is present. Yeast infections are typically easy to treat, but because the patient, Lindsey McFarland (previously known only as Lindsey), was taking antirejection drugs, her body was unable to fight the infection. If it had spread to her bloodstream, it could have been fatal.

McFarland told NBC News that her incision started bleeding a few hours after a press conference on March 7 and she went into surgery that evening. Doctors discovered a fungal infection that extended to an artery that provides blood to the uterus — this was a life-threatening problem and they had to remove the organ less than two weeks after it was transplanted.
A week later, a complication with the artery resulted in loss of blood flow to her leg and she had to have another surgery. Because of this additional complication, she's not eligible for another uterus transplant. Lindsey was born without a uterus and she and her husband, Blake, are the parents of three adopted boys. She told NBC News that her mother offered to be a surrogate using their embryos, which were created before the transplant.
But first: healing. "It's going to be a while before I work through everything just because I had such high hopes," Lindsey said. "We're going to take a few years to focus on our boys and me build up strength and get back to normal. Then we'll start the process. So we're excited."
The Cleveland Clinic has permission from its ethics board to conduct a clinical trial of ten transplants in women who don't have a uterus or have abnormalities that would make pregnancy difficult. The trial's second recipient is currently awaiting a donor, but the surgical team is going to wait to perform any more transplants until they are confident they can prevent this complication from happening again. (One possible solution is having patients take preventive anti-fungal medications.)

Three other medical centers in the United States are preparing their own uterus-transplant trials: Baylor University Medical Center, Brigham and Women's Hospital, and Nebraska Medicine.