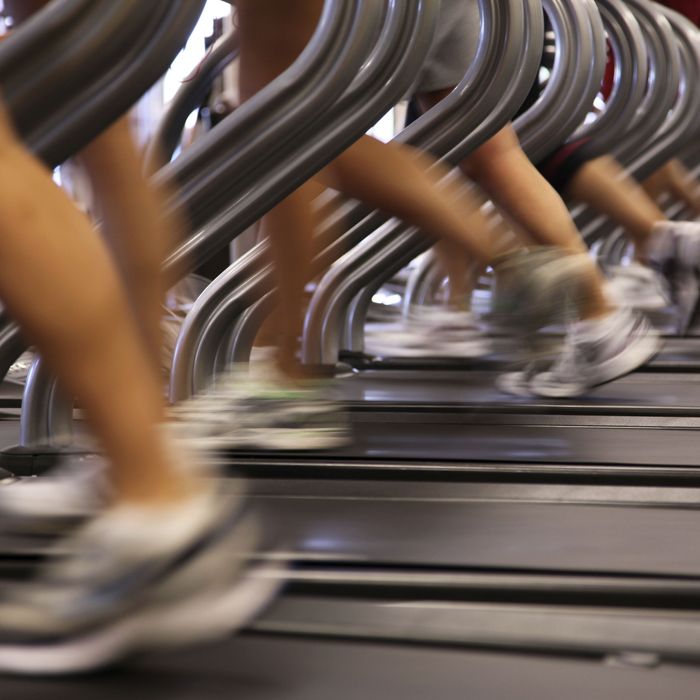 Gotta get up for that 5 a.m. germ-fest, er, workout. Photo by Spencer Platt/Getty Images
Photo: ShaneKato/Getty Images
The most common hangouts for germs — toilet seats, cell phones, the subway — can hardly be avoided, and the reality of their germs is sometimes best ignored. But, in the end, you can't truly ignore bacteria, even when you show up bleary-eyed to your 7  a.m. spin class. After researching 27 different pieces of workout equipment at three different workout facilities, FitRated.com reports that germs are freakin' everywhere in the gym.
The results are truly repulsive and might just serve as a solid excuse to ditch the gym for even just one day so you can recover from the shock: Exercise bikes have 39 times more bacteria than a reusable cafeteria tray (ew — a germy place I hadn't considered). There's 74 times more bacteria on a treadmill than on a water faucet. The kicker: There's 362 times more bacteria on a free weight than on a toilet seat.
Women's Health notes that this particular finding probably has something to do with the fact that no one is carrying around antibacterial wipes while going through a weights circuit. But perhaps part of that routine should include a 30-second pause for one good swipe of the ol' Clorox towelette.
Or just, you know, stay away from the gym forever. Whichever, really.