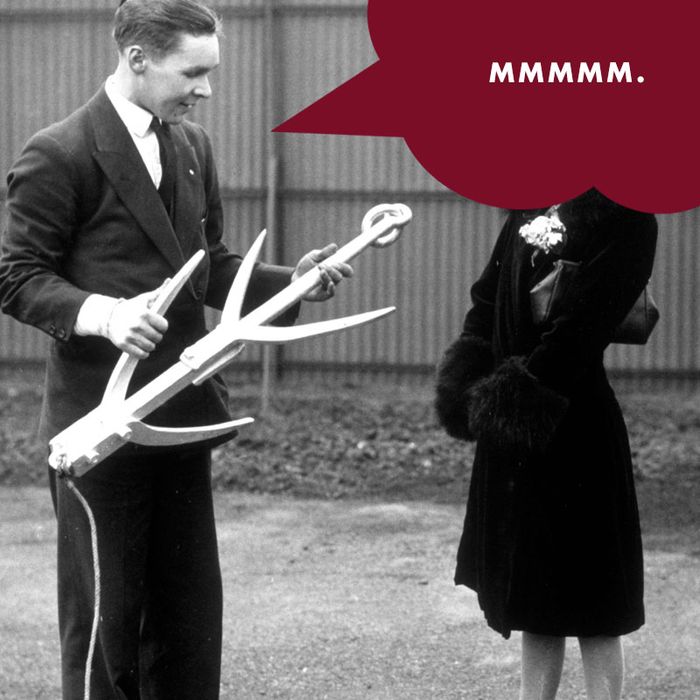 "As though I am a wild dolphin running through the ocean."
Photo: Getty Images
Men explain things to women all the time, but they never seem to tell us what we really want to know: What does a blow job actually feel like? In order to get some answers, I canvassed strangers, friends, and friends of friends. I grilled men in bars and over the phone and G-chat until I was satisfied with the quality of their description of what is supposedly the most highly savored sexual act.
As the selection of ten we've picked out below demonstrates, the answers were (predictably) varied. One guy in his 20s told me he'd do anything to avoid his wife placing her lips near his gone-to-seed pubic area, while another earnestly confessed that he asks his boyfriend to suck his dick at least seven times a night. The one thing uniting them all — and often clouding the experience — is a pretty weighty level of anxiety.
Jesse, 31*
To me, in a twisted way, it seems like one of the few things that couldn't secretly still be rape. It's clearly her choice, and the more clearly it seems like her choice, the better it is for me. On her knees seems submissive, but to me it's the perfect balance. I'm dominant but she's making the choice for herself. It's the wokest sex act masquerading as the most degrading.
Ben, 35
I am in the "meh" category. It can be great — amazing even — if it's illicit, like under a bathroom stall, or if the power and/or service and/or sub angle is exploited, but mostly I find it a total bore and much prefer to give than to get.
The most illicit BJ I've ever received took place in a mall bathroom. I was shopping with my mother in JCPenney and I discovered a peephole between the stalls. I saw a horny old man beating off, and began to do the same — obviously. He whispered for me to get on my knees and stick it under, so I did, and he gave me an expert and very fast blow job (you can search "under stall" on Xtube if you're curious about the mechanics — it's an important genre!). I was done and back by my mother's side in the missy section before she realized I'd been gone. I spent lots of time at JCPenney once I got my driver's license.
I think most are just mediocre in terms of technique, and a basic BJ seems pretty vanilla in the grand scheme of what's available to a horny gay guy in New York. I'm much more submissive and get off on sucking much more than getting sucked. Also, getting a BJ makes my teeth hurt for some reason — a literal tingling pain in the molars akin to chewing foil. Every time. There must be a crossed wire in my brain somewhere.
Sven, 30
I think I'm more cerebral than a lot of guys. Getting off is related to my thoughts at the time. Blow jobs feel great, but it's hard to describe the exact sensation. I guess it's something like a cross between having sex and masturbating, but with a feeling of domination, a fulfilling one, because someone else is doing all the hard work.
That's also the problem, though. Sometimes there's this definite sense that it's perfunctory. That's the worst. It makes me think my partner believes there's a part of me that's like, "Hey, pleasure me. I don't care if you like it or not, it's your job, so do it" and I hate that. It's not like the blow job stops feeling good, but at best I start feeling like I'm enduring what I see as "the chore," and at worst I feel guilty.
On the other side, though, when that doesn't happen, your consciousness just sort of drifts off into this place where it's like the pleasure is all you're aware of. So they're either the best or the worst.
Rodger, 34
Growing up, I always heard blow jobs described as the ne plus ultra of sex. It seemed almost like receiving the world's best foot massage: The man lies back and relaxes while the woman performs intricate and immensely pleasurable things on the most sensitive part of his body. There was a hitch, though: I'm gay, and I didn't come out until college, which meant my formative BJs were from girls. Inevitably, in every blow job I received, I would reach a point where it was clear I wasn't going to climax from their ministrations, and I would have to finish myself off. I felt ashamed of this, like I had failed in some essential test of my manhood, or even my humanity. I always figured that once I got a blow job from a guy, things would be different.
But when I landed my first boyfriend, to my dismay, I found that it was the same — the blow job would commence, and it would feel good, somewhat, but not good enough to bring me to fruition. Added to the shame I felt (for not being able to "perform") was the guilt of having squandered a gift, generously given. (Incidentally, I feel this same way whenever I get a professional massage — the notion that I am supposed to do nothing but feel pleasure for some reason induces a feeling of mild numbing or disassociation, a neurotic feedback loop kind of thing, where I'm worrying so much about why I'm not enjoying myself that I enjoy myself even less.)
Then, one night, a couple weeks into our relationship, something changed. We were both snuggled up in bed, and we eased into messing around. He ducked his head under the blanket and slowly kissed his way down my chest and stomach, and then he took me into his mouth. But rather than the hard-lipped, hollow-mouthed, bobbing motion that he (and every porn star I've ever seen) tended to use, his approach was exceedingly gentle, and — there's no other word for it, really — loving. His mouth became this soft, warm, delicately textured thing — precisely what I'd always imagined oral sex should be. He looked up at me from under the blankets while he did it, and I could see that he was enjoying himself too. And after a few minutes, sure enough, I came!
Suddenly, I understood what had been missing that whole time. As my parents used to say: "What counts most is not the gift, but the sentiment with which it was given."
Drake, 26
A BJ is life. There's nothing like it after a long day of work. But, as much as I love that, I love doggy style even more. Pulling hair and choking is the shit.
Mario, 30
Blow jobs are very strange to me. I've never really been crazy about them. Not because they don't feel good — when it's spontaneous and part of the natural flow of your interaction, it can be amazing — but for me it's more like a tease and not something you do to completion. I've never been able to lie back, relax, and just get blown. I worry too much that my partner isn't enjoying it.
Also I find people get tired quicker and lose their rhythm, which, if I'm already struggling to relax and come, is a killer. I start to go soft, they start to freak out that they're bad at it, and nobody is happy. From a strict stimulation standpoint, I prefer my hand or my partner's. Even the best blow jobs I ever received still featured liberal use of the hands, with the mouth acting mostly as a source of lubrication.
Anyway, I was very disappointed by blow jobs at first. I was 19 when I got one for the first time, and the mountains of porn that I'd watched told me that my body would become instantaneously wracked with pleasure the moment my penis made contact with a woman's mouth. Obviously that's not the case. Instead it was more like floating in a dark void with occasional, arrhythmic sensations of passing stimulation, like my penis was wandering blind through a room of wet latex balloons.
John, 23
I'd prefer a BJ over anal sex. I can sit back, relax. You know when I really want a BJ? When I am high or drunk and I am numb. It helps me relax even more. You can't move, and seeing the girl enjoy it turns me on.
Michael, 30
I hate blow jobs. I have never liked them. I know I am supposed to, but I spend the entire time worrying: Am I taking too long? Is her mouth sore? Do I have too much hair down there (I haven't trimmed in a while), etc. And while all these thoughts are filtering in and out of my consciousness, I just want to end the foreplay. Blow jobs suck, literally.
Harrison, 29
The penis is the apex of a man's body. Most of its days are cloudy and cold. But every now and then, the clouds dip low, and it bursts into the warmth of the afternoon sun. This is called "blow job." I mean, it's like if your clit were ten times its size and in another person's mouth.
Edward, 31
The worst thing that could happen is having your penis bitten off, and you do have to worry about worst-case scenarios. I think, in general, that a BJ is a very passive act — well, physically passive, but hyperactive intellectually. It's halfway between penetrative sex and masturbation. I like them, but not as much as sex. I think it's about the passivity — maybe I am too passive? I could probably count the number of women who have sucked me off but I can't count the number of women I have had sex with.
James, 45
A blow job feels like I'm a wild dolphin running through the ocean. I can feel the warm Pacific sea on my smooth skin. Can I come up for air yet? Wait. Wait. Wait. Wait until you can't breathe anymore. Finally you come up to breathe and saltwater comes out of your blow hole. You do a backflip and return back to the tranquil sea.
*All names have been changed.