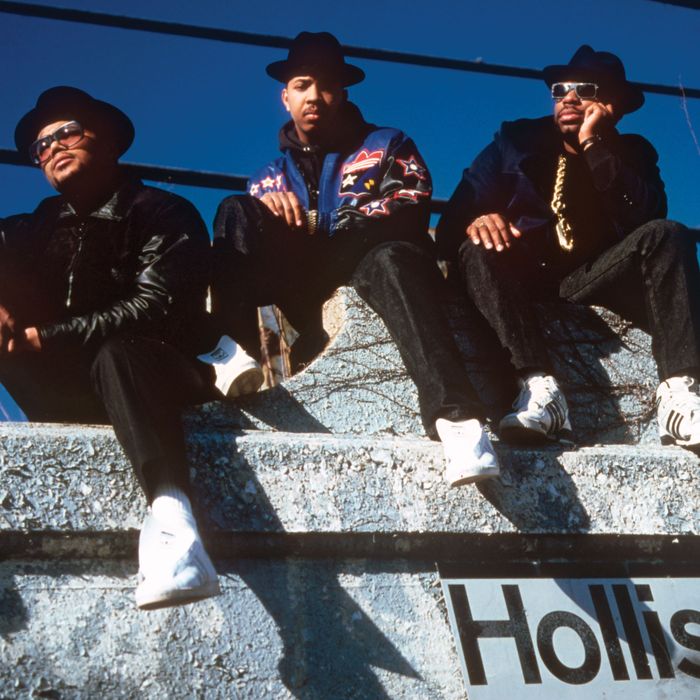 Run-DMC, ca. 1986.
Photo: Michael Ochs Archives/Getty Images
In New York, our sneakers are our cars — which means some are legendary. Here, a history of the most popular rubber soles ever to pound the pavement.
1933 PF Flyers
In 1933, Hyman Whitman patents an insole-support technology that provides "posture foundation" — the weight is distributed to the outside of the foot and aligns its three main supporting bones. The resulting sneaker, the PF Flyers, is introduced in the early 1940s, and the brand promises you'll run faster and jump higher.
1969 Adidas Shell-Toes
During the heyday of Rucker Park basketball in the early 1970s, Joe "The Destroyer" Hammond is purportedly the first New Yorker to wear Adidas Pro Models, which feature seashell-inspired rubber toe caps. In 1986, Run-DMC release "My Adidas," an ode to a successor style, the Superstars.
1970s Nike Cortez
The Cortez, introduced in the 1970s, helps establish sneakers as an affront to the status quo. "You couldn't wear a sneaker to church or restaurants," says Sean Williams, a sneaker historian. "But these are our rules, and sneakers were part of that statement. B-boys and rappers adopted sneakers as part of the official uniform."
1982 Nike Air Force 1's
The birth of the collectible sneaker: The Air Force 1 is followed by the Air Jordan in 1984. Jew Man's, a partially hidden storefront in the Bronx, becomes the only place in the city to consistently find all colors.
2005 The Nike SB Dunk Low Pro "Pigeon"
Sneaker enthusiasts camp out for three days on the Lower East Side in anticipation of this $300 sneaker. When would-be muggers reportedly armed with knives, baseball bats, and machetes show up, police are brought in to usher customers into cabs.
2005 Alexander McQueen Puma
Alexander McQueen partners with Puma to design both men's and women's sneakers that debut during London Fashion Week in the fall of 2005, signaling the rise of the "lifestyle" sneaker.
2014 Supreme x Nike Foamposite 1
In 2014, the NYPD cancels the in-store release of a highly anticipated collaboration between Nike and alt-fashion brand Supreme after hundreds mob the Lower East Side store, reportedly using Mace to disperse the crowd. Sneakerheads aren't deterred, flocking to Supreme's online shop, buying the sneaker for $250, then reselling to collectors for upwards of $1,000.
*A version of this article appears in the May 16, 2016 issue of New York Magazine.