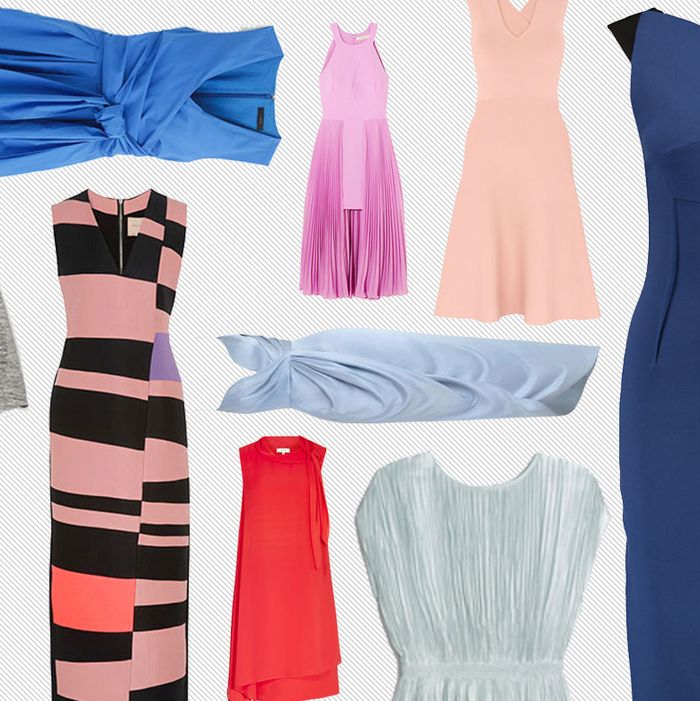 This week we're helping you get through the beast that is wedding season with the best dresses, shoes, gift ideas, and more. Now where's the open bar?
It's spring and suddenly everyone you've ever met is getting married (including that one friend from grade school you haven't talked to in years). In the midst of booking pricey $700-a-night travel accommodations, you've probably also realized that weddings no longer involve just going to a church followed by a modest reception hall. They have themes. And food trucks. And half the time, they take place in a barn.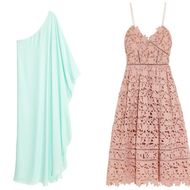 At the Beach
Weddings by the water can be the hardest. How do you look perfectly primped without sand encroaching every seam of your dress (or every orifice of your body)? Self Portrait's lace dress will look great through any sandstorm, while H&M's breezy chiffon dress will flawlessly drape around your silhouette, even in heavy winds.
H&M Long Chiffon Dress, $70 at H&M; Self Portrait Azaelea Guipure lace dress, $405 at Luisaviorama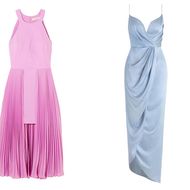 No one wants to run into an ex looking worse than when you dated. In the unfortunate (or maybe fortunate) event you do see yours at a wedding, you can't go wrong with Zimmerman's plunge dress; it hugs your body in all the right places. Halston Heritage's midi-dress is also a showstopper that won't upstage the bride.
Halston Heritage Pleated Crepe midi-dress, $425 at Spring; Zimmeran Suede Silk Plunge long dress, $520 at Zimmerman
Civil Ceremony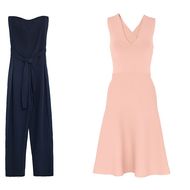 City Hall ceremonies are the antithesis of the big extravagant wedding, so it pays to keep your look simple, like this subtle pink dress from Whistles. If you're more of the type to wear pants, try Zara's streamlined strapless jumpsuit.
Zara strapless jumpsuit, $70 at Zara; Whistles Cross-Back Fit and Flare Dress, $300 at Whistles
Black Tie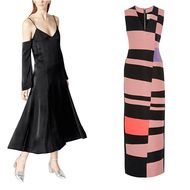 The trick with a dressy affair is to find conventional silhouettes with added flair, like Roksanda's graphic gown. Black tie doesn't mean you only have to stick to floor-grazing gowns, either. & Other Stories' Cold Shoulder Dress is a fancy piece that lets you comfortably dance all night.
& Other Stories Cold Shoulder Dress, $145 at & Other Stories; Roksanda Adderley Color-Block Gown, $890 at the Outnet
On the Vineyard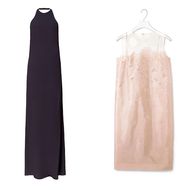 A wedding in wine country usually means you'll be on the grass for hours on end; Reformation's gown is long enough to covertly hide a pair of flats. Or you can distract everyone from your grass-stained shoes with this feminine dress from Cos.
Reformation Mila Dress, $298 at Reformation; Cos Jacquard Flower Dress, $225 at Cos

Church to the Venue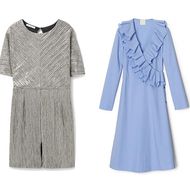 How do you go from the most conservative of venues to the reception without looking like a puritan? Ruffles and metallics.
Mango metallic dress, $80 at Mango;Trademark ruffle dress, $320 at Trademark
Country Club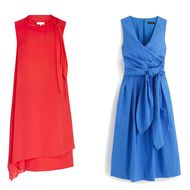 J.Crew is practically the official uniform of country clubs everywhere, and you can never go wrong with a bright dress. For a more relaxed option, try this equally preppy dress from Reiss.
Reiss tie-neck dress, $360 at Reiss; J.Crew wrap dress in cotton poplin, $138 at J.Crew, at J.Crew

Daytime Wedding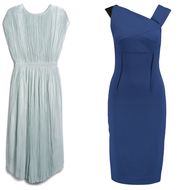 Any wedding that lets you show up in the day and still make it to a movie at night is the best wedding. To avoid looking too casual or overly dressy, skip the dramatics of a maxidress and go for midi lengths. Try Wilfried's Bellecour dress with strappy gold sandals and drop earrings for a touch of sophistication, or opt for a more bold minidress with simple black pumps.
Wilfred Bellecour dress, $225 at Aritzia; Roland Mouret Orton two-tone wool-crepe dress, $873 at the Outnet