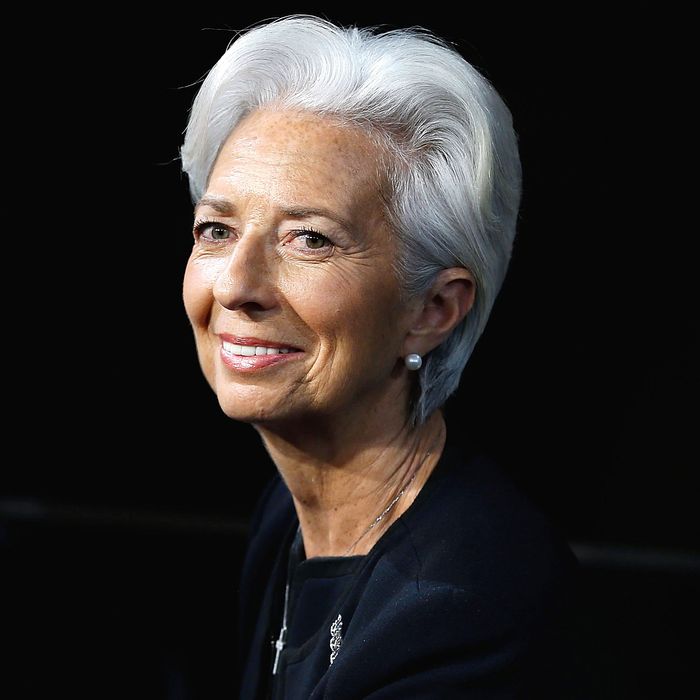 IMF managing director Christine Lagarde and 16 others signed the Journal de Dimanche column.
Photo: John Lamparski/Getty Images
In a new column published on Sunday in the newspaper Journal de Dimanche, 17 female French politicians condemn sexual harassment in the workplace, offering solutions for an issue that has plagued the country's political sphere for years.
"We are writing to say that, this time, it's gone too far," the women, including IMF managing director Christine Lagarde, wrote. "The code of silence is no longer possible … In the majority of cases, women who denounce acts of sexual harassment lose their jobs. They are thus doubly victims."
The article comes after a storm of sexual-assault allegations against various male French politicians, who have faced recent claims of "grabbing breasts, tweaking thong underwear" and "hitting a female aide in the face," according to the Associated Press. Last week, deputy parliament speaker Denis Baupin resigned from office after various women said he had assaulted them at work over the past 15 years; Baupin denied the claims, and an investigation is now under way.
The book L'Elysee Off, published last month, alleges that Finance Minister Michel Sapin pulled the elastic of a journalist's underwear at the 2015 World Economic Forum. In March, Buzzfeed News alleged Territories Minister Jean-Michel Baylet hit a female aide in the face. All of this, it's worth noting, follows the 2011 trials of Dominique Strauss-Kahn, former finance minister and IMF director, who was charged with sexual assault, later associated with prostitution and sex parties, and never convicted.
In their Journal de Dimanche column, the politicians call current protections against violence ineffective, suggesting legislative reforms, better compensation for survivors of sexual harassment, and changes to the criminal-justice system such as creating a separate police department for fielding sexual-assault claims. In a separate article in the newspaper, they and others detail their own experiences with sexual harassment.
"We aren't staying quiet anymore," they write, later concluding: "We would like not to repeat this. We would have loved to have never written this column."