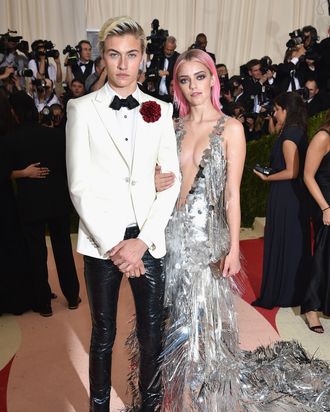 Lucky Blue and Pyper America Smith at the Met Gala.
Photo: Dimitrios Kambouris/Getty Images
For some attendees, the Met Gala was a family affair. The Cut caught up with "It" model Lucky Blue Smith and his model sister Pyper America on the red carpet, on the way to join their other beautiful Smith siblings (and party alongside other sib-celebrities the Jenners) inside.
Both Smiths looked impeccable in custom H&M, but since the dress code was "tech white tie," the theme was technology, and Apple was a sponsor, we wondered how they'd decked out their iPhones. Pyper America's lock screen was very on-brand for the evening: an image of another high-profile Met Gala guest. "Lemme see," she said as her screen lit up. "It's Lady Gaga! It's Lady Gaga from V magazine. I love her."
Lucky Blue, on the other hand, pulled out a phone with a screen smashed nearly beyond recognition. Clearing a text message, he revealed — womp, womp — a very basic default nature scene.
"Boring," Pyper taunted.
"How boring, huh?" agreed Lucky Blue, who otherwise looked anything but boring.
We hope he ran into Apple CEO Tim Cook inside the party — maybe he could hook Blue up with a Genius Bar appointment.