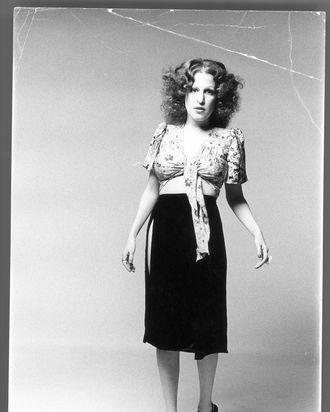 Bette Midler.
Photo: Courtesy of Bette Midler
What I Wore …
I moved here from Hawaii in October. That November, John Lindsay was elected and then everyone went on strike. The subways, the garbagemen, everyone. I had never been in the city before. I thought it was pretty hair-raising. I lived with a friend of mine from Hawaii at the Broadway Central Hotel, which subsequently fell down, leaving a gaping hole. The city was just a trash heap. But the people were incredibly, beautifully dressed. I thought, Why is everyone wearing white boots? I couldn't understand it. So of course I had to go out and get a pair. It was the Courrèges time, the mod time. And I'd never seen a whole city dressing the same way before. In my part of the world, you wore what you could get your hands on. In Hawaii, it was the end of the crinoline time. We wore crinoline all the way up to practically the '70s. Petticoats, big hoop skirts.
I had a job very briefly as a go-go girl. I danced; I love to dance. I was happiest when I was dancing. I used to get the bus and go out to New Jersey to be a go-go girl in my little red wig and my orange leotard. Thank God there are no pictures of that.
The men in New York had abandoned hats, and I thought it was a damn shame. The women had basically abandoned them too. Jack Kennedy and Jackie killed the millinery business. They put thousands of people out of business.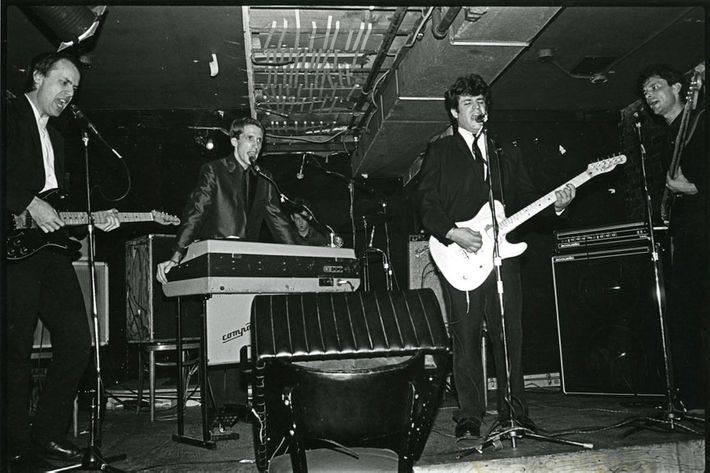 1977: To Feel Invincible
Robert Longo, artist
The art world of the '70s was dead, and the music scene was the most interesting thing happening. No Wave was much more severe, austere, and serious than the leather-and-safety-pin look of punk — more interested in an early-'60s retro look, like from a Godard film. Still, many of the sources were the same: thrift shops. I remember finding the coolest black shiny mohair sport coat with extremely thin lapels. Once I paired the jacket with a skinny black tie, a white tab-collared shirt, a pair of skinny-leg black jeans, and a pair of clunky Frankenstein policeman's shoes, my uniform became complete. Aggressive dressing. My suit of armor. I always wore this when I went out at night or when I played in my band.
This sense of style definitely informed the uniform that my models wore for my photo shoot to make my drawings for my "Men in the Cities" series. All of my models were my No Wave downtown friends (not the yuppies these drawings are wrongly perceived to depict): Cindy Sherman, Eric Bogosian, Gretchen Bender, Glenn Branca. Two years later, in 1979, on a bus ride (due to lack of cash) to Florida to see my ill and aging parents, I lost my favorite black sport coat. I was crushed. I felt like I had lost my superpowers. My identity was gone, and I was so freaked out by it.
1969: To Be Free
Joan Juliet Buck, writer
The summer of 1969 was hot and nasty. I was a Sarah Lawrence dropout, an overweight fashion assistant at Glamour who wrote book reviews at night. I'd arrived from London with a swinging wardrobe, but the climate made velvets and broderie anglaise useless. I soon discovered that the source of the thin Indian cottons that everyone bought at Azuma was a showroom on lower Fifth Avenue, Sam Hilu's Odyssey, and went there several times a week to gorge on hippie costume. Aleppo-silk shawls, an antique Chinese skirt that closed with little knots, a heavy dark-blue Palestinian wedding caftan. I wasn't a hippie, but I effortlessly summoned up the clothes to tell the world I was a free spirit. My hair was short with long tendrils, cut by an English boy whose shop was ironically named Mrs. Lovett's, after Sweeney Todd's "girlfriend." Laundry was beyond me; when I ran out of clean underpants, I bought paper ones. I'd tried to dress like an American. At Alexander's, I'd found a mini-jumpsuit in a sober Prince of Wales check made by the ladies of the ILGWU out of a scratchy synthetic that concentrated the humid air into my own private sauna. The thing was so short that the backs of my thighs sealed themselves to the plastic cab seat and to the booth at Max's Kansas City; each time I stood up, it felt like I was tearing off Band-Aids. One night, wearing the mini-jumpsuit, I went into my local Smiler's, leaned into the ice-cream freezer to pick out my quart of solace, and heard the counterman ask, "You getting ice cream for your hot box?" The thing about being ripe and 20 and dressing for a look was that not everyone got the point; to strangers, you were only a body.
1990s: To Pretend I Wasn't in New York at All
Jenna Lyons, J.Crew president
When I came here for college, I had zero dollars and zero outerwear: zero wool sweaters, zero boots, zero scarves, hats, gloves, and I didn't appreciate the reverence for those things. I grew up in perpetual summer, the land of shorts in December and flip-flops every day of the year. I found myself completely ill-equipped and a little belligerent about dressing properly for the weather. During a snowstorm, I was standing on a street corner wearing ballet flats with no socks, and I was practically in tears — my feet were frozen. Not to mention the fact that they were suede.
I'd had bleach-blond hair, I was super-tan, I wore too much makeup. In California, there was one archetype for being hot or looking pretty. I'd even wanted to get a boob job, because all the girls around me had these big boobs and I was like, "Oh God, okay, I guess I need those." Luckily, I didn't end up doing it. Crazily enough, when I moved to New York, it was the first time I actually felt pretty.
1999: To Worship 'N Sync
Gabourey Sidibe, actress
I like clothes, but I hate that people judge what you wear. Before I became known, I was a tomboy. I have a brother who's less than a year older than me, so my mom bought us unisex outfits. Which was lame, but when I got to junior high school, I found it easier to dress like a boy. Junior high is rough. I used to go to concerts, and I would always wear my signature fancy outfit: a button-down white man's business shirt from a big-and-tall store in Harlem. I would pair the shirt with sweatpants. I think you could call the look "business confused." Was I a businessperson or a child? I wore that look to an 'N Sync concert at Nassau Coliseum. I wasn't boning boys or smoking weed. I was following 'N Sync. I bought 'N Sync clothes, but I never wore them. It was already hard enough to be me; I didn't need to be the one black girl in class wearing an 'N Sync shirt.
2001: To Impress Ethan Hawke
Heidi Julavits, novelist
I'm from Maine, and I had a very strong sense of style growing up — sweaters and slickers, foul-weather gear — and then I started to date this guy, and he kept trying to dress me properly, like in suggestive ways. He gave me a pair of black leather pants, and I wore them to this party with a bunch of women whom I was very intimidated by. Later, I heard that one of them said, "Finally, Heidi's learned how to dress." And then I was like, I'm never wearing those pants again. I returned to my woolen, nautical self. And I was a finalist for the Young Lions' literary award, and Ethan Hawke was going to be reading from my book. So I wore this really fabulous thrift-store dress. It was a B. Altman, and it was black and stretchy wool. The pattern was pieces of fabric sewn together. I wore it with Miu Miu sandals that were literally anchors. It was one of those April days where it's like, Is it winter or spring?, and I was very proud of this solution: I'm gonna do winter and summer together. Anyway, I lost, and I was bummed, and as I was exiting the library, who would be standing on the steps but Uma Thurman, because she was married to Ethan Hawke. Uma upped and downed me and said, "I really love your outfit."
1949: To Marry a Liar
Joan Pedersen, model, now 91
I met my first husband on the Orient Express going to Vienna. We got married at City Hall. I wore one of Norman Norell's suits. I was with Eileen and Jerry Ford's agency, so they joined us for a lunch afterward. It was a very short marriage. It lasted about two months. I realized I had married a pathological liar. And by that time, I knew I was going to have a baby, so I left. I went home to my mother and father and had a little baby girl, whom they helped me raise. And then I went modeling all over the States.
1980: To at Least Seem Like a Gentleman
Ed Hayes, lawyer immortalized in The Bonfire of the Vanities
I went to Columbia Law School, where people dressed horribly. Then I went into the DA's office in homicide. For an Irish-American guy from Queens to answer the phone and go, "Hello, homicide," it's all you can ask for. I could have gone to my mother and said, "Mom, I'm going to Wall Street," she couldn't care. If her son's in the news, in homicide, she cares. I started dressing well in the '80s. Why? I left the DA's office and I started getting good cases. I'm a trial lawyer; I can't read or write, but I can stand up and talk to a jury. But on my good days I can be fairly rough around the edges. My father was an alcoholic, his father was an alcoholic, every man since they got off the boat from Ireland has been an alcoholic. I really wanted to have at least the outward appearance of a gentleman. I have a very upper-class friend who said, "I want you to come with me to see this tailor in England." I said, "As soon as I have the money." I won a big case in Brooklyn — it was a guy named Pistol Pete Spriggs. They were looking for somebody else, they found him in an apartment with a machine gun, $30,000 in cash, and a couple keys of coke. I got him off. His girlfriend comes by with a bag full of jewelry, so I sold it. I go to England, and the stuff fits me beautiful. So then I got custom-made shoes. I have a shoe fetish. Not a fetish; I like shoes. I have 50 pairs. That's weird for a man. I have lavender suede shoes. I have a pair of black shoes with pink alligator lining. I like lavender, I like pink. I'm pretty overtly masculine, and I always thought that historically, very masculine men [wear] color — officers' uniforms or ascots — so that never bothered me. I think that dullness is more of an affectation than a little bit of color.
1995: For My First Kiss
Melonie Diaz, actress
I grew up on Avenue D in the Lillian Wald projects. I wanted to be Chilli from TLC more than anything in the world. I was 11 turning 12. It was at the local pool. I was wearing my black-and-white Chucks, my most prized item of clothing. And really, really short shorts. Denim. Like, too short. And a white wifebeater like Chilli would wear. I hate that term for that shirt, but you know what I mean. I had long tips and really dark lipstick. I was very much into acrylic tips. (Looking back, I can't believe I actually went to a nail salon every week when I was 13.) And that was my outfit to impress this boy.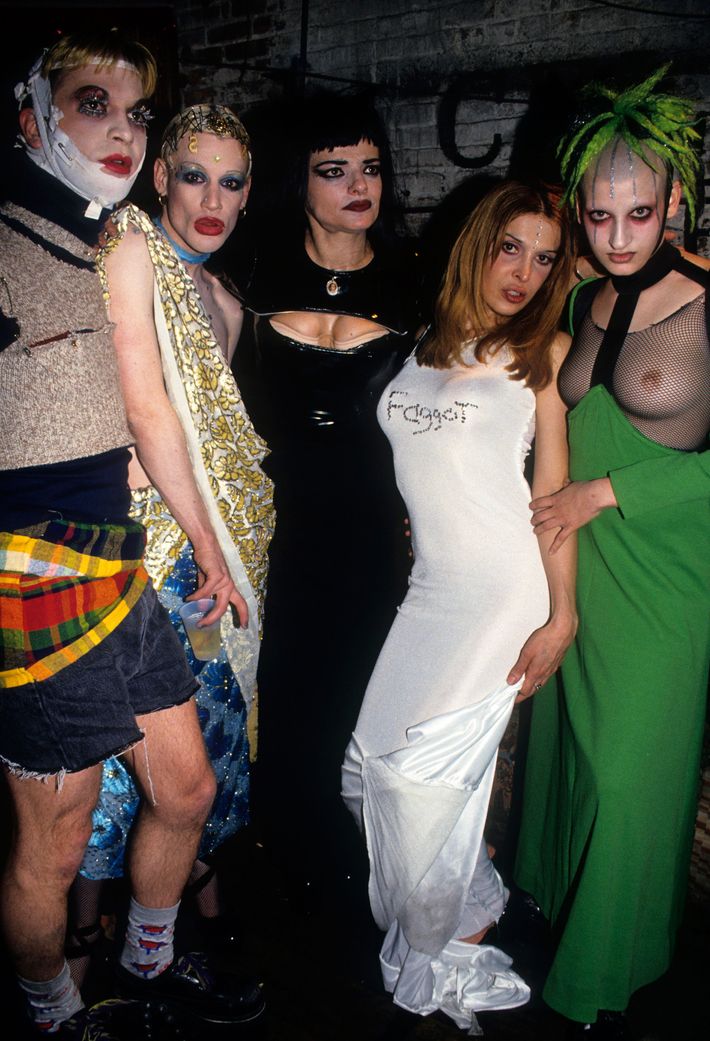 2000: Hidden in My Underwear
Michael Alig, writer–former club kid
I toned down my clothes a bit in prison, but I'll tell you the most embarrassing thing that's ever happened to me. I was addicted to heroin when I was arrested. It took me 12 years to wean myself off. When you're using in prison — and probably 50 percent of the inmates are — you carry around a small eyedropper bottle filled with yellow liquid in case they call you for a surprise urinalysis. So I was walking around with this thing in my underwear — tiny, tiny, tiny — and they were doing some kind of orientation for the new officers. And they were like, "Oh, Mr. Alig, can we use you to show them how to pat?" And I was like, "Sure." I forgot about the bottle in my underwear. So they put me against the wall, and when they got to this bump down there, they're like, "What's this, Mr. Alig?" and I just went white. So now I hear all the walkie-talkies, and, like, the whole facility is coming in my direction because they think it may be a weapon. They have me against the wall and I'm crying and shaking, which is unusual — inmates don't generally cry. The captain sees that I'm weeping and he pulls me to the side and he puts a pair of gloves on and he pulls out this little bottle and he didn't know what it was. I couldn't believe it. And he said, "Mr. Alig, are you a homosexual?" Yes. "Is this some kind of sex thing?" And I said yes. He said, "You're masturbating with another inmate's urine, aren't you?" I had to say that I was.
It gets worse. What I didn't realize is I had two of those bottles — they weigh, like, nothing — and the other was attached to another pair of underwear. That Sunday, I get called for a visit I wasn't expecting, and I quickly threw something on. On the way back, when they frisked me, they found the bottle again. It was the same officer. And he said, "Oh my God, Mr. Alig, are you telling me that you have such a thing for urine that you can't even come to see your family for two hours without bringing it with you?" They thought that I was some kind of pee freak, that I couldn't stand to be away from my bottle of pee. I was 40-something. That's not a thing you grow into after you've tried everything else. Well, it's time to masturbate with another man's urine now!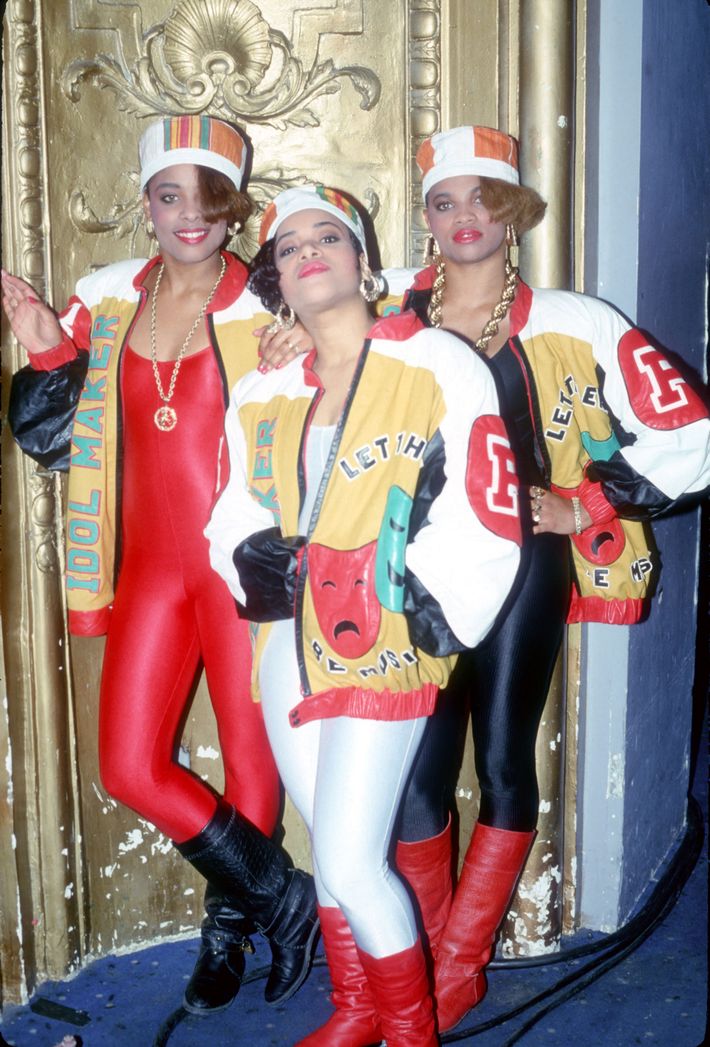 1984: When I First Met Pepa
Salt (Cheryl James), musician
We were in Queensborough College, and I was working at Sears as a telephone solicitor. Sandra (Pepa) needed a job, and I said, "They'll hire anyone there." Which they did. The first time I met her, she had on a leopard skirt, and her hair was in a blond Jheri curl, and she wore gold lipstick. Her skirt was super-short too, so she was very '80s. I was her opposite: very conservative. I had this one skirt that I loved that was down to my ankles. But the whole Salt-N-Pepa style — I call it the "superhero" look — the spandex and the customized eight-ball jackets and the boots and the kente hats, came together very organically. Play of Kid 'n Play designed the jacket for us. Those jackets were mostly associated with men, but Salt-N-Pepa always put a feminine touch on something, even if it was something mannish. The hairstyle was an accident. Her sister was getting her beauty license, and she experimented with a perm on Sandra's hair and burned the side of her head. She came to me crying and we shaved it off and put lines in it and made a style out of it.
Everything comes back. My son is growing out a high-top fade.
1997: As a Starving Model
Gisele Bündchen
When I first moved here from my small town in Brazil, I lived in a model's apartment downtown. I didn't really have a specific style. I started visiting the 26th Street flea market and searching through the clothing stalls and creating a look that was very '70s inspired. I didn't know it was '70s. It was just what I liked: vintage bell-bottom jeans and cords along with flowing blouses. I was boho without trying. My favorite shoes were my Birkenstock sandals. My favorite accessory was a single feather earring. I am not sure what people thought when this Brazilian hippie arrived for casting. I guess it worked.
1966: After Making My Own Clothes Out of Vogue
Martha Stewart, entrepreneur
My husband worked at John Lindsay's law firm, and I needed a long dress for this very fancy dinner-dance at Gracie Mansion. I made a pretty Russian Cossack outfit myself. It was the style that year; it was probably '66, something like that. Lindsay was the mayor. I bought the fabric on West 38th Street in the Fabric District, and it was silk and wool, beautiful French fabric. The fur I cut out from an old coat of my mom's. It looked like it was out of the pages of Vogue magazine. I always sewed from Vogue patterns.
I was 19 when I got married. He was a rich boy, but his sister was very rich. She was always interested in French couture. I was sort of competing with her by making my own stuff. I could make bound buttonholes and padded shoulders,  all that stuff. My mother taught me. She was a very good seamstress, and so pretty that she looked good in anything. She always had a small waist. Back then they wore girdles, which I think are better than Spanx — oh, they are horrible. I think they're just unhealthy. Even now, I'm so tempted to sew — I have five fabulous sewing machines, and I can make pretty much anything. It's not hard to do.
1986: To Shimmy With Brooke Shields
Amy Sacco, former Bungalow 8 owner
I was 16 the first time I ever went to a club. Four of us jumped in my friend's Jaguar and drove to the Palladium from Jersey. We were with two hot men who were about 20 years older than us; I worked with them in their restaurants. I remember the song they were playing when we walked in — "Jungle life, oh-y-oh" — and it was all white and billowing fabric. We went right up to the Michael Todd room, and suddenly I was grinding between Rick James and Brooke Shields in her Calvins. She was only a few years older than I was. I didn't know what to wear to a nightclub, but in the '80s they had those pants, kind of like hip jogging pants with a piping strap down the side and an elastic top, and then I had laser-cut white Bandolino shoes, open-toed. I added a white frilly blouse and big hair. That was the only thing I could think of at the time that was kind of cool. Brooke didn't mind that I was dressed over the top. Brooke and I became friends; we're even friends on Facebook. My attitude hasn't changed, but the figure may have gone south a bit. I am tall and commanding. People notice me when I walk in a room, unless they hear me first.
1981: To Waltz Into a Disco
Lisa Birnbach, writer

Olivia Newton-John's "Physical" came out that year. But my fashion inspiration was still "prep-school admissions officer on a day off." So when I went to Studio 54, knowing there was a remote chance of being photographed, I did what any girl-woman who'd worn a school uniform for nine years would do, and put together an ensemble that was paparazziproof: jeans, loafers, and a Bowdoin College sweatshirt with a huge old polar-bear mascot — a ferociously hungry and fang-baring mammal, as opposed to the friendly vegetarian bear who'd replace him — incomprehensible as something anyone would wear voluntarily. What can I say? I was whisked right in, because girls wearing side ponytails, sweatshirts slipping off their shoulders, and mini disco bags slung across their food-starved bodies were a dime a dozen. No doubt the bouncer was a keen appreciator of my lovely table manners.
1966: To Get Noticed
Pat Cleveland, former model
I was discovered in the subway by Vogue. I used to get thrown out of school because I made super-short miniskirts. It was like, "Go home. And change your skirt." I went home all right: straight to Condé Nast. I was being very English with that skirt. I said, "I'm going to use a houndstooth black-and-white wool." And I made it with two little pleats at the sides — almost like a Scottish kilt, but really, really short. And I had a poplin, little, tiny raincoat, which was really tight, belted at the waist. I couldn't afford to buy anything, so I made everything, because fabric was cheaper than clothes.
I grew up at the edge of Harlem. They call it the Golden Edge. It's where the Jews, the blacks, the Irish, and the Puerto Ricans all had a corner of their own. So you would hear different kinds of music coming out of the houses. And it blended together very interestingly. On one corner you had the black guys going [sings doo-wop] a cappella. And on the next one you could hear people in the Irish bar, drinking whiskey and getting high. And then you'd see the Puerto Rican girls running around with beer cans in their hair, setting it for the next day.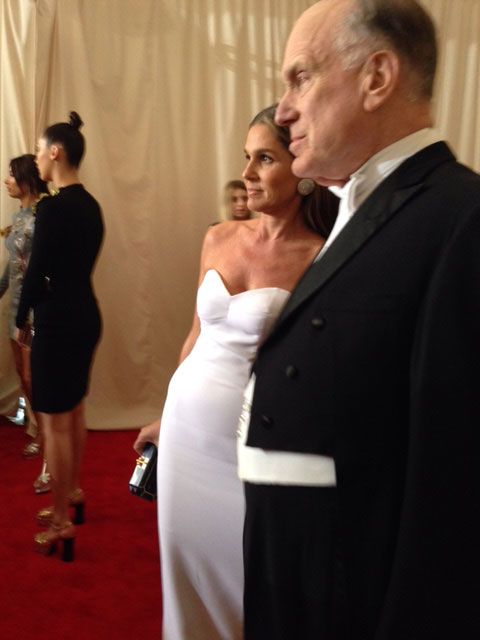 2002: When My Friend's Husband Was Mortified
Aerin Lauder, businesswoman, designer
I'm never scared of wearing white to an event. But I was at a New York Botanical Garden party and I was wearing a beautiful white Carolina Herrera dress with a little bit of blue in it — winter white was the concept — and a very good friend of mine's husband spilled red wine all over me, from head to toe. I was kind of upset because I loved the dress, but I loved him more, so I forgave him. To this day, he feels bad about it. I dry-cleaned it, but there's still the splatter, and it reminds me of that evening.
1960s: To Protest
Reverend Al Sharpton, civil-rights activist, TV host
I grew up in Brownsville — back in those days we wore a lot of Afro-centered type of clothing. It was the era in the northern urban ghetto of black consciousness. Being in Operation Breadbasket, I wore a lot of denim suits. Actual denim suits. Like workers' clothes. Martin Luther King had made that popular. I didn't wear dashikis but a lot of my friends did, they were black nationalists — I was more on the MLK side. In the early '80s Run DMC and Kurtis Blow started wearing track suits, and I did too. But they had designer tracksuits — I bought mine off the rack.
1996: To Be a Prep School Gangster
Alexis Swerdloff, "Strategist" editor
In 1996, New Yorkers were introduced to the Prep School Gangster: private-school boys who formed "crews" with ridiculous names like BAF (Blunts and Forties) and HFL (Homies for Life). They sold weed to their fellow students, tagged street lamps around the city, got into fights in Central Park, and were immortalized on the cover of this magazine by Nancy Jo Sales. While some went to Xavier and others went to Browning, one thing about them was constant: They all wore North Face jackets. Yellow Gore-Tex ones. Blue puffy ones. Gray fleece ones. Similar to what happened with other outdoorsy brands like Timberland and Carhartt, North Face was originally popular among rich white people who were into camping, co-opted by hip-hop artists, then re-co-opted by the children of the people the brand was initially marketed to. Though it seems laughable now, these Prep School Gangsters held serious social sway over New York's prep-school kids. Every boy who spent his Saturday nights drinking on stoops in the East 70s and tagging area mailboxes with Wite-Out (or "Herbs" who wished they were) got a North Face jacket. Then it spread to the girls. At my all-girls school, the look was an oversize North Face paired with our uniform, a short plaid kilt, and three-inch Steve Madden loafers: To an outsider looking in, we must have looked like Lolitas crossed with Smokey the Bear. As a friend who went to a different girls school put it, "My memories of high school are literally cast in the rainbow of available North Face colors." The 86th Street crosstown bus looked like a bag of Skittles. The allure of the North Face was so powerful that even girls like me — who had no interest in smoking blunts and then going to Benihana — really, really wanted one. Unlike most of the status objects I coveted but was never allowed to get — a Kate Spade diaper bag or a pair of Oakleys — a North Face coat had something going for it that appealed to my mother: warmth. I remember our trip to Paragon in ninth grade. The most desirable North Face was a Gore-Tex, probably because it was so expensive — they were in the $300s — and my mother said, "No way." The puffer was a lot cheaper, I remember arguing, and she was impressed with its 100 percent goose-down filling and lifetime guarantee. I got my North Face. Wearing it made me feel like a total badass. No matter that I still had braces — it shrouded me in an impenetrable cloud of cool: If I was walking down Lex on a Saturday night in my North Face and passed a group of teenagers, they might have believed I was going to a Collegiate boy's house party instead of to my friend's house to watch Christiane F. and order Chinese food from Chef Ho's. Twenty years later, my puffer still hangs in the closet. There is one tiny hole in the arm, so a feather occasionally pops out. The sleeves are a little short. But every now and again, I'll put it on, check myself out in the mirror, and strut down the street. —Alexis Swerdloff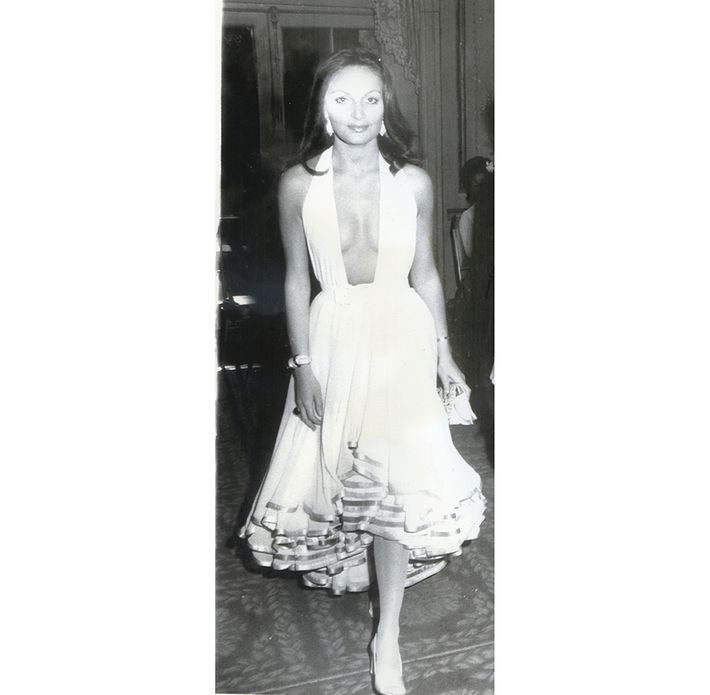 1973: When I Was Ready to Give Up Everything
Diane Von Furstenberg, designer
The best dress I have ever had in my life had practically no top — only these two things that go over your bust that you hooked under your neck, in the back of your hair. Otherwise nothing. Your back is completely bare. And the top was attached to a skirt that has ruffle of all colors. And then there was a petticoat with more ruffle. It was a couture dress from Roberto Capucci, and Egon bought it for me, and [later] a picture of Egon and I, with me in that dress, ran in Newsweek. Then Clay Felker saw it and said, "I want to do a story on that couple." It ended up on your cover, and it was called "The Couple That Has Everything. Is Everything Enough?" When I read that story, that's when I decided to separate from my husband.
2003: To Get Out of Baggy Jeans
Shaun Ross, model
I have albinism and a unique look. Blending in was never a thing. Everybody wanted to wear baggy jeans. But I started to transition to my own little thing. I used to wear turtlenecks in the summer with cutoff jeans. My mom had these platform shoes that I'd walk around the house in because I wanted to be so '70s so bad. I never had a style icon, but if there was anyone from the '90s who was, it would be between Busta Rhymes and Missy Elliott. If we didn't have people like them, figures like Lady Gaga wouldn't have the fashion sense they have.
*A version of this article appears in the May 16, 2016 issue of New York Magazine.