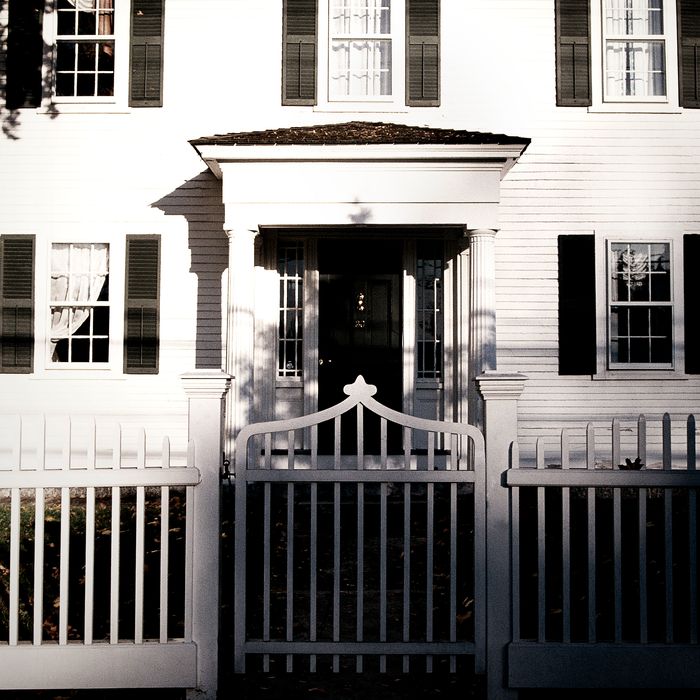 New York's Sex Diaries series asks anonymous city dwellers to record a week in their sex lives — with comic, tragic, often sexy, and always revealing results. This week, a college grad trying to become a copywriter and hooking up with middle-aged men in the meantime: 23, gay, Greenwich, Connecticut.
DAY ONE
9:00 a.m. Wake up to the sounds of activity downstairs. For the past two or so months, there have been no alarms, no early commutes to the city. How is it that I still feel just as tired?
10:30 a.m. After watching two episodes of 30 Rock, I make love to the most recent boudoir shot from my latest long-distance Scruff flame. His name is Claus, and he's a Danish graphic designer in his early 50s. We've been talking for two weeks now. I'm going to make an educated guess and say that we're never going to meet IRL, but I keep the conversation going in hopes that he will continue to shower me with dick pics.
2:00 p.m. I consider applying to some jobs.
2:05 p.m. Yeah, no.
4:30 p.m. I'm "doing some errands," i.e., getting stoned at the park by my house. It's an easy enough excuse for my helicopter parents. Did I mention that they are home virtually all the time?
10:00 p.m. I've been talking to Ben, 38, for a few weeks now, and our schedules have finally permitted an evening together. He lives in Greenwich too. We're having a really nice time chatting over a drink at his house, and I'm trying not to lose myself in his Newman-esque baby blues. We make out on the couch for a solid 15, shed a few layers, and then move to his bedroom where I blow him, then he blows me. He's demanding that I come on his face. But those eyes!
11:30 p.m. Home. I fall asleep to Antiques Roadshow.
DAY TWO
9:45 a.m. I'm still in bed, scouring the interwebs for jobs. Sigh. The intern–industrial complex has inflated everyone's expectations for junior positions. Even though I worked my ass off all throughout college — smiling through unpaid work, manically calculating my GPA to ensure that I graduated with honors — I still find great difficulty in meeting qualifications. Whenever in history has an "entry level" role required three years of professional experience?
12:00 p.m. I keep getting whiffs of Ben's cologne from last night. He wore too much, but it somehow worked.
3:00 p.m. I go for a hike with Liz, a friend that I've known since kindergarten. In a town made for child athletes and skinny moms, it's reassuring to know that I am not alone in dying to get the hell out. It's like nothing's ever changed: stories of crashed luxury SUVs, field-trip drunkenness, and antics of former classmates are still hilarious after all these years. It isn't every day that a well-to-do high school gets banned from Times Square.
10:15 p.m. I'm texting with Sean, 48, another local, and he wants to meet up. We were introduced a few years back by his husband, Garret. Our sexual history has been something of a complicated triangle but, after our earth-shattering first time alone, Sean has been the one who's gotten the lion's share of my attention. They are now in the process of separating, still living together but no longer sleeping together. I park on their road to avoid waking Garret and quietly walk around to Sean's bedroom at the back of the house. "You're going to be sore tomorrow," Sean warns as he offers me poppers. His new four-post bed promises something to hold on to during the bumpy ride.
11:45 p.m. Done. Zzz.
DAY THREE:
1:00 p.m. My mom is having her girlfriends over for tea, so I kindly get lost for three hours. I end up hanging out with Dan, 50. He's divorced, smokes a mind-erasing amount of weed, and drinks teeth-tinting volumes of wine. He's always been nice to spend time with, and I quite enjoy his company, but I can't help but notice the dusty mirror that's become an increasingly prominent fixture in his day-to-day. For him, cocaine was first a weekend thing, then an evening thing, and now a Wednesday afternoon thing. I'm offered some, but I don't really feel like indulging him. He gets a little touchy and suggests we fool around — he's usually a very eager bottom — but in this instance, I can't help but feel determinedly platonic.
6:00 p.m. I celebrate sunset with a blueberry blunt at the park.
9:00 p.m. Partner-wise, my preference has always skewed older. I've always thrived on independence. Middle-aged men are low-maintenance, experienced, and usually hesitant to wife up younger. In this rather frustrating transitional period of my life, my commitment to non-commitment has worked swimmingly with people like Michael, 47, who I am seeing for the first time in about a month. Since October, he's been a weekly habit and is the only person to ever have me in shackles. With him, I can feel real passion. Tonight, he's feeling rather submissive, and the sex is amazing.
11:30 p.m. PTFO.
DAY FOUR
11:00 a.m. It's all quiet on the job front. Though I've gotten pretty good at distracting myself, my career anxiety is constant. I've been told that I should feel proud of my accomplishments, but I still feel like I have a lot to prove.
4:00 p.m. I'm going to go for a run. In the 11 months I've been home, my body has become increasingly jiggly. I long for the figure I had in college, when pretzels were dinner and Adderall was dessert.
4:25 p.m. I'm done with three-mile walk/run and somehow manage to trot up the hill to my car.
7:00 p.m. I'm currently rocking a tie-dye T-shirt from freshman year of high school, so I think it's been decided that I will not be going out this evening.
11:45 p.m. Bed
DAY FIVE
11:00 a.m. Wake up late, agita brewing.
2:00 p.m. I need to excuse myself for a cigarette in the park. As I sit there, I wonder how many more days in the suburbs I have before actually becoming Betty Draper. Since graduating from college in May, I have been living at home with my parents. Until my unexpected lay-off I was commuting into the city for my first big-boy job. On and off the dole, I have been a Metro-North maven and champion couch surfer for the past 11 months. I exist in Connecticut, but live in New York.
7:30 p.m. I'm just getting comfortable at my college friends' apartment in Harlem. We're adulting tonight, which means getting wine drunk over a home-cooked meal of roasted chicken. It's the first warm evening in a while, and after dinner we move to the roof to enjoy the summery air.
11:00 p.m. Hop in a Village-bound Uber to meet up with friends from home. Given the home crew's straightish makeup, my nightlife is considerably non-scene. Don't get me wrong: I've been removed from Industry for suspicious bathroom etiquette, and I will forever feel the nausea of ever having set foot in Boxers. So yeah, maybe I could try my hand outside Hell's Kitchen, but I can't contour a square enough jawline for Chelsea!
DAY SIX:
1:00 a.m. The sheer number of tag-alongs has made it impossible to get in anywhere. Some leave out of frustration or defeat, and we are finally agile enough to make it into TAO. I just want a drink.
2:00 a.m. We're finally settled in. Our table has just been outfitted with Grey Goose and Champagne, and someone's boyfriend is offering key bumps. Whether it was molly, coke, or a fun little mix of both, we may never know. Regardless, we're all feeling something.
4:10 a.m. We're still here. Leaving for my friend's apartment soon, I think.
6:00 a.m. Sleep, my beautiful friend.
12:00 p.m. Oy.
1:00 p.m. I'm pulling it together, one bottle of green juice at a time. I'm not too far from Patrick's apartment, and text him to see if he's around to get coffee. He is a 50-something magazine editor and probably one of the most considerate people I've ever met. It's been six months since I've last seen him. In that time, he was trying his hand at monogamy and kept saying he couldn't trust himself around me. Newly single, Patrick wants to get in some "quality time" with me before tackling his other weekend obligations. We just talk and hold each other. I think the ability to communicate is one of things that attract me to men like Patrick. When we talk, there is always a genuine exchange — he soothes my anxieties, I keep him on his toes. While I might not be a realistic boyfriend candidate, it is really only with men like Patrick that I can get such openness and honesty when needed.
3:00 p.m. I am back in the Village apartment. Everyone is in various states of disarray. One friend who spent the better part of the night with a trash can on his head is understandably limp; others are gunning for a little hair of the dog. We walk around the Village for a little bit before going to Central Park.
7:00 p.m. To slow the hemorrhaging of my bank account, I decide that I must head back home to where the meals are free and the temptations are limited to bourgeois ice cream and coffee. The train ride back to Connecticut is always the worst. I try to center myself: It won't be that much longer before things fall back into place, before I can consider legitimately dating, and train visits back to the 'burbs are reserved for summer weekends. Until then, I will have to make the best of things.
DAY SEVEN
10:00 a.m. Wake up.
1:00 p.m. I've been thinking about John, 36, a lot lately. We've hung out a few times, mostly solo, but sometimes his husband will join in. It's been a few months since we last saw each other. John might be the closest I've come to finding my ideal type. At six-foot-five, he is a tree of a man, but a gentle giant: He's sweet, well spoken, and has Prince Charming hair. He wants me to come over later, and I am so there.
5:00 p.m. I am plugging away on a couple of job applications, but am mostly passing the time before getting to see John.
7:00 p.m. When I arrive, John greets me with a kiss. His husband is in the middle of a work thing and presumably won't be joining. We unwind a bit with the bong in his basement, and we're feeling a little touchy, a little giggly. True possession is out of the question, but for the time being, I can enjoy having John to myself.
9:00 p.m. We've moved up to the couch and are cuddling upstairs. One thing leads to another, and I've got John down to the sexiest pair of briefs. He is a sight to behold.
9:30 p.m. John's husband emerges from his office and appears at the doorway with his dick out. He's starts awkwardly jerking himself off and looks like he wants to join, but. It is moments like these in which I'm hoping I'm not stepping on toes, even if they are in an open marriage. I think that such an arrangement is ultimately what I want, because I've always felt that monogamy makes sex the most important component of a relationship. However, figuring out just how open is too open or not open enough seems like a slippery slope. I smile and hope that he goes away so I can get back to the task at hand.
10:30 p.m. We've done everything but fuck, and now we're just talking. He'll be free again tomorrow night, and we both agree that we've got some lost time to make up for.
Want to submit a sex diary? Email sexdiaries@nymag.com and tell us a little about yourself.