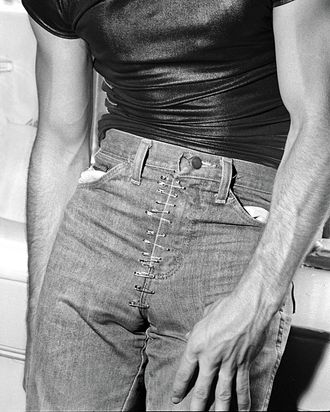 Designer jeans were invented in New York.
Photo: Christopher Makos
Safety Pin
Baseball Cap
The New York Knickerbocker Base Ball Club took the first stab at a team uniform in 1849: pantaloons and a shirt topped by a broad-brimmed straw hat (imagine running bases in that). Across the East River, the Brooklyn Excelsiors debuted a different look inspired by a jockey's cap. The hats they wore — wool with a brim on the front and a button on top — played better on the field, and teams from Chicago to Boston began putting their own spin on the "Brooklyn-style" design.
Ready-to-Wear Maternity Dress
At 16, an orphaned Lithuanian Jew named Lena Himmelstein arrived in New York as part of an arranged marriage, turned down her betrothed, became a seamstress, and married another man, David Bryant, who died just after the two had a son. Lena sold bridalwear and lingerie before she got a quietly radical request from a pregnant woman who stopped by Lane Bryant, as her shop was known, discreetly asking for something "presentable but comfortable." The society expectation at the time was that women would hide their pregnancies using special corsets or just disappear. Lena threw together a simple tea gown with accordion pleats and an elastic waistband. Word-of-mouth made the design a best seller, but newspapers refused advertisements for it. Finally, in 1911 a small ad ran in the New York Herald; Lena's store sold through its stock in a day.
Ballet Shoe
Days after Pearl Harbor, New York designer Claire McCardell was showing a small collection in the Cotillion Room of the Pierre Hotel. The government was already gearing up to ration materials like rubber and leather for the war effort, and McCardell saw an opportunity to introduce a new kind of footwear, sending out her models in long-sole ballet shoes. She had pulled them from slipper virtuoso Salvatore Capezio, whose slippers were must-haves for prima ballerinas from Russia. Orders flowed in from retailers like Neiman Marcus and Lord & Taylor, and by 1949, Capezio's flats were on the cover of Vogue.
Designer Jeans
The boutique Limbo started reselling worn jeans on St. Marks Place in 1966. Limbo claimed the source was a lone ranger on the rodeo circuit known as Roland who would send a few hundred used pairs each month. Limbo sold the jeans laundered and patched up with leather or suede, sometimes advertising the fade as "natural erosion," for what, today, would be about $200 (appliquéd versions might command six times that). In 1969, Vogue told readers to keep an eye on Limbo, and in 1971 the New York Times called out the boutique in a spread that dubbed jeans the "uniform of the young in spirit" — i.e., those with money who wanted to dress like those who did not, only better.
*This article appears in the May 16, 2016 issue of New York Magazine.