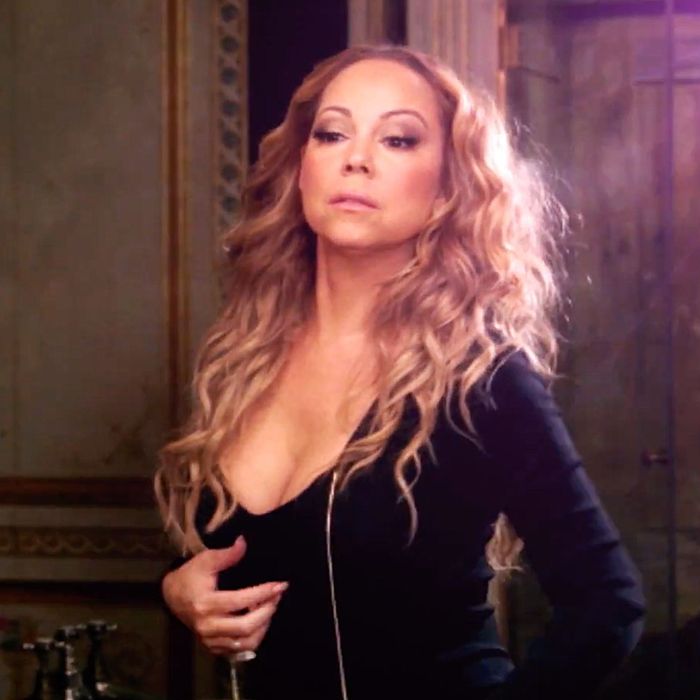 Photo: Courtesy of E! Entertainment
"It's Mariah's world, we're all just living in it" is the presumed premise of Mariah's World, an upcoming eight-part series on E! that follows Mariah Carey on her Sweet Sweet Fantasy Tour and upcoming wedding to James Packer. We already knew that it would contain footage of her Mariah Carey–themed party, during which she forced all her guests to dress up as her while she went as her alter-ego, Bianca, but the first trailer hints at even more beautiful moments from America's foremost diva.
In under one minute and 30 seconds, we're treated to dance routines, multiple bedazzled gowns, wine toasts, private planes, one white shag throw, millions of dollars' worth of diamonds, and Carey's elaborate philosophy on fluorescent lighting. It's a lot to take in, so here are the seven most inspiring moments from the Mariah's World trailer:
1. When Mariah attempts three casual introductions ("Hi, I'm Mariah Carey. Hi, I'm Mariah Carey. Hey, it's Mariah Carey.") because she wants to get it just right.
Let this be a lesson to you: Mariah never settles for anything less than perfection.
2. When Mariah uses a water bottle as a microphone.
The world is Mariah's stage, and not having proper equipment is not going to stop her from performing.
3. When Mariah says, "I'm like anybody else."
Oh, Mariah, you don't have to try to flatter us.
4. When Mariah pours Champagne on a cake to extinguish the candles.
Blowing is far too much work, so use this trick to your next birthday party.
5. They way Mariah looks at herself in the mirror 43 seconds in.
Yes.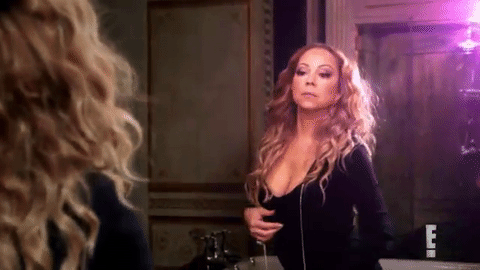 6. When Mariah gracefully descends the stairs — both out of a plane and on her own private staircase.
If you're going to go down stairs, make it look as good as Mariah does.
7. When Mariah shares her theories on fluorescent lighting: "I'm wearing these glasses because we're in fluorescent lighting and I have a rule which states I will not be seen in fluorescent lighting without sunglasses."
Just one rule among the countless we'll likely learn when Mariah's World premieres later this year.