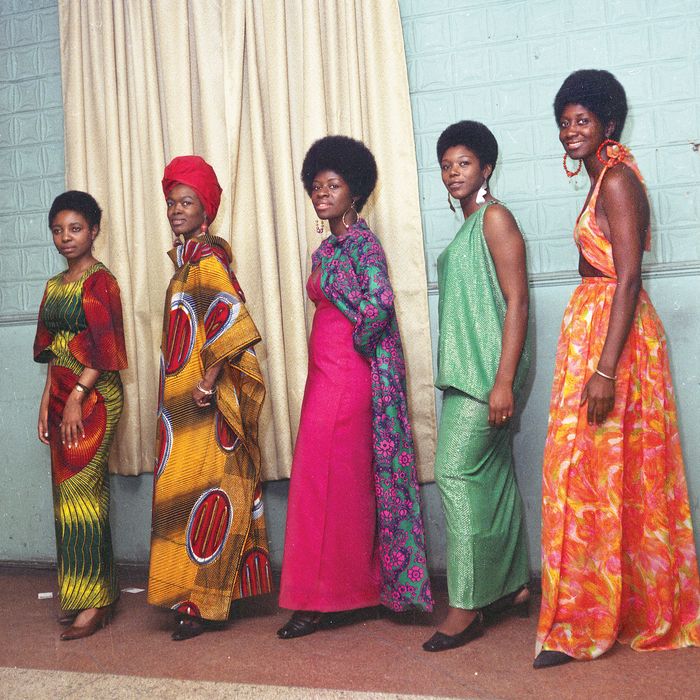 Grandassa models at Harlem's Rockland Palace, 1966.
Photo: Kwame Brathwaite
In the early 1800s, the runway belonged to Paris. The world's first "fashion parades" were industry affairs held within the confines of a couture house. Almost a century later, New York's initial shows were self-consciously patriotic attempts to let France know we had talent, too. Then they truly came into their own.
1903
New York Tries to Put on a Show, Makes Future Real Housewives Proud
The now-forgotten department store Ehrich Brothers may well have played host to the first American fashion show in 1903. There's scarce information about that event, but the New York Times did chronicle another, ill-fated défilé that year. Headline: "Models Fail to Agree on Gowns in Time to Parade." The "12 most beautiful models" in town were selected to show off the cream of Paris fashion, but they quickly began bickering about the order they would walk in: "Each and every one of them, believing herself the most beautiful, insisted on heading the procession." Men initially outnumbered women in the audience ten to one, but when no models emerged, they left.
1914
Vogue Flouts France
As World War I loomed, Vogue editor Edna Woolman Chase came to realize that Paris's place as the center of the sartorial universe might be jeopardized. And so, while riding the Fifth Avenue bus (Town Cars were not yet an editorial perk), she concocted the Fashion Fête to "encourage the New York designers" no longer to hide their wares "behind the label imported." The French fashion houses were not pleased with what they saw as a threat to their supremacy, particularly after Harper's Bazaar sent an envoy overseas to spread misinformation that Vogue was no longer planning on covering couture. To mend fences, the Fête was held the following year in Paris. Now called "The Paris Fashion Fête: Betty's Trousseau," it focused on French designers.
1943
Fashion Week Is Born
Fashion publicist Eleanor Lambert produced the Battle of Versailles (at which American designers, like Stephen Burrows, one-upped the French in 1973), and founded the Council of Fashion Designers of America, but her farthest-reaching fashion achievement came during World War II, when the government enlisted her to create an event showcasing U.S. designers. "One-hundred ways to preserve fabric" was one show's theme. Nevertheless, there was glamour to be had, courtesy of Bill Blass, Norman Norell, and hatmaker Lilly Daché. And some form of New York Fashion Week, as the event came to be known, has been held ever since.
1962
"Black Is Beautiful"
When Kwame Brathwaite and his brother Elombe Brath attended an African-American beauty pageant called the Miss Natural Standard of Beauty Contest in 1961, they saw that the models quickly reverted to straightened hair afterward in order to fit in with the beauty standards of the time. So they launched the first in a series of fashion shows called "Naturally '62: The Original African Coiffure and Fashion Extravaganza Designed to Restore Our Racial Pride and Standards." The group was one of the first to popularize the motto black is beautiful, and the women became known as the Grandassa Models (a variant of Grandassaland, black nationalist Carlos Cooks's name for Africa).
1985
Comme des Garçons Makes Queens Avant-Garde
Only Rei Kawakubo could get Manhattan's art and fashion elites to board buses and head to a converted chewing-gum factory in Long Island City in the middle of December for a show (at which Jean-Michel Basquiat modeled). Stella Ishii, who worked for Comme des Garçons then, remembers that she would often have to explain to American retailers how to wear the clothes. "How do you even put this on?" they'd say. "It looks like there are five arms."
1992
Grunge Invades
When Marc Jacobs turned the totems of disaffected youth into high fashion — flannel shirts redone in printed checked silk — he prompted Suzy Menkes to hand out grunge is ghastly buttons. But Vogue's Grace Coddington found it enthralling next to the looks of the time: that "big, garish, wide-shouldered stuff. Women, or girls anyway, wanted [something] much more real." Perry Ellis fired him, but Jacobs has said it's still his favorite collection.
1999
Miguel Adrover Stitches the Future
Long before "upcycled" clothing became obtainable at Urban Outfitters, Miguel Adrover was taking fabric salvaged from garbage cans and from his grandmother's castoffs and transforming it into fashion. In his first-ever show in New York — total budget: $6,000 — the first model walked out naked. Fabrics were scratched with sandpaper or dyed with tea to age them. The only hint of traditional luxury was a Louis Vuitton handbag repurposed as a miniskirt.
2013
Gender Is Fluid
At 24, designer Shayne Oliver was an F.I.T. dropout working on a streetwear line. His first Hood by Air Fashion Week outing featured gender-ambiguous models whose range of ethnicities and sizes was truly atypical for a runway show. Explaining the name of the line to the Daily Beast, Oliver said, "People would elaborate on luxury ideas and bring them to the hood, but I felt like we could do the reverse and take the hood to an elevated level." Three years on, gender blurring has swept the runways, and "elevated" streetwear is everywhere.
*This article appears in the May 16, 2016 issue of New York Magazine.