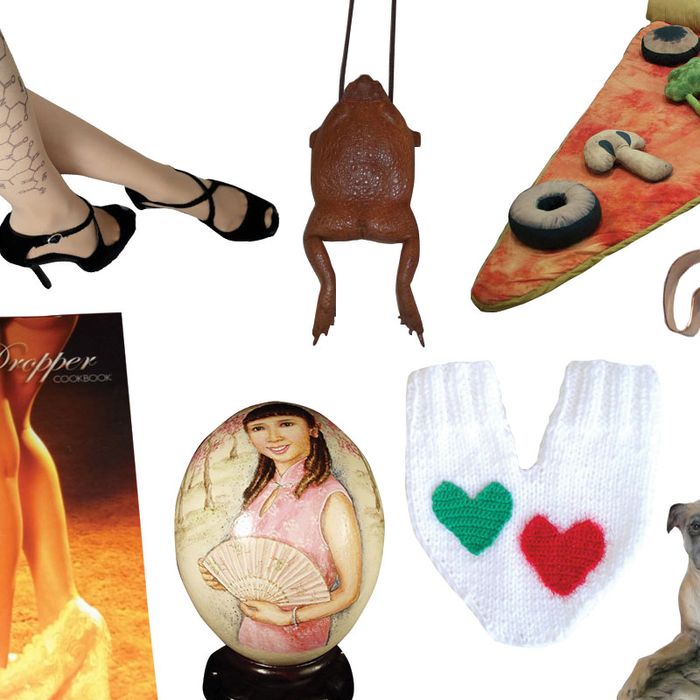 Who doesn't want a plain-slice-of-pizza sleeping bag?
Search for "vintage floral dress" on Etsy and you'll find 66,938 results. A search for "cable-knit mittens" yields 2,495. Even "vintage leather mules size 8.5" brings up 95 pairs of shoes. After all, there are over 35 million items for sale on the site. Yet lurking within Etsy's bottomless trove of frocks and knitwear are the real, singularly bizarre treasures: baby-teeth-storage solutions and sperm-centric party games, to name a couple. We found ten of the weirdest, possibly useful items. (Check out the similarly bizarre circumcision training kits and Afghan-hound calendars we discovered on Amazon.)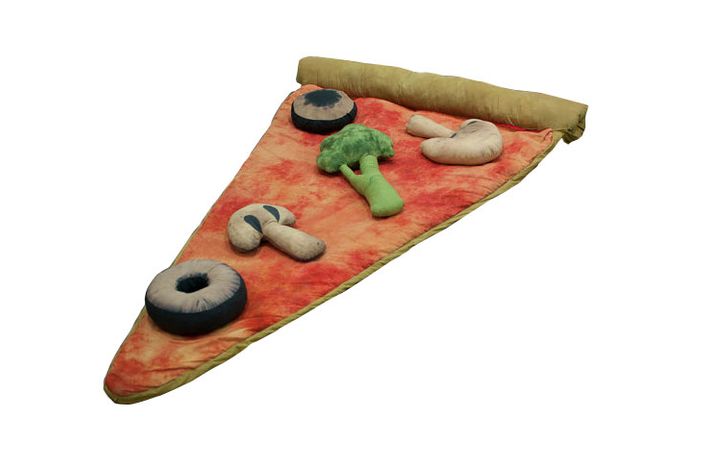 Plain-Slice-of-Pizza Sleeping Bag, $200
This "plain slice" of pizza is obviously veggie, but we'll let that go. An especially practical sleeping bag if you have a body shaped like Arnold Schwarzenegger in his Mr. Olympia days.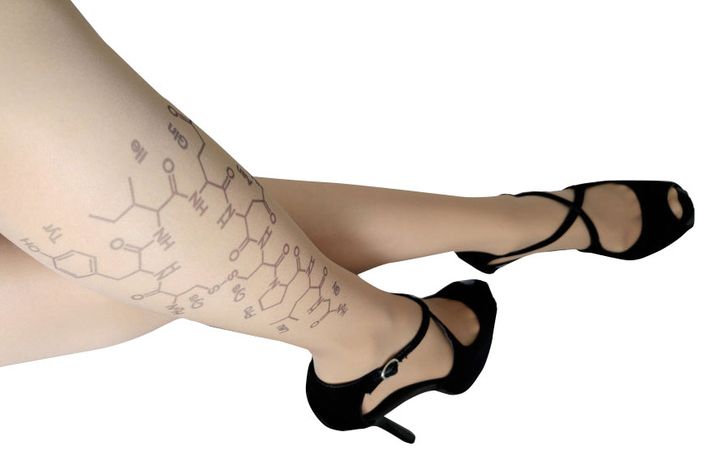 Oxytocin-Molecule-Printed Tights, $25
You've heard of wearing your heart on your sleeve — try wearing your hormones on your leg.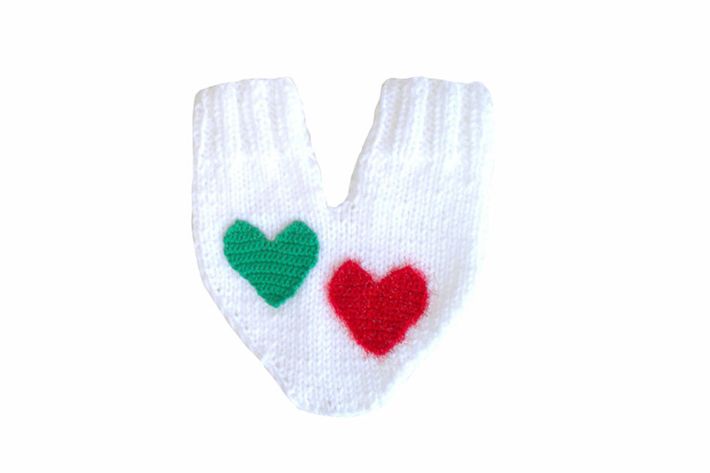 Lovers' Glove, $32
Ah, the lovers' glove. Nothing says romance like clammy palms and limited dexterity.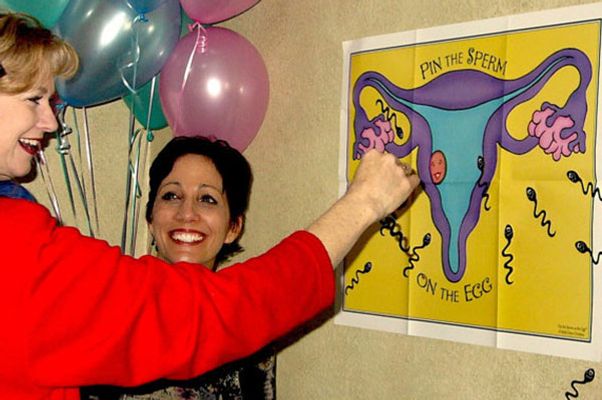 Pin-the-Sperm-on-the-Egg Game Basic Package for Party of 32, $18
Pin the Sperm on the Egg is a party game that many of us do not want to win — but if you're having a baby shower, it's probably too late. The plastic-baby-adorned-deviled-eggs platter depicted is not included, but if the beaming faces of these friends, sisters, and soon-to-be grandmothers tell us anything, it's that this game is a hit.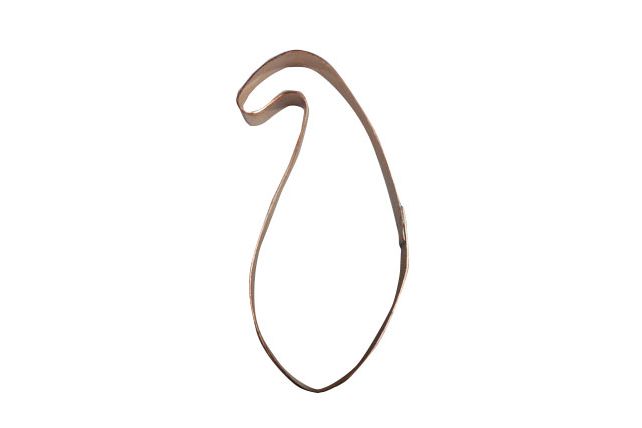 Crook-Neck Gourd Thanksgiving Cookie Cutter, $13
If there were a book written about this item it would be called The Particular Sadness of the Crook-Neck Gourd Thanksgiving Cookie Cutter. Or maybe I Feel Bad About My Neck. Has a cookie cutter ever had so much pathos?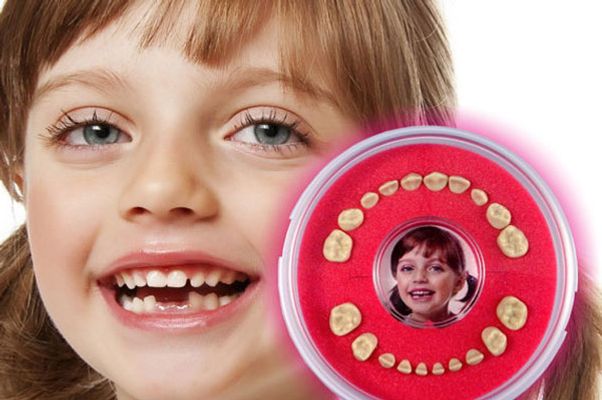 Firsty Round Baby Tooth Box, $13
Remember the moment you found your baby teeth stashed in a box in your mom's drawer? Make the moment that much weirder for your children with this very practical storage item.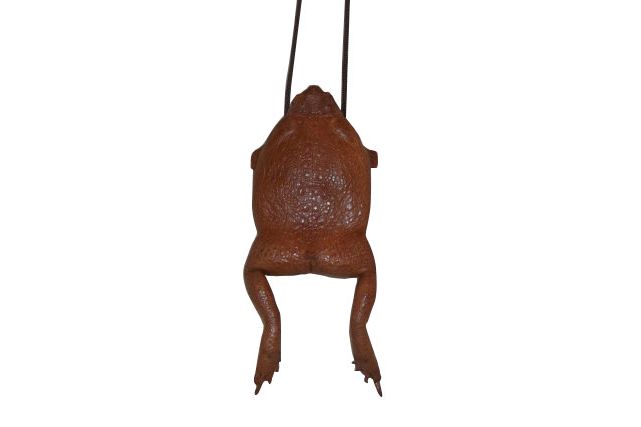 Real Animal Part-Skin Taxidermy Frog Bag, $23
Upgrade your passé secure-travel neck wallet with this Real- Animal Part-Skin Taxidermy Frog Bag. Not only will your money be where you can see it, this thing is so grotesque no one will come within a mile of you.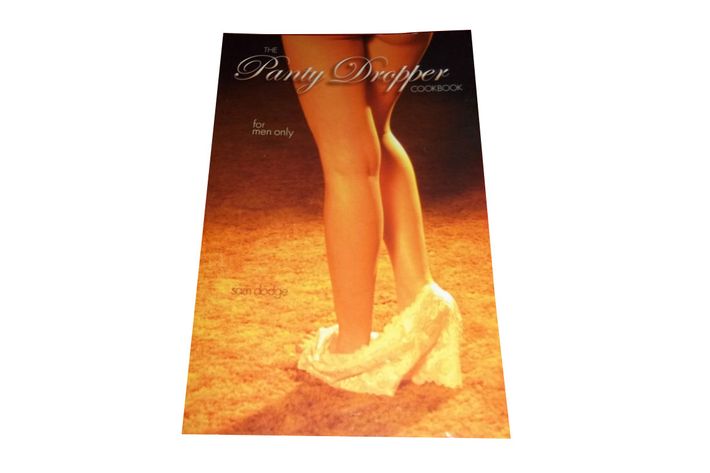 Panty Dropper Cookbook: For Men Only, $5
Is there a more appalling phrase in the English language than panty dropper? This cookbook comes with the expected — wine and alcohol, chocolate, ideas for breakfast in bed. But then there's the real aphrodisiac: chicken with couscous and broccoli.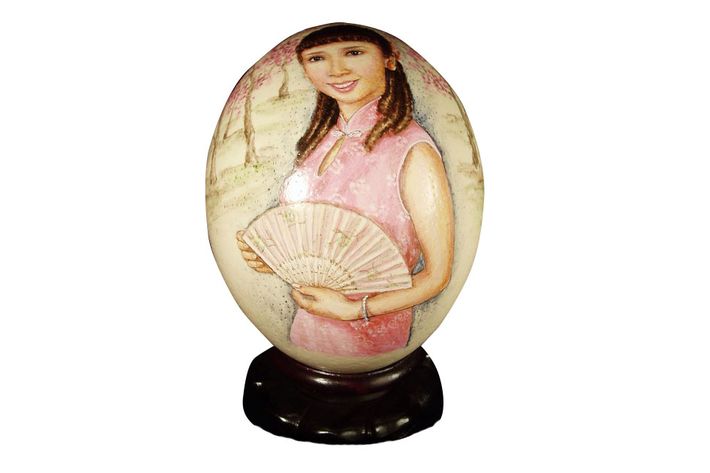 Special-Order Hand-Painted Portrait on Ostrich Egg, $150
This is an exceptional gift — what could be better than a one-of-a-kind portrait, painted on an ostrich egg, displayed on a petite wooden stand? One reviewer writes, "The egg is perfect … PERFECT!!!" We couldn't agree more.