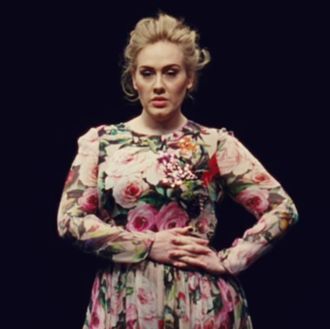 Adele in "Send My Love (To Your New Lover)."
There are two stars in Adele's new "Send My Love (to Your New Lover)" video, which debuted at the Billboard Music Awards on Sunday night: Adele (obviously) and an ethereal Dolce & Gabbana dress. The singer moves effortlessly in the floral gown, dancing a million different ways in the hologram-inspired, kaleidoscopic montage.
Her longtime stylist Gaelle Paul told Billboard they chose the Dolce & Gabbana dress from two racks of mostly sequined, futuristic clothing: "At the time, I was like, 'We could go to the Met Ball with this — it being a sci-fi theme this year and all!'" But this colorful gown was best for director Patrick Daughters's black backdrop. "The dress needed 'to flow,'" Paul explains. It really does.