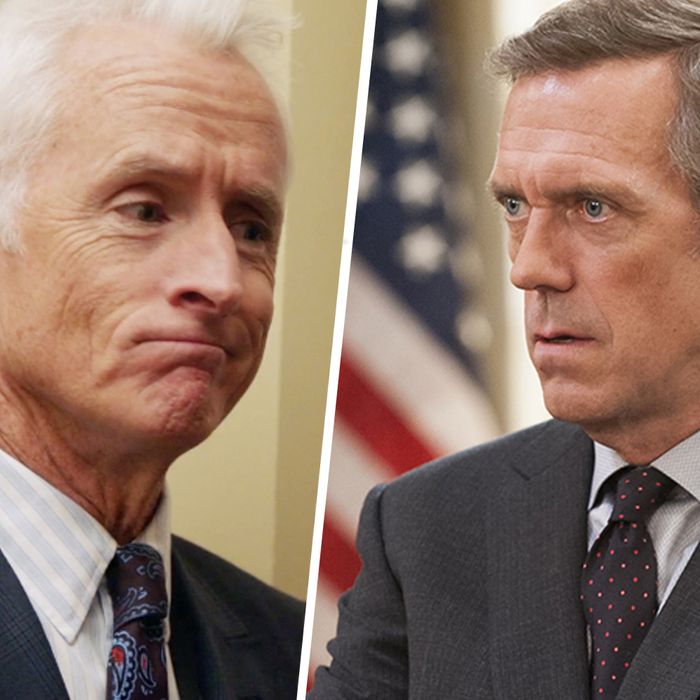 John Slattery and Hugh Laurie on Veep
Photo: Courtesy of HBO
Since losing Mad Men – the show that most closely approximated formative crush experiences creeping on friends' hot dads at school pickup – TV has experienced a catastrophic decline in its silver-fox reserves.
Sure, we had Stannis and Jorah on Game of Thrones (just me, maybe?), and the various dad-show actors (Spader, Schreiber). But there was no show that came close to approximating the weekly DILF dream-team of Jon Hamm and John Slattery. Thankfully, Veep, the acerbic comedy about VP turned POTUS Selina Meyer (Julia Louis Dreyfus) and the group of high-functioning sociopaths that advise her, has stepped in to meet the needs of viewers who know that a flannel-suited Jo(h)n can be just as compelling as a shirtless Hemsworth.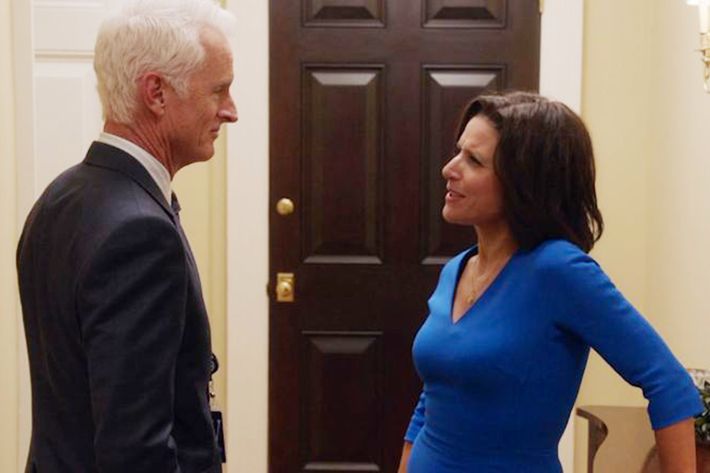 Veep's first major foray into silver-fox domination came with the introduction of Hugh Laurie as Selina's dashing running mate Tom James, who trades in Dr. House's compelling misanthropy for a dose of statesmanlike charm. Last night, Veep doubled down by bringing in John Slattery (a.k.a. the alpha and omega of silver foxes) as a love interest for Selina. He plays smooth-talking banker Charlie Baird, whom Selina swiftly beds after greasing the wheels with a tour of Warren G. Harding's fuck closet. It's one of the rare occasions where we see Selina get laid, but it's not the only time that the POTUS has sampled our nation's hot 50-somethings: Two seasons ago, she had a dalliance with her trainer Ray (SVU star Christopher Meloni), yet another actor who would definitely be on our list of desirable presidential side-pieces. (Also on the list: Firth, Danson, Clooney, that guy who plays Stannis. Take note, Veep casting team.)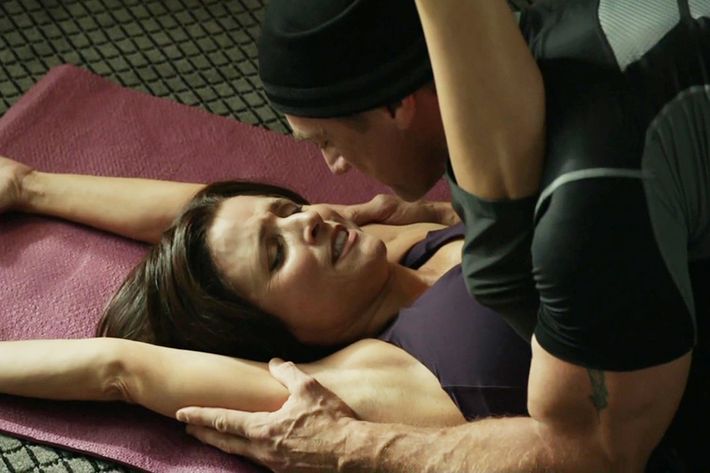 Veep has consistently been one of the best shows on TV, bolstered by great writing and an inspired performance by Louis-Dreyfus, but, much like the political world in general, it has been lacking in the male-eye-candy department (godspeed, Hot Dad Martin O'Malley). As the real-life pillars of American democracy crumble, I'm so grateful for this inspiring counter-narrative playing out on HBO: a narcissistic and ruthless female president slowly working her way through the nation's finest DILFs. God bless you, Veep, and god bless America.