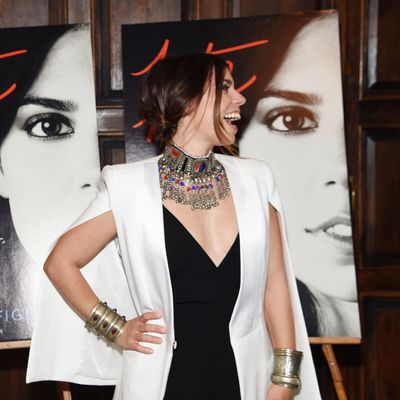 Ally Hilfiger at the Jane.
Photo: Jamie McCarthy/Getty Images
In a noisy corner near the bar at the Jane Hotel last night, Ally Hilfiger, dressed in an elaborate metal choker and white cape, waxed philosophical about her past as a teenage reality star. "I don't believe in regrets," she told me. "I was young, and I was vulnerable … If you had a few laughs [watching the show], then it was worth it."
The now-31-year-old daughter of Tommy Hilfiger rose to fame in 2003 on MTV's Rich Girls, in which she notoriously struggled to make a burrito and declared, unironically, that her father invented cargo pants. Today she attributes her onscreen antics not to teenage angst or naïveté, but something else entirely: Lyme disease. In her debut memoir Bite Me: How Lyme Disease Stole My Childhood, Made Me Crazy, and Almost Killed Me, Ally reveals that she was diagnosed with the tick-born illness after suffering a psychotic episode when Rich Girls went off the air.
Last night, about 200 friends of the Hilfigers gathered at the Jane to celebrate the book and Ally's current good health. Older gentlemen in classic sport coats mingled with the 20-something fashion set, including one woman wearing a motorcycle jacket emblazoned with a fiery "LUCIFER" on the back. Princess Beatrice, a friend of Ally's, held court on a velvet couch, while Rose McGowan, wearing a cutoff Ivy Park jersey, squinted at her rose-gold iPhone three feet away.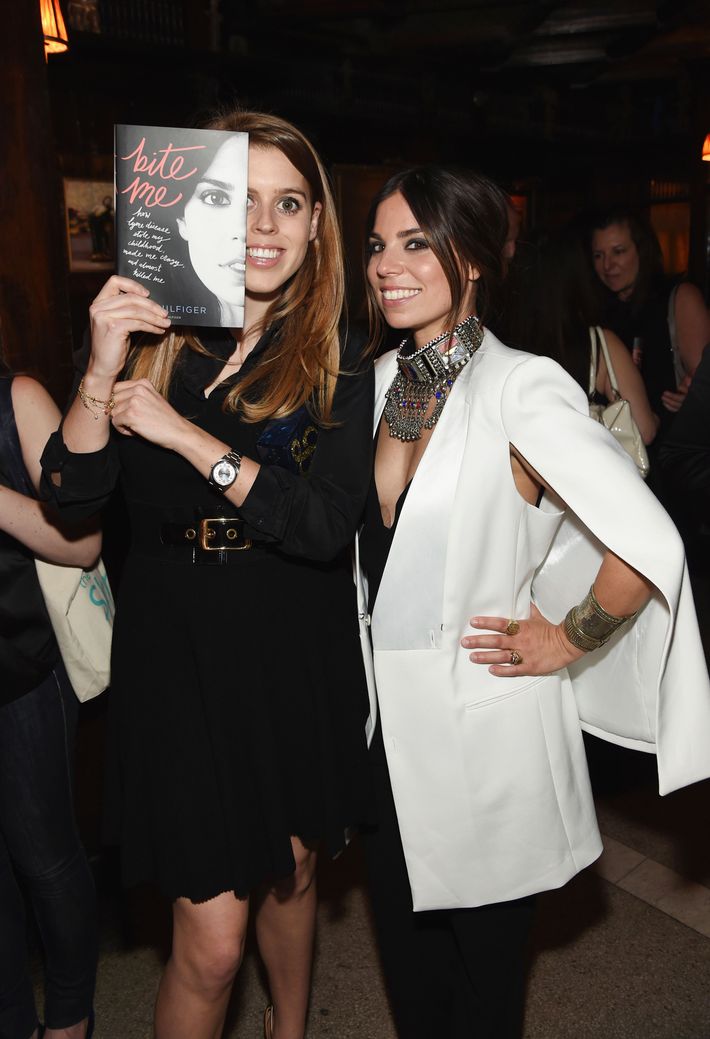 "I'm very proud," Tommy Hilfiger told me as he surveyed the scene. "I'm very relieved. I'm only hoping Ally stays this healthy … I took her to many different doctors for many years, and we were always misdiagnosed. And while she was being misdiagnosed, the disease continued to grow and spread."
Ally recalled her ordeal matter-of-factly: "I went through seven years of on-and-off antibiotics. And then I turned to homeopathy and did everything under the sun to try to get better. I moved to L.A. We're still trying to find answers. I can't give you one answer. I wish I could! If someone said they got bit by a tick today, I'd say, 'Oh my gosh, I'm so sorry. I don't even know what to do!'"
Today, she relies on holistic medicine. "There's no cure for Lyme disease," she told me. "I have a little toolbox … Sometimes I hit a wall, and I don't feel well, and I go into my toolbox and get different recipes, or baths, or meditations, or see a healer …"
As Stassa Edwards wrote for Jezebel this year, diagnoses of chronic Lyme disease remain controversial in the medical community. "The guidelines for diagnosing and treating Lyme are clear," she explained. "The standard treatment for Lyme disease is two to four weeks of antibiotics." Those dedicated to raising awareness of chronic Lyme argue that the tests still aren't perfect.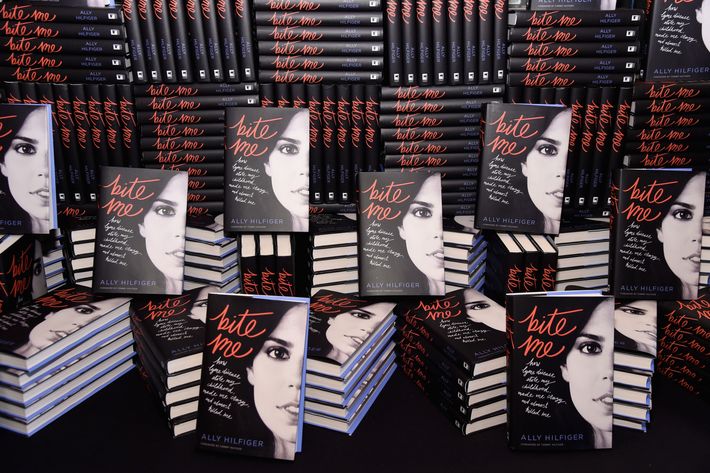 This Lyme debate played out, amazingly, on the past season of the Real Housewives of Beverly Hills, with longtime Lyme-disease sufferer Yolanda Hadid facing skepticism from the other cast members. Ally, who was honored alongside Yolanda at the Global Lyme Alliance Gala last year, found the show troubling. "It's very sad what they're going through, the Hadids, because nobody should ever be questioned about a disease that they're going through, or what they're telling people that they're feeling," she told me. "Nobody should question a disease."
So she wrote Bite Me to raise awareness of Lyme disease and its sufferers. "I sat down at my computer and decided one day. I said, 'Listen, enough is enough, I'm going to sit down and write this.' And I started writing. Every week I came out with a chapter during my pregnancy, and I was so determined. There was something outside of me that was propelling me."
"It was my duty, and I did it," she added. "And I'm very proud that I wrote it myself."