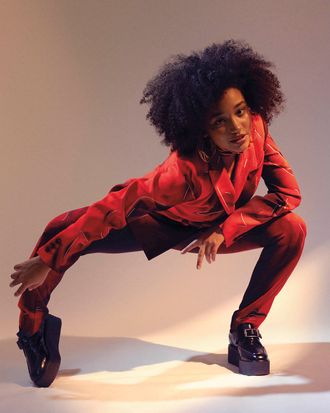 Amandla Stenberg, styled by Emma Wyman and photographed by Charlie Engman for V magazine.
Photo: Charlie Engman/V Magazine
In V magazine's summer issue, Amandla Stenberg discusses her first starring role in the teen flick As You Are and reveals exactly how she got the part: She spoke up to her director about his depiction of women, and he listened.
She and director Miles Joris-Peyrafitte talked on Skype before meeting:
"He told me the reason he cast me was I asked him a lot of questions," she laughs. "I was almost criticizing the way he portrayed women [in the script] — asking about it. He was like, 'Okay, you need to be in my movie.'" 
A shocking Hollywood twist! Set in the '90s, As You Are tells the story of three angsty teens, which Stenberg said she identifies with: "I would go to punk venues every weekend and mosh and wear a lot of buttons on my denim jacket, everything."
The independent film presented a fresh artistic opportunity she hadn't yet experienced in big-budget movies like The Hunger Games:
"I experienced some disillusionment with the film industry at one point," she explained. "Maybe that was real disillusionment or my teen angst coming through, but I just had that feeling of, 'Man, the film industry, it's just about money.' I really love the artwork — the making of film — and I experienced that on The Hunger Games and Colombiana, but I also wanted to have the experience of becoming instantly close to everyone on set and getting to collaborate with them. And As You Are provided that for me. It showed me that yes, this is something I can do.
Fearless teen Stenberg (she's 17) has another Black Lives Matter film in the works. And yes, she appeared in Beyoncé's Lemonade.
"V101 the Fashion and Film" summer issue is on newsstands now and available on V magazine's new website.