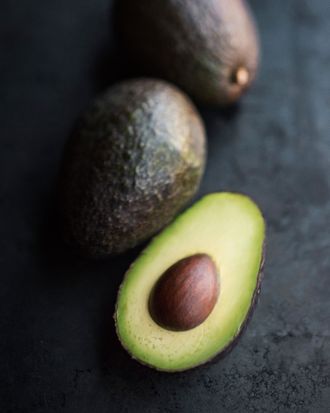 Photo: JACK ANDERSEN/Getty Images
Pregnancy is all about learning to live with uncertainty, and many women find solace in focusing on something that is in their control: eating well.
What is recommended or not recommended during pregnancy — be it alcohol, caffeine, or fish — changes with the seasons, but a well-balanced diet is universally acknowledged as having an important role in fertility, pregnancy, and lactation. And a new study suggests that the avocado, already known as a healthy source of fat, should be high on our list of edibles.
The new research, which is part of a broader effort to overhaul nutrition guidelines for pregnant women and children under 2 years old (who are not covered in the FDA's current guidelines), examines previous research that suggested that avocados in particular are a "unique nutrition source for pregnant and lactating women and, thus, should be considered for inclusion in future dietary recommendations for expecting and new mothers."
The study, published in Nutrients this week, finds that avocados work well in both low-glycemic and Mediterranean-style diets, which are known to be antioxidant-rich and to contain "good" fats. Though avocados aren't included in a traditional Mediterranean diet, the report argues that they fit well and comply with the restraints of such a diet. These diets in particular, they note, have been found healthier for pregnant women (and those trying to conceive) than a vegetarian diet or a USDA-recommended diet. Avocados are also a good natural source of folate, a B vitamin known to help prevent birth defects when taken during pregnancy, although recent research also suggests that too much might be bad, as well.
Though the researchers submit that the avocado should be studied further to determine if it should be directly included in the USDA food recommendations, they find that "avocados offer a range of beneficial nutrients that can make a substantial contribution to a nutrient-rich diet when offered as a staple food for the periconceptional period, as well as during pregnancy and lactation."
Eat up: The research backs up what your taste buds knew all along. Avocados are the best.