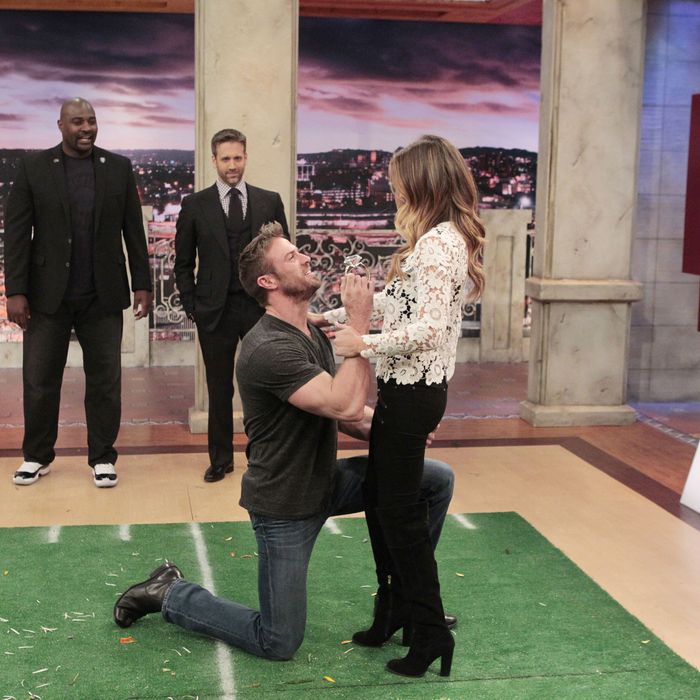 Chad and JoJo.
Photo: Rick Rowell/ABC
Welcome to Douche of the Week, where tortured Bachelorette viewers Anna Silman and Allie Jones take turns awarding male contestants on the show the honor of … Douche of the Week.

Having watched a number of seasons of The Bachelorette that is greater than the number of years I attended college, I feel comfortable in my assessment that JoJo has been cursed with the worst crop of men of all time. They are all douches, save for Wells, who, much like a Victorian child dying of consumption, absolutely cannot handle the heat.
This week's Ultimate Douche, however, was obviously Chad. Chad. His real name, as far as I know! The producers gave the muscled "luxury real estate agent" the villain's edit, but he deserved it, for (1) doing pull-ups, and (2) hooking up his own suitcase to a weight belt and then doing pull-ups.
Under the guise of "honesty," Mr. Chad called another man short, several men "Care Bears," and Jojo "naggy." He ate several plates of meat throughout the rose ceremony. He described his fellow contestants as "like, really old, worn-out high-school kids," which is not untrue. He expressed a desire to make a "protein shake" out of them, which, hmm.
JoJo did not seem too bothered by Chad, unfortunately. She suggested that he might be "overcompensating for something," but in the end, against protests from her other suitors, she gave him a rose. Chad celebrated the win with the following statement, delivered directly to the camera: "I will not write her a song about how much I love her. I'm going to have some protein shakes, keep working out, keep eating food, and just continue doing what I do."

Based on the promos for next week's two-part episode, the tension between Chad and the other douches will blow up into full-fledged violence. So that's something to look forward to.
Honorable mention: Daniel, a.k.a. "Damn" Daniel, a.k.a. last week's douche, who joked during the "fireman" date that "the last time I've pulled 'hose' like that was back home when I was at my apartment."