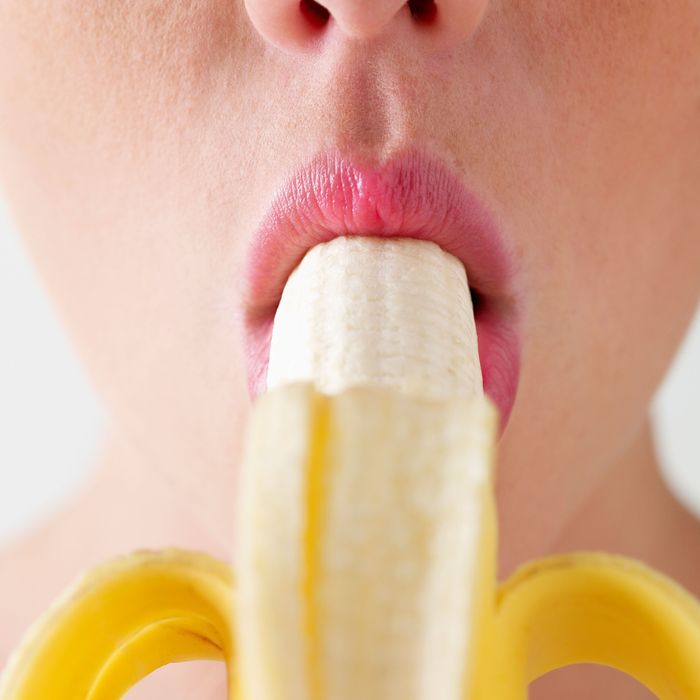 Nom, nom, nope.
Photo: Jon Edwards /Getty Images
If there's one thing you can count on, it's that just about anything you can dream up turns someone's crank.
From fantasizing about being trussed up like a Thanksgiving turkey to sitting on pies or rubbing bread on your face, if you can imagine it, someone will probably jerk off to it. It's a brave new world, this internet of ours!
Except in China. If you live in China and your particular fetish involves babely young webcammers sensually eating bananas — or being watched sensually eating a banana yourself — you're out of luck. Regulations are cracking down on this socially harmful way of getting your daily potassium, according to China's CCTV News.
Commenters on CCTV's Facebook page are in a tizzy about the matter. One person wrote, "Seriously? Bananas? Summer is coming, and that means popsicles. Do you have any idea what you can do with popsicles that melt and slowly drip in the cleavage? That's way more intense than bananas! Your leaders are useless, their only job is to censor shit, and they can't even do it correctly." Another commenter, obviously a prodigious sexter, wrote, "Not only banana, sometimes I think dirty when I see an eggplant!" (You and me both, pal.) Others suggested that the government would come for hot dogs, cucumbers, and other phallic foods next.
So far the Chinese government hasn't issued any statements regarding the moral dubiousness of pimple-popping videos, which is a huge relief.