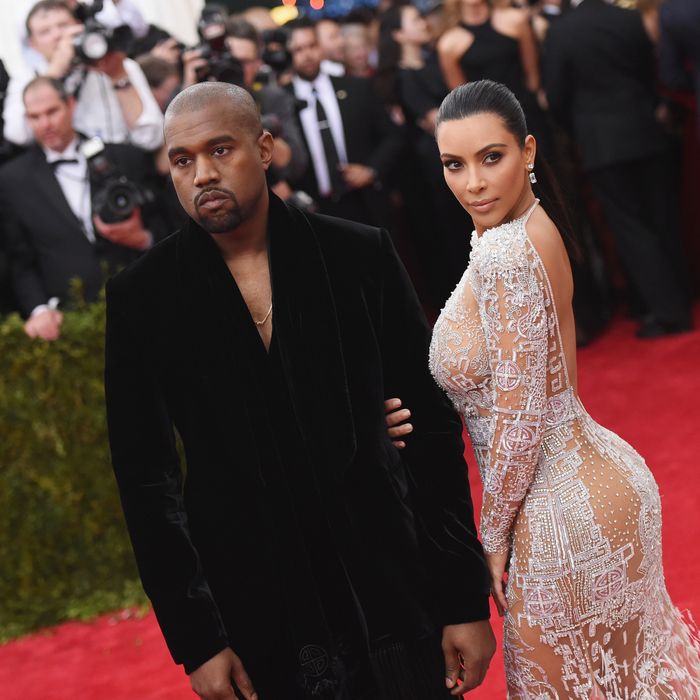 Kanye West and Kim Kardashian.
Photo: Mike Coppola/Getty Images
The Met Gala is here! As celebrities and designers start to walk the red carpet, we've gathered everything that happened before fashion's biggest night here. Kim Kardashian started prepping at midnight, Jennifer Hudson had a great time in her hotel room, and Lily Aldridge floated in some bath salts. Scroll down to see Kate Hudson's pregame meal, Sarah Jessica Parker's practice run, Mindy Kaling's Tory Burch dress, and more. You can follow the Cut's liveblog for minute-by-minute commentary throughout the show.
Kim Kardashian starting prepping 16 hours ahead of time.
Jennifer Hudson had a great time in her hotel room: personalized Champagne, fluffy robes, edible shoes.
Lily Aldridge submerged herself in a salt bath. Then she had some pasta.
Anne Hathaway has been to this thing so many times. Would you care for a retrospective?
Solange's friends narrated her mirror shot with truisms: "I die every time I get my period."
Mindy Kaling fully revealed her Tory Burch dress, via this sketch.
Amy Schumer ate a cookie.
Kate Hudson had a great breakfast.
Sarah Jessica Parker took her shoes for a practice run.
Lena Dunham hung out with Jenna Lyons.
Olivia Wilde ate her coffee cup.
Karlie Kloss let Vogue give her a bunch of hairstyles. Which one will she pick??
Karolina Kurkova likes clay face masks and teacups.
Doutzen Kroes had a really casual breakfast.
Naomi Campbell posted a throwback.
FKA Twigs has a Polaroid camera and lots of stylists.
Allison Williams's Edie Parker clutch will teach you to read.
Kate Upton has a Topshop dress and a really, really cute dog.
Anna Wintour stepped out in Chanel.
Hamish Bowles stood by a fireplace in full floral Gucci.
Tory Burch is wearing a very big bow.
Miranda Kerr has a braid.
Taylor Swift was a tease.
Freida Pinto posed with Mindy Kaling.
Anna Kendrick's purse is going first.